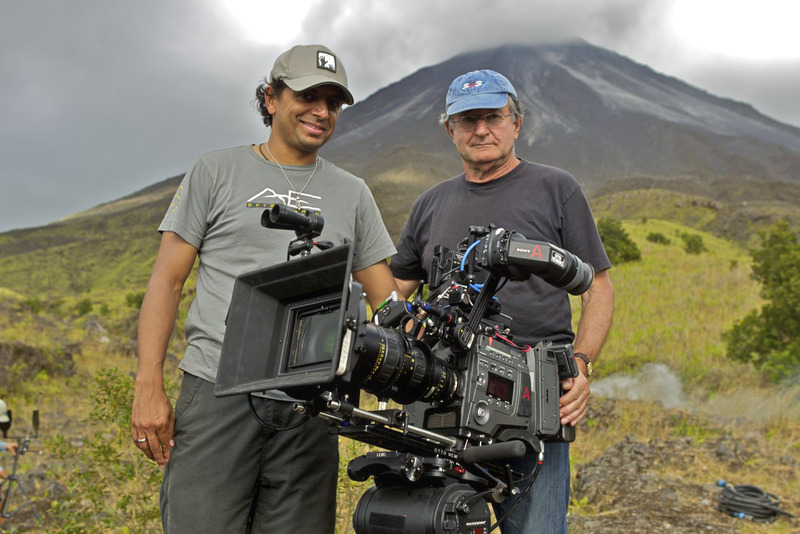 M Night Shyamalan Drops Film For Sony's F65 Digital Camera
Posted on Mar 5, 2012 by Alex Fice
M Night Shyamalan and DP Peter Suschitzky with the F65The latest film from the production company Overbrook Entertainment and director M. Night Shyamalan, "After Earth," scheduled for release next year by Sony Pictures Entertainment's Columbia Pictures, is the first major motion picture to be shot using Sony's groundbreaking F65 CineAlta digital production camera.
Shyamalan commented, "I couldn't be any happier with the F65, which is amazing since I'm a 'film guy' and I thought I'd die a 'film guy.' It's a digital media that's warm and has humanity in it which is obviously the most important thing to me."
"The F65 is like a great leap forward," said director of photography, Peter Suschitzky. "As soon as I did testing of the F65, I was immensely impressed by the amount of detail it captures, by its incredible flexibility, from low lights to high lights, and its great contrast range. It really is a camera for the future and I'm going to use it again on a number of films."
In January, Sony began worldwide deliveries of the F65 camera.  Approximately 400 units were pre-ordered, and several other high-profile productions are also planned to be shot with the F65.
—————————————————————-
Codex, a leading developer of digital media recorders and media management systems for film and television production, today announced an agreement with Sony to provide workflows for its F65 CineAlta digital motion picture camera.
Codex's new product line, the Vault, will allow for the ingestion of files from the Sony F65. The files will automatically be archived to LTO-5 media and Codex Transfer Drives, allowing for easy delivery to a post house.
The Codex Vault incorporates the Codex Virtual File System, allowing for the creation of dailies deliverables including Avid DNxHD MXF, Apple ProRes, DPX and OpenEXR using a unified ACES workflow.  This provides a critical back-end dailies and archiving workflow for the Sony F65 camera that has proven to be so successful with other cameras.
In addition, the Codex Platform software will provide a workflow for the F65 on Mac OS X, also incorporating the Codex Virtual File System. Either solution can be integrated with other products including Colorfront OSD via a 10gigE connection.
 "Our onboard recorders have become the industry standard but our aim is to provide a standardized, streamlined workflow for as many cameras as possible, whether or not they use our onboard recording technology" explains Codex's Managing Director Marc Dando. "Given the enormous interest we've seen in the F65, providing a workflow to support it was a obvious choice for us."