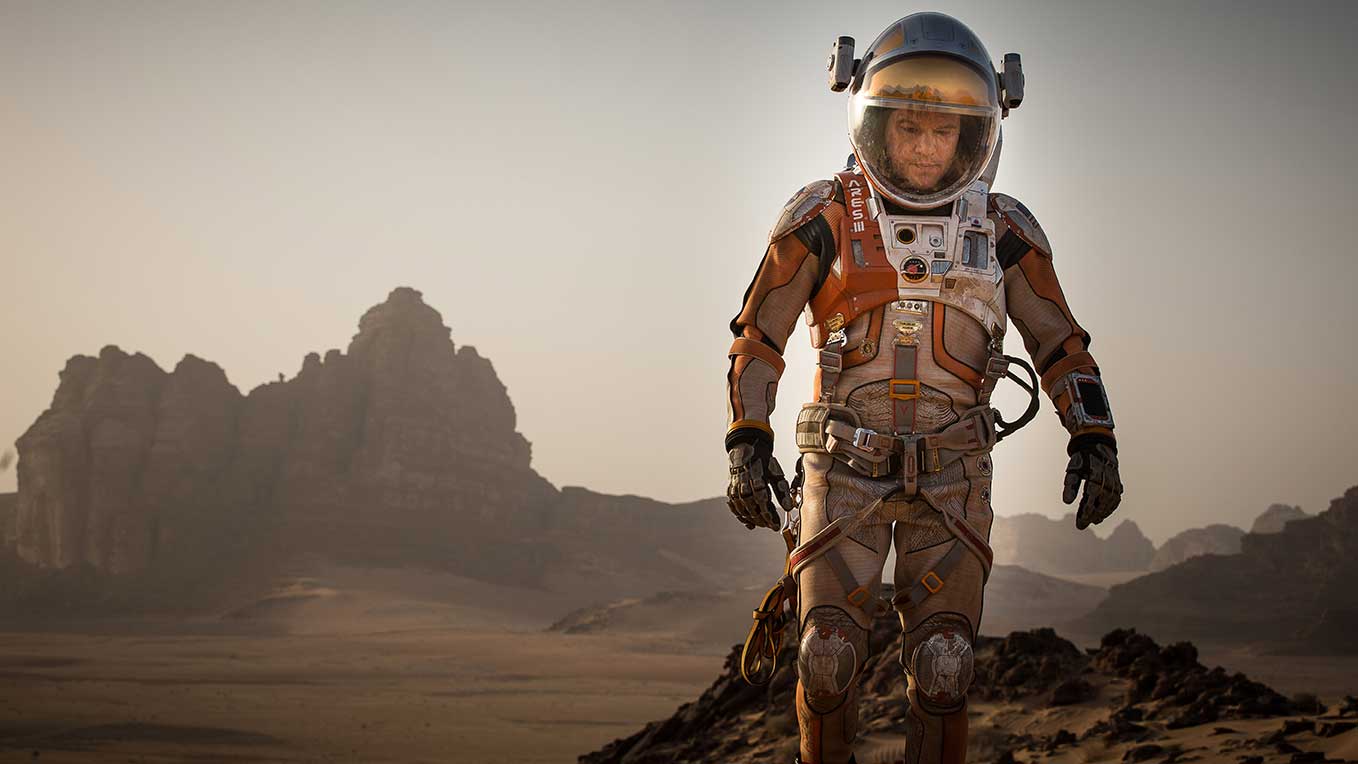 Lost In Space
Posted on Sep 8, 2015 by Julian Mitchell
As the art of Digital Cinematography evolves rapidly so do the roles of the people in it. Now there are companies like Fluent Image whose sole purpose is to be the fulcrum of everything to do with the curation of the image. We spoke with Kate Morrison-Lyons from Fluent and her work on The Martian and other huge movies.
The Martian is a huge movie, one of the first to use the new Dragon sensor from RED in a stereo digital film. The amount of data that had to be cared for throughout the process was gigantic and the company tasked with moving that data along was Fluent Image, a new breed of colour lab. We asked Kate Morrison-Lyons what the company's roles were.
"We were still delivering Exodus:Gods and Kings in London when we went out to Budapest to start principal photography for The Martian.
"We bring control of the digital image to the filmmakers. Our solutions provide the production with secure, intelligent access to the shows digital images, whether the image has been through a camera or delivered as archive reference footage or submitted by a vendor. We build fast, efficient servers within the working environment of the productions and tailor our software to each shows requirements. These servers continue to be the central imaging hub for the production from day one of the shoot all the way through to final delivery.
"On The Martian we knew post production was going to happen in London as the location, so we hadthe main servers and the server room prepped and ready before setting up our dailies stations in Budapest.
"In Budapest we set up in Editorial to run dailies for the shoot; we built a very power set of systems with local storage for fast turnaround and continuous tape archiving. These archives would then be sent to London a few times a week to start populating the servers ('lab') that would be used in anger once we got into post.
"In Budapest there was a lot of time and energy developing the dailies workflow. We've been working with RED very closely since 2011 (since Prometheus), The Martian was a native stereo show, the first RED Dragon stereo show We needed to create dailies that represented exactly what Ridley (Scott) and Dariusz (Wolski) were seeing on set. The on-set colour decisions were driven by CDLs so again working closely with RED we designed a rendering solution that could handle CDLs and LUTs correctly. Stereo information was delivered both in rmds from RedcineX and also as huge data outputs from the 3Ality SIP rigs. We delivered colour accurate, converged dailies from day one.
"One of the things that is fundamentally part of what we do is to advise and help build the entire imaging pipeline which includes influencing the camera department and DIT. We had digital image wranglers on-set who worked with us and the DIT, a great team who delivered the rushes along with all relevant metadata to us twice a day.
"The Martian editorial team needed the dailies turned around as fast as possible, we managed almost real time turnaround at the processing stage and would push dailies directly onto Editorial's ISIS storage after we'd QC'ed. Editorial would come in early the next day to start pulling media onto the Avid, synching sound and building bins.
"As soon as you start shooting you haven't got room to move, you haven't got time to go and do a bit of R&D to make it work, it just has to work! Once you have a working system you're able to remove yourself from it, because you have a team running it, and hit the the next challenge; building the full resolution 2K or 5K VFX/Stereo image pipeline.
"We've been working with Openexr since 2011 and been pushing the higher dynamic range imaging in our VFX pipelines for years. For The Martian we started working with the image and colour science guys at MPC in December delivering Dragon images processed in a variety of ways to see which result we all agreed to be the best for the show.
"Digital image processing and data management is the core of what we do at Fluent Image. When both of these work well together on a show like this or any big VFX show it makes everything else click in to place. There are so many skills involved in these components, imageprocessing is a whole world of colour and image science , and huge amounts of planning and discipline is involved in good data management. Communication is crucial because people need to be able to depend on us to deliver.
"We built screening rooms for both VFX and stereo in post production, this gave the VFX supervisor (Richard Stammers) and the Stereographer (Gareth Daley) instant access to image turnovers and submissions. Our systems gave them the flexibility to build their own playlists and apply colour. Having these systems in-house hugely increased efficiency and the speed of the work for both departments
"The conform can start around a couple of months before delivery, we would be working with Company 3 on this show.
"We finished in EXR, it's our second show delivered to Company 3 in EXR, which is a big step forward for high dynamic range finishing. EXR is such a diverse format that you can build or deliver them to suit the vendor, depending on what their systems require. For VFX they're quite happy with compressed EXRs because of the CPU power they have, Company 3 prefer the bigger files with no compression, less CPU but capacity to work with big files.
"It's our responsibility to deliver the images to Company 3 and also our responsibility to make sure they can conform them.
"Our role hasn't really changed in the five years we've been doing this. There is so much value in having a small dedicated team specifically managing and working with the images on a digital show. Making sure that all questions can be answered and there is a 'go to' person who can advise on the colour process, the image formats and be ultimately responsible for the images getting to the right place at the right time.
"When building relationships with DPs and other crew, one of the major things to consider is how much they need to know. There is so much technology out there that as a focussed DP you can't get too involved in the technology. At the same it is incredibly important to be very approachable. There is some essential stuff like making sure that on set monitoring is accurate, we come in and help people do that. We need to watch what people want to achieve and to make sure that achievement is followed through to editorial because the Director is going to be watching that offline media for months. You make a DP nervous as soon as they see any colour shift from set to dailies; first day of dailies is probably the most nerve wracking day of my job.
LUTs
"When we get involved in a show we are in control of the image. When we worked with DP Seamus McGarvey on Godzilla he had already designed a viewing LUT with Technicolor specifically for 'on set' monitoring. That LUT became our responsibility, we had to make sure it worked with all the technology on set and indeed during the images processing. Any additional unit that came in would be given the the LUT and talked through how to apply it for their viewing environment.
"Many of the LUTs that we use and build are tools to process images from a wide colour gamut to something like rec709, that's usually the biggest colour discrepancy headache we deal with. When it comes to putting LUTs on the final DI side of things, the DI houses have those set up.
"In the future I think the role of the DIT will change, it might be swallowed by the camera department if they are willing to take it on. The skills of the DIT are incredibly broad but you have to ask 'who do you need on set'? You need someone who is incredibly versed in the abilities of the digital cameras. You need someone who can make sure that there's no clipping, that there's consistency in the set-up of the cameras and someone who is incredibly technical.
Remote Control
"We are able to remotely manage all our systems, which allows us to support the people who run them. For The Martian we shot in Budapest and Jordan. But we've managed shows in Vancouver, LA and Montreal. Our head tech and co-founder, Jon Ferguy (who builds most of our software), was director and CTO of Sohonet for 11 years, so along with all the skills involved with digital image management, we're very knowledgeable in global secure networking.
"Looking at the process as a whole there are a lot of peaks and troughs. When you're working in this world there is so much work going in to prep before anything is shot. But once those systems are built the relief is brilliant and you can sit back a bit and watch it happen. There is so much work in building this technology, its always changing and logistics are a major thing. When the dailies start ticking over in weeks two or three it starts to get more gentle. But we're then working on the new image pipelines about four weeks in to the production. Image turnovers don't start in 'post production' these days, that development work starts very early.
"It is a new world and up to now there isn't one person who looks after the image all the way through. We managed a file based (LTO) workflow for Narnia: Voyage of the Dawn Treader back in 2010. Since that point we have overseen six movies from development stages in pre-production all the way through to DI and finishing. It's a very important role to have in these shows."
GoPros Played Their Part On Mars
"We used GoPro cameras in several of our biggest scenes in The Martian, and they really allowed us to capture not only the intensity and suspense of these moments, but also the intimacy of the characters themselves," said Ridley Scott. "New technologies like GoPro give filmmakers the opportunity to really push the language of cinema forward and introduce audiences to new perspectives and layers of storytelling that can really be quite engaging."
The use of GoPro cameras in the production of The Martian began with Scott using the camera as prop throughout the set, including as a standard piece of the astronauts' space suits. However, as Scott reviewed the resulting footage, he discovered the perspectives that the GoPro cameras unlocked, enabling a new way to showcase the intimate struggle of astronaut Mark Watney's life on Mars. As a result, the GoPro cameras became a much larger part of the production than was initially intended.
"I ended up using these cameras in a way I didn't expect," Scott added. "They became a character in the movie; they were mounted on the astronauts; Matt's character actually records all of his video logs on them in the habitat. Small details that helped drive aspects of the story forward and gave the world an extra layer of authenticity and familiarity."