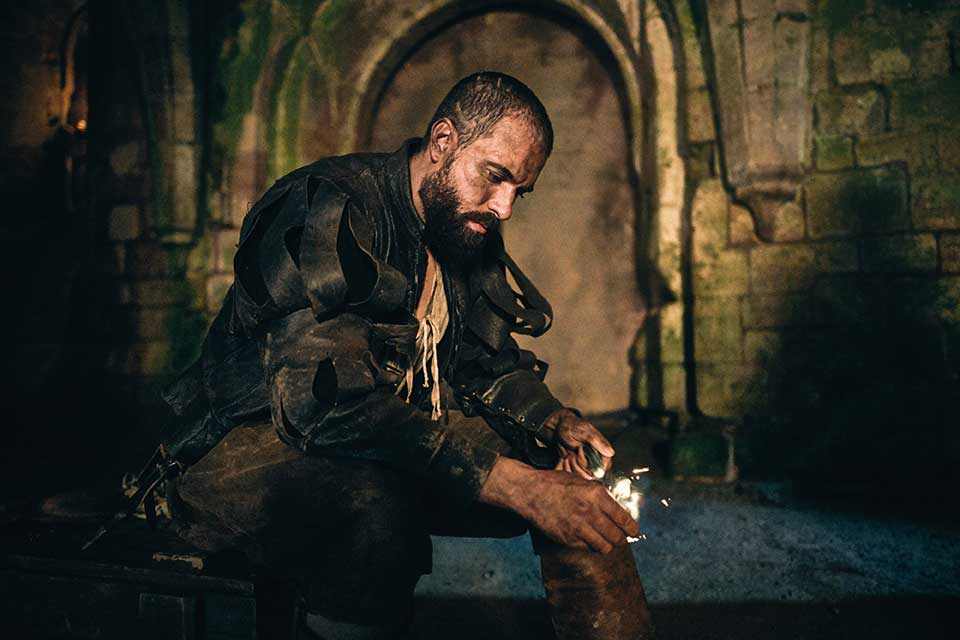 Losing my religion
Posted on Jan 2, 2018 by Julian Mitchell
In England in 1605, a group of Catholics plotted to bring down the government. The BBC decided to bring the full force of realism to this famous story
Words Julian Mitchell
To earn a coveted slice of weekend evening comfort programming – think Victoria and Poldark – sometimes you have to turn the tables: to scare, to even provoke revulsion. The BBC's recent three-part drama Gunpowder took on that challenge – and blew traditional, cosy Sunday night 'sanitised history' out of the water, offering instead some grimly realistic 'horrible history' on a Saturday. There were some scenes that were so gruesome the production had to have a compliance conversation with the state broadcaster.
Director J Blakeson and cinematographer Philipp Blaubach had worked together on the movie The Disappearance of Alice Creed, a dark tale of kidnap, violence and deceit. So the duo were perfect for Gunpowder on at least two of those counts. Philipp remembers that the director and he were left to their own devices for the shoot. "We had to check how much blood and guts we could use for some scenes; creatively, though, we had a lot
of freedom."
Gunpowder wasn't a co-production but all BBC money. However, this is a 'no excuses' high-end drama comparable to anything you might find on Netflix or Amazon Video. It's an HD show due to available budget at time of shooting and owing to an HD-only delivery, although sales internationally might be restricted when deliverables are increasingly asking for 4K.
If you haven't seen the series, the colour palette is certainly on the dark side, which was good news for Philipp. "Any cinematographer gets excited about darkness, shadows and contrast – that's sometimes why horror movies or thrillers are more expressive in that sense, and I felt this wasn't far off that. It certainly wasn't your typical costume drama and I saw the potential in taking it into a dark world, with the clandestine conspiracy and the inevitable plotting. It was almost like a modern-day terrorist story."
Blakeson talked to Philipp about a film noir feel, with single-source lighting and deep shadows. Philipp had his own ideas, mixing in references to Dutch masters such as Vermeer. "There is a courtroom scene, and I wanted some kind of Vermeer ideal, with a big window on the left. That period with costumes and candlelight really lends itself to single-source lighting; in a contemporary film you always have some kind of light whether it's from a streetlight or even a fridge. Here, if there's not a fireplace burning it's basically dark – the only lights were candles and there's a lot of fun doing that. You're using shadows and contrast, letting light fall off panelled walls and such like."
Locations and sets
As anyone who has shot anything in a heritage building knows, the use of candles and smoke machines is strictly limited and you even have to measure how near they are to the walls. In picking this dark palette for Gunpowder, Philipp had to design around the rules but could also be confident about the control on the built sets, which were constructed in Bradford, Yorkshire, and cut with locations. "It was decided early on that because there isn't much that still exist of early seventeenth century streets, sets were to be built for the exterior London scenes in Keighley, again in Yorkshire."
The sets would give Philipp total control over his shots and the use of as many candles as he wanted, and he is quick to extol his love of being on location: "You have inspiration and you have the freedom to show anything you want. On set, once you have windows – and big windows – you need to have a backing, and when you have a reverse shot you have to move the backing. Sometimes this is more work because you have to create everything from scratch. But you have control, so that meant we could do top shots by taking ceiling panels out. The initial scene from episode one was mostly a set and was storyboarded to include the priest hole, so building it was the way to go."
This also enabled an efficient use of time and resources: whilst Philipp shot on location, those sets were being modified to become, for instance, the King's bedchamber.
Light control
Recently in the pages of Definition we have seen different approaches to lighting period dramas. My Cousin Rachel saw the gaffer constructing a candle 'zap light' to bolster the candlelight already there; in Goodbye Christopher Robin there was enhanced light to 'show off' the Hollywood talent, much to the DOP's disagreement. Gunpowder's lighting design is perhaps more like Netflix's The Crown, with the emphasis on light coming into the room and the control in placing the actors within that light's throw, either on the edge or in full glow of a window. Philipp saw this type of outside light source benefitting the actors as well. "There is more room for the actors without worrying about light stands and a lack of room to move about.
"If you are embracing silhouettes and large areas which are not lit, you can often have just one window and that does everything for you. There's a lovely scene in the third episode where Peter Mullan's priest character and Mark Gatiss's character have a conversation in a Tower cell and that is lit with just one window. We concentrate on Peter's face, which after torture is so expressive, it's great when you can embrace that hard light. It also helps when you have a cast which is mostly male as you can be more aggressive with the lighting."
Of course, lighting with candlelight isn't new and goes back many years, but maybe now with modern sensor design, it can be used without any enhancement, letting that light just play. But Philipp wanted to do camera testing before committing to such a low-key lighting design – testing which included film. "I was keen to use the ARRI Alexa because I had done a TV series a couple of years ago and been told that the series had to be shot in 4K, so we couldn't use the Alexa. My reaction was to say, 'You mean the camera that shot Skyfall and went to IMAX cinemas, are you saying that wasn't good enough resolution?'
"So we tested the Alexa, also the Sony F55, Panasonic Varicam and 16mm Kodak film. We knew that we were probably not going to go down the film route – in fact, the producers were very nervous when I mentioned it. But I just wanted to have a look and remind myself of the texture, maybe we would use the grain as an effect or something? The Varicam was quite exciting, especially the 5000 ASA setting, which we were very impressed by – it did have very nice skin tones. In the end, the Alexa was the winner: we did make-up and candlelight tests and were talking about a low colour temperature, very red light which we ended up having to dial out a lot of. Somehow, the Sony and some of the other cameras struggled to get good skin tones back. The Alexa is also one of my favourite cameras when it comes to handling candle flame – even if it did burn out, it did it in a very filmic way. It always has a very nice fall-off in the highlights. I did think about the Panasonic, but in the end we didn't have many scenes that only had, say, one candle in them to light a whole room, which is something you could do with the Panasonic. I also wanted to use the LT version of the Varicam and I think there were only two available at the time.
Cameras and movement
"The Alexa Mini was fantastic, and we ended up with two of them, plus one Alexa XT. We had the second camera the whole time on the Steadicam AR rig and I operated the A camera on the XT; we had the Mini and the Steadicam and another one in studio mode. We had a MoVI gimbal with us so we could do some quick action shots and we used this as a kind of poor man's remote head. We also carried with us a cheap and cheerful lightweight jib arm, so effectively we had a remote head crane on the back of the truck. Rather than the big toys, we had a budget-friendly version of that. It gave us a lot of value and flexibility."
After looking at Panavision Primos, Philipp chose a set of Master Primes – a full stop faster. "That means for the wider lenses like the 21mm you can still really separate the background by having the focus fall off quite dramatically, even on the wider two-shot Steadicam you can make that separation. We wanted a sharp, contrasty look and the Master Primes were just perfect for that, the close focus on them was great."
J has a film background so he and Philipp wanted to use the extreme close-ups sparingly, as cinematic devices to increase the tension. "When you use them at the right time they are very powerful. For instance, when Guy Fawkes appears we always said we should have him in half light, in silhouette, like film noir. The actor Tom Cullen really liked it when we explained we were going to have a top light and a shadow, and he would take his hat off and step into the light."
The presumption for period dramas with candlelight is to use tungsten lighting, which Philipp mostly did use, but there were other sources. "A lot of the tungsten was dimmed down to match the colour temperature; the gaffer also made some flicker boxes for the fireplaces. We managed to use bi-colour LED panels, too, which you just can't beat for hiding in small places. I was worried how that would look as an enhancement for candles, but we used diffusion and colour gels to get it to match. These again were at very low levels, which helps as you don't 'feel' it.
Dealing with darkness
Some people might be surprised that Gunpowder wasn't shot in Raw but with ProRes, but this is a BBC TV budget and ProRes is the norm. Another surprise is how tonally dark the drama is. Previously, Philipp had quite happily pushed the Alexa sensor to 1600 ASA from its natural 800 ASA setting, but for Gunpowder he shot pretty much everything at 800. "I think there were one or two instances when I went to 1280, and used a zoom lens at night so we didn't end up doing anything crazy by pushing it too far. In the grade at The Look, Thomas Urbye was involved with the camera testing, and we looked at skin tone and firelight and colour temperature differences, then we created the LUT (lookup table). For the Alexa we made 3D LUTs for the Mini, and a pretty good approximation for the XT as it doesn't take 3D LUTs, just 1D, but Thomas could convert them. Most of the candlelight scenes I recorded at 2800K and even then we took a bit of red out of it in the end."
The grade
Thomas Urbye at The Look is a hugely competent grader with fifteen years of grading experience, cutting his teeth at MPC DI in the mid-noughties when film was dominant. Philipp's film background persuaded him that three 60-minute drama episodes might allow him around four weeks for the grade. Seven days is all he got. Thomas is used to working to TV drama schedules and budgets: "The standard is two days per 47- or
58-minute episode, on average 800 shots, although Netflix and Amazon shows can be different as they see the value of it. Philipp and J wanted shapes and face tracking, which does take time, but I was running at full throttle. We even combined the grade and finishing in the Rio with online editor Tom Boyle to sign off episode three in time for delivery! It is some of my best work to date."
Thomas was also involved in the camera testing, which was the usual line-up scenario in the same environment, and he was able to match them up. "It was a classic camera test, a bit of day exterior, a bit of candlelight, then I match-graded them to be as identical as possible – you just roll it off in a nice filmic curve by eye, not using LUTs, then judge the shots on the big screen back to back – for me, the Alexa easily
won out."
If you've seen any of Gunpowder you will immediately be immersed in the atmosphere of skulduggery created – but where do you start in achieving that? "It's my usual drill of introducing as much S-curve contrast as needed, but I didn't pull the shadows down to black – in fact, we sat the blacks up a little bit all the way through, to make sure it felt as though there was contrast in the image without the blacks being heavy and detail being lost. We then isolated faces as needed, and maintained the richness. The most deliberate grading choice is the jump in episode one between the execution and the King's world – I encourage people to look out for it."
Being TV, the drama was shot in ProRes where a movie would demand a Raw workflow, but Thomas can't see a problem with that. "When we tested ARRI Raw and ProRes I couldn't see any visual difference apart from when you keyed the skies you saw the compression. After all, this was an HD show and no one seemed interested in a 4K delivery."
One of the biggest ongoing issues for graders of TV drama is preparing material for many screens, including smartphones and tablets. "How do I tell a director and DOP that they have to be mindful of someone watching their beloved drama on an iPhone in daylight, and also try not to compromise anyone watching the drama on their 60-inch HD/4K TV?"
It's a great question…