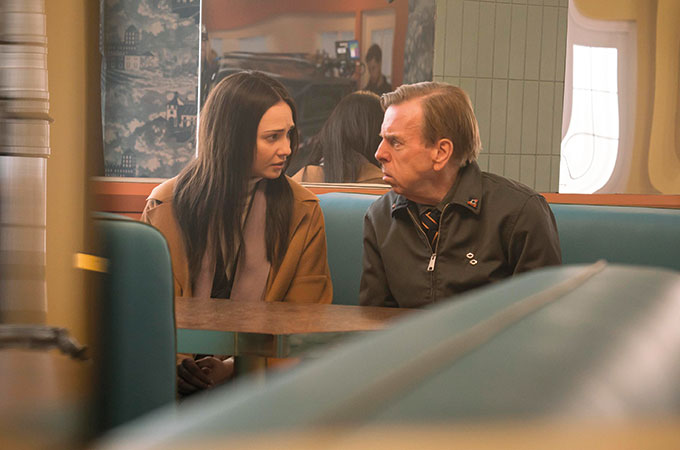 Electric Dreams
Posted on Jan 15, 2018 by Julian Mitchell
Channel 4 in the UK took ten Philip K. Dick stories and adapted them for television: but not without some technical hiccups
Words Adrian Pennington PICTURES Channel 4
The paranoid, melancholic and prescient imagination of genre writer Philip K. Dick has been a fertile source of science fiction for directors including Steven Spielberg (Minority Report), Richard Linklater (who rotoscoped A Scanner Darkly), Paul Verhoeven (Total Recall), John Woo (Paycheck), Ridley Scott (Blade Runner), and most recently Denis Villeneuve (Blade Runner 2049).
Amazon Studios with Sony Pictures Television and Channel 4 has returned to the author's extensive short story catalogue and plucked ten to adapt into individual hour-long films. The result is Electric Dreams. Packaged as an anthology, and interpreted by ten sets of writers/directors, each film is unique, ranging from the present day to millennia ahead. Production was split, with five episodes in the UK, and five in Chicago Studio City, shot concurrently under separate teams.
The commuter
On-set with DOP Ollie Downey and the RED.
The first episode to complete production, and the third to transmit on Channel 4, is The Commuter, written by Dick in 1953. Adapted by Jack Thorne (This is England '86, '88 and '90) and directed by Tom Harper (War & Peace, Peaky Blinders), the story centres on Ed Jacobson (Timothy Spall), an unassuming employee at a train station in suburbia who is alarmed to discover that a number of daily commuters are taking the train to Macon Heights – a place that shouldn't exist. The episode also features Hayley Squires (I, Daniel Blake) and Tuppence Middleton (The Imitation Game).
Naturally, when cinematographer Ollie Downey (Harlots, Clean Break) first got wind of the script's origins, he immediately thought of Blade Runner. "Yet the first 15 minutes of our story are set in Woking Station."
He continues, "The first thing that struck me when reading the script was that any sci-fi influence was negligible. It is a beautifully rich, emotionally complex, honest look at family, loss, love and resilience. When Jack introduced the script at the cast read-through, it gave me goose bumps. It's about a man stuck in an impossibly difficult situation with a son who is emotionally disturbed."
As an escape from his home life, Ed discovers Macon Heights, a utopian world that whilst not wildly different from his own reality, is devoid of any emotional pain or suffering. The story could be read as an allegory for mental illness or even for addiction, in which Macon Heights is a place one goes to hide from mental anguish.
Macon Heights
These two contrasting worlds as a set-up is a gift to a cinematographer. The obvious approach would be to treat the real world as harsh and unforgiving, and the other world as soft and dreamy, but to Ollie Downey and Tom Harper that felt wrong.
"No matter how unbearable our character's life is, it is at least real," Ollie explains. "The subtext to the story can be read as, 'it's better to have loved and lost than not to have loved at all'. Understanding this, we wanted his real life to feel dirty and out of control but also rich and organic in contrast to the parallel universe, which should feel more rigid and confined, synthetic even. As the film progresses these worlds begin to bleed into one another."
Tom had shot War & Peace on Kowa anamorphics in 2015 and, according to Ollie, loved the look of the aberrations, the focal drop-off, bokeh and associated characteristics of the old glass.
"We felt it would perfectly reflect Ed's emotional state," says Ollie. "However, they are rarely used for drama because the colours don't match across the range and if you shoot anywhere near wide open then different parts of the image go soft and they bow terribly. They are inherently inconsistent."
Ollie wanted to use Crystal Xpress, a set of Cooke Series 2 and 3 Panchros given the anamorphic treatment by Joe Dunton Camera (JDC) in the 1980s. "They have a richness and beauty that I think is unsurpassed," he says. "Because our story is about the disintegration of a man's personal life we felt the best way of expressing his mental turmoil was to use these old anamorphics."
Amazon Studios, however, mandated a 4K 16:9 deliverable. "This was non-negotiable. Could we punch into the middle of 40-year-old glass that's been anamorphasised? That hasn't been done much before. We asked if we could shoot 2.35:1 but got a 'no', so we presumed using anamorphic lenses was off the table."
Shooting 8K
Then came the realisation that if they could shoot 8K at a ratio of 6:5 with anamorphics they could still crop the image and deliver 16:9 4K, but with all of the lens characteristics that they were after. The next hurdle was convincing everyone else – the chief concern being the amount of data that would be accruing.
It was VFX supervisor Tom Debenham who made the calculation that if the production shot 8K compressed at 8.1, the total data would be little different to shooting 4K ProRes. Thus, a RED WEAPON 8K S35 camera with the HELIUM sensor became the A camera of choice for anamorphic shots.
"One of the great things about RED is that you can dial in the compression that you want to use and you can even change compression from shot to shot," explains Mark Purvis, managing director at Mission Digital, the digital lab for the five Electric Dreams productions shot on RED in the UK. "Assuming you have the bandwidth to play back in real time, there isn't any noticeable difference and it all plugs seamlessly into the timeline."
DIT Patrick King managed the R3D files for Mission Digital. The facility also compiled the colour pipeline for the show to meet Sony Pictures' specifications.
"What seemed so unrealistic in shooting 8K for a fast turnaround TV project with lots of set-ups suddenly became very doable," says Ollie. "What is interesting is that people presume the decision to shoot higher than 4K, certainly at 8K, is to obtain a sharper image or for visual effects, but shooting 8K in this case allowed us to go backwards and degrade the image. An 8K resolution was a creative choice since it allowed us to take a few steps back and use older lenses to warp and bend the image. Additionally, we were all very impressed with the low noise of the HELIUM sensor."
Anamorphic
The decision whether to go anamorphic or not went right down to the wire. With just three days before principal photography, the team's original lens choice was unavailable. However, at Movietech, they found a replacement in an old high-speed Crystal Xpress made with Canon glass which, incredibly for an anamorphic lens, was T1.4.
"They weren't as pretty as the JDC Cooke versions but they had a rawness that we liked," says Ollie. "Most anamorphics really sing around T4 and these were no different. Wide open at T1.4 they totally fell apart and the image became quite abstract, but Tom loved the look and felt it was perfect to reflect the main character's emotional turmoil. We were only able to shoot at these stops because of the brilliance of our A Camera focus puller Jason Walker. With the characteristics of the lenses there was no need for filtration."
Shooting took place over a month in spring 2017 at studio builds in Barnet and on location in Woking and Poundbury, Dorset. Under the production design of Lisa-Marie Hall,  with street markings and cars hidden, the town doubled as Macon Heights.
"The other world is, at first glance, free of the pain and suffering that would make our commuter aspire to seek happiness there, but there is something about this world that is very rigid and restrictive, and where there's less freedom," Ollie notes. "So, we needed a distinct look for this world, but Tom was insistent that it not depart radically from Ed's reality. We played a lot with symmetry. We wanted something a little harder but not too modern, and so for these scenes we decided on an old set of Zeiss Super Speeds on a RED EPIC DRAGON shooting 5K. The old anamorphics bow terribly, particularly on the wider lenses and we felt that the utopian world should feel more orderly and actually less free, to imply a world of more order and consistency."
Less camera movement
This aesthetic continued into his use of framing and depth of field, which in the real world was used to emphasise Ed's isolation from his family and society as a whole. "We played with short siding and kept him in singles rather than sharing a frame with other characters. Sometimes we gave him a bit more headroom to suggest the weight of the world hanging over his head. We kept the camera mainly still, occasionally handheld, to retain a sense of reality and reflecting the depressed nature of his environment."
Ollie embraced practical single light sources, including windows and sodium street lights softening the image, "to afford the character some grace and humanity amid the chaos of his mind. We wanted very English overcast skies to give an oppressive top light."
They approached Macon Heights using symmetry and reflections to help push the idea of order. Referencing director Terrence Malick's smooth, flowing camera in The Tree of Life, Ollie positioned Spall more centrally to the frame, and rather than tilting the camera up or down tried to move in straight lines. "We wanted to express a child's-eye, exploratory view of the world, using wider lenses, a harder light and with more of the world in focus," Ollie points out.
The final look of this Electric Dreams episode was layered by sequences shot on 3-perf 35mm.
This was used to evoke a sense of memory in Ed, who after visiting the utopian world begins to reflect on what the world would be like if he didn't have children.
"At each of the episode's locations, we rolled 50 feet of film of Tim's character, Ed, and the actor playing the younger version of his son. Then we rewound the film and shot over it at another location," Ollie explains. "This double exposure was intended to suggest echoes of memories for Ed."