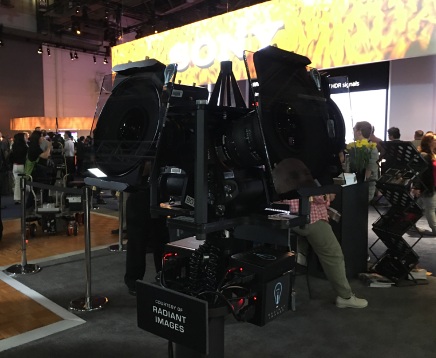 Live VR and Stitching From NAB Show Floor
Posted on Apr 20, 2016 by Alex Fice
In what is maybe a worldwide first, VRLive and Radiant Images are broadcasting live 360˚ stitch and distribution footage from the NAB 2016 show floor.
VRLIVE's 360-degree cinema-quality live-streaming technology is on display in both the Codex Booth #SL6828, located in the South Hall, and the Band Pro Film & Digital Booth #C10408, directly adjacent to the Sony booth in the Central Hall.
Go here for BandPro's feed. Here for the CODEX feed.
You can watch on any desktop computer and also on iOS and Android with Apps. The live streams are viewable as 360-degree scrollable live-video or can be experienced within a virtual reality head-mounted display.
"This is a giant leap forward," said Michael Mansouri, VP at Radiant Images. "Together with VRLIVE, we are the first to do this live 360 stitch and distribution platform. This is the future, and it will fundamentally change the way we experience travel, entertainment, live concerts and events, education and, as we're showing this week, trade shows. The possibilities are limitless."
VRLIVE, the first 360-degree network for virtual reality and 360-degree live-action content, is a platform for music, sports and entertainment events. By filming or recording major music events and major recording artists..
In the Codex booth the VR live stream is using Radiant's Headcase Codex 360 Rig, a combined 36 megapixel array of 17 Codex Action Cams.
In the BandPro booth VRLIVE and Radiant are live streaming with the Dark Corner 360 Rig, which features four Sony A7S MKII full frame sensor cameras. Radiant developed its Dark Corner rig as a VR capture device for low light environments.
In addition to the mobile app, the 360-degree live streams can also be viewed at www.vrlive.com, www.codexdigital.com, www.bandpro.com and www.radiantimages.com.