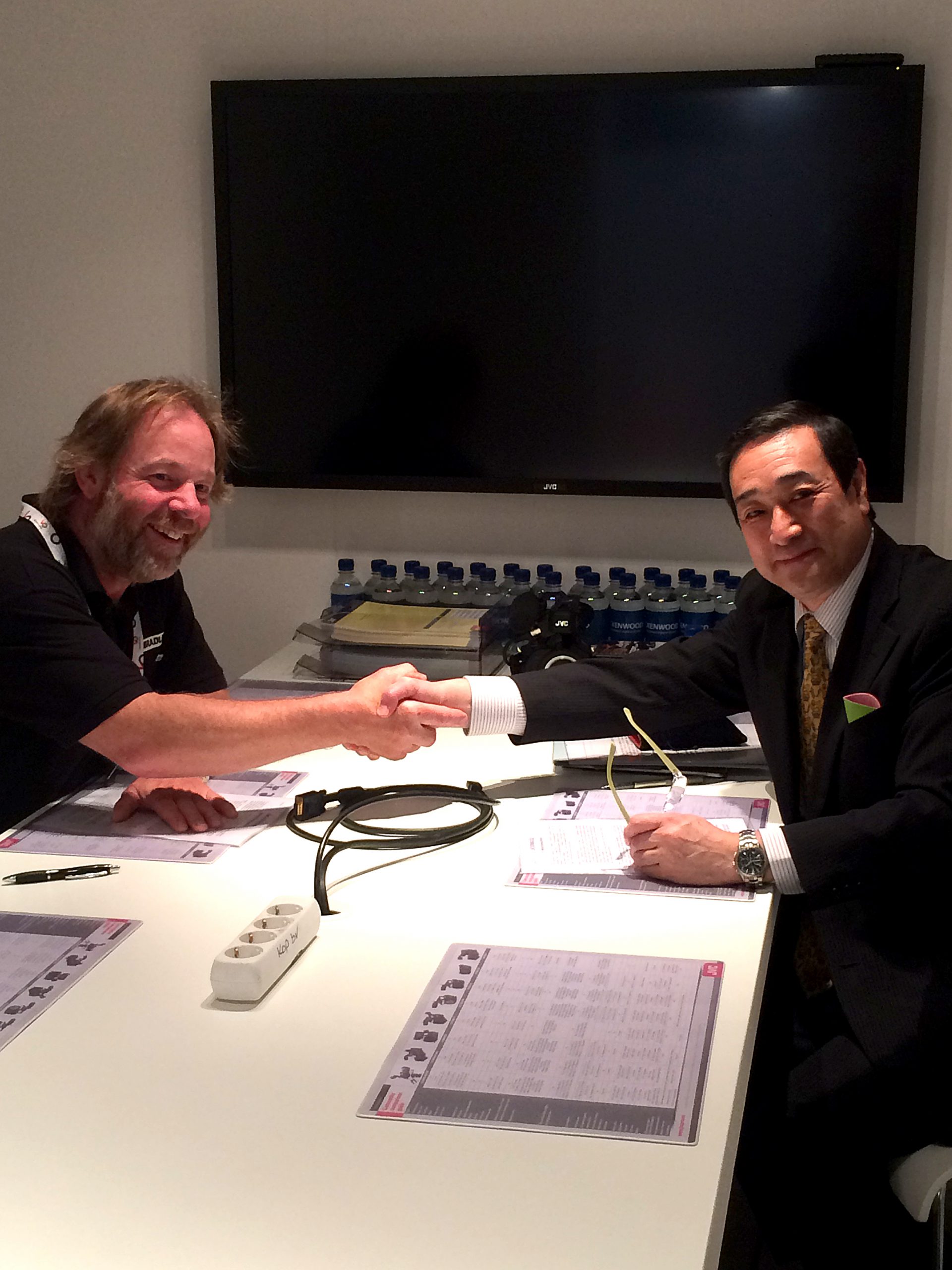 JVCKENWOOD AGREEMENT WITH BRADLEY ENGINEERING GIVES JAPANESE GIANT INSTANT REMOTE CAMERA MARKET
Posted on Sep 15, 2015 by Julian Mitchell
David Bradley and JVCKENWOOD's Hisao Kikuchi VP and Executive Officer shake hands on the sales agreement between the two companies.
As part of JVCKENWOOD and Bradley Engineering's developing relationship, the two companies have just announced a new sales agreement, signed on the first day of IBC2015, which allows JVC access to a range of Bradley products. These include pan/tilt cameras, camera controllers and related studio components.
There are a number of Bradley products on the JVC stand at IBC, including the newly-developed fully-integrated HDC-160 PTZ camera, the U4_J remote camera head for the GY-HM600/650 camcorders and the Z-Head remote camera head for the GY-HM170/200 camcorders. JVC will also be demonstrating Bradley's Multi-Function Controller and Remote Camera Panel Mk3, along with the RD_11 multi-channel radio data transceiver and RD_12 miniature wireless CCU controller.
When used with the JVC GY-HM850 shoulder-mount camcorder and JVC DT-X71CI monitor, the BRADLEY Remote Camera Panel Mk3 delivers a very cost-effective studio solution. Each camera can be fitted with an RD_12 wireless CCU controller, which can also be configured as a wired solution, and a DT-X monitor, with just the single RD_11 transceiver required along with the remote control panel. Since the JVC GY-HM850 cameras have SDI outputs, these can be connected to a vision mixer, including those made by Streamstar. For multi-camera productions, the GY-HM850 provides a genlock input and timecode input/output; the GY-HM850 can also be used as a master timecode generator, providing a timecode output for other cameras or audio recorders to synchronise to.
Bradley Engineering are demonstrating their new 4K PTZ remote camera for high-end broadcast applications at its stand during IBC (just behind JVC stand 11.G30). This new camera system was developed through a joint collaboration between Bradley, JVCKENWOOD and AltaSens, which is a wholly owned subsidiary of JVCKENWOOD.
The 4K PTZ camera transmits a 4K Ultra HD (3840×2160 pixels) 50p signal via fibre to the Bradley Base Station, which provides genlock input, simple TTL level control protocol and a dual ST fibre connection for more than 12 miles. Ideal for live sports and event coverage in stadiums, the new camera can also be used for telepresence and other industrial and professional applications.
Based on Bradley's U3 camera head, the PTZ has 99 presets that can be recalled remotely – as well as pan, tilt, zoom, iris, focus, full paint and colour balancing control – using Bradley's Remote Control Panel (RCP). The camera features the same Super 35 CMOS sensor used in JVC's new GY-LS300 4KCAM camcorder, as well as a Micro Four Thirds (MFT) lens mount that supports B4 and PL lens adapters.
"Bradley Engineering is the ideal company to advise us regarding key design aspects and to subsequently deliver a superb integrated solution for 4K cinema or UHD broadcast, or even for sports broadcast where slow-motion playback is required," said Darren Paulson, vice president of Business Development and Compliance of AltaSens.