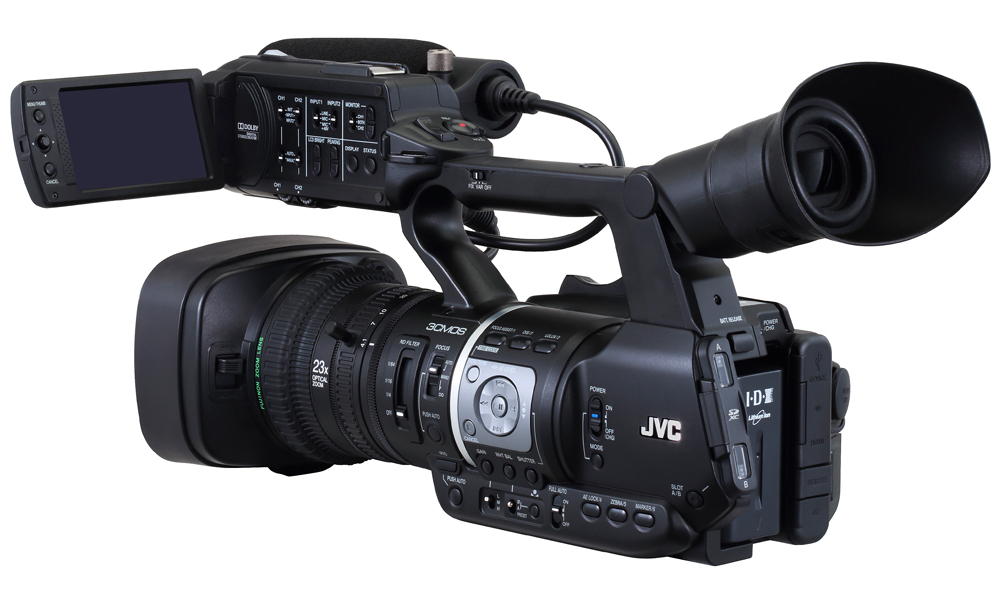 JVC Update Their Streaming Cameras
Posted on Apr 18, 2016 by Julian Mitchell
A new upgraded member of JVC's 600 series is the GY-HM660 which replace the current HM650.
JVC has introduced two upgraded models in its 600 Series of ProHD mobile news camcorders, including the GY-HM660, the industry's first streaming camcorder with an integrated IFB (interruptible foldback) audio channel (this feature is a free firmware update in the very near future). Both the GY-HM660 camera, which replaces the current GY-HM650, and the GY-HM620, which replaces the GY-HM600, feature new CMOS image sensors for greater sensitivity, together with a brighter LCD display for improved daylight viewing.
Both new cameras feature three new 12-bit CMOS sensors with improved F13 (50Hz) sensitivity for low-light performance. The cameras also include an upgraded 3.5-inch LCD display, which can be swivelled for use as a talent monitor, as well as a 1.22 MP LCOS colour viewfinder. The integrated Fujinon 23x auto focus zoom lens offers a wide 29-667mm (35mm equivalent) focal range and includes three ND filters as well as manual zoom, focus and iris rings.
GY-HM660 camera
The new GY-HM660 will allow reporters in the field to communicate with the studio through IFB (interruptible foldback) while streaming live HD reports from the field. JVC has also added SMPTE 2022 forward error correction for increased stream reliability. The camera also includes support for Real Time Messaging Protocol (RTMP), which allows a direct connection to a number of content distribution networks (CDNs) including Ustream and YouTube, together with compatibility with Streamstar's range of streaming production tools.
the GY-HM620 replaces the GY-HM600.