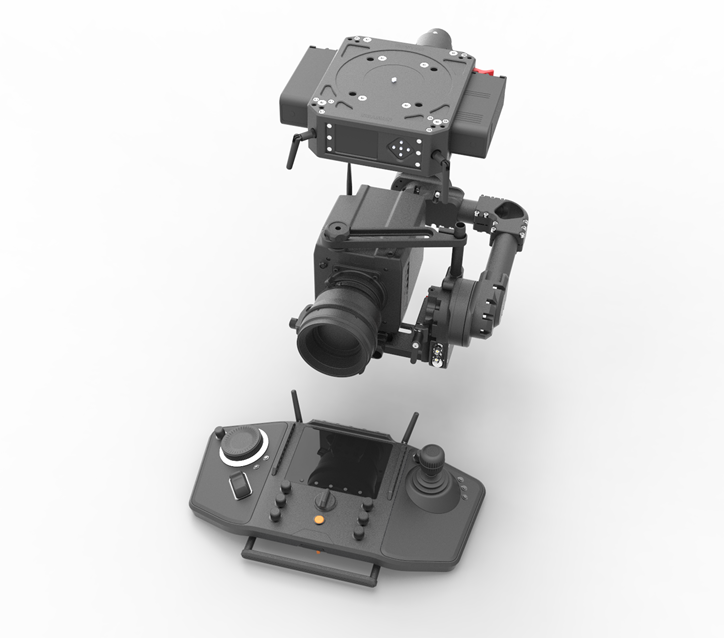 Intuitive Aerial Launches NEWTON Stabilised Remote Camera Head
Posted on Sep 8, 2015 by Alex Fice
The NEWTON is a Lightweight and gyro-stabilized remote camera head designed for broadcast, amongst other applications.
Intuitive Aerial, the makers of the AERIGON aerial remote camera platform, will introduce its NEWTON gyro-stabilised remote camera head at IBC 2015. This lightweight head complements the AERIGON and allows steady shots from a wide range of cameras and lens control systems while in motion on a variety of devices.
The NEWTON is powered by Intuitive Aerial's gyro-stabilisation technology, has tool and device free handling, and is dust and water-protected. The 15 lbs. unit can be used on 1D/2D/3D wirecam systems, cranes, jib arms, dollies and shock absorber-equipped vehicles.
The NEWTON is controlled by Intuitive Aerial's newly released DOMINION controller, allowing precise operation of the remote head, camera, and lens via dual-frequency wireless communication, enabling NEWTON and DOMINION to perform together in congested wireless environments, along with an optional control over fiber interface. This allows for complete integration into broadcast workflows on remote operation.
The Dominion controller, new from Intuitive Aerial.
"For years we've been asked to provide a lightweight stabilised head tailored for professional motion picture and broadcast applications where flying UAVs isn't possible or allowed," said Robin Kahlbom, CEO at Intuitive Aerial. "With our recently launched DOMINION controller, enhancements in our stabilisation technology, and optimisations in the design, we're very proud to bring the NEWTON to market."
Intuitive Aerial is known as the manufacturer of the AERIGON, its professional remote piloted aerial camera platform that has been used on recent productions including Avengers: Age of Ultron, We Are Blood (Brain Farm), and BBC's Natural World Return of The Giant Killers.