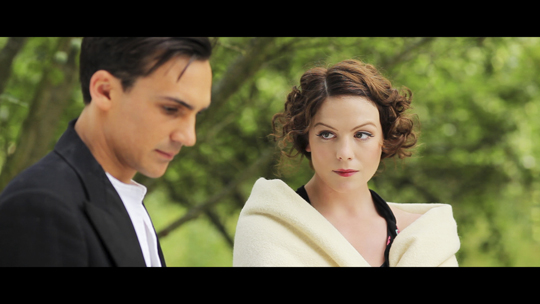 How Apple's iPad Streamlines Work On Set
Posted on Aug 11, 2010 by Julian Mitchell
A frab grab from Dimensions shot on Canon's 5D MkII
Apple's iPad might not seem to be a logical addition to Final Cut Pro, but it's being used extensively on a new feature film being shot on location in Cambridge. Dimensions is the directorial debut of Sloane U'Ren, who previously worked as Art Director on major features, including Batman Begins, Harry Potter and the Half Blood Prince, and Being John Malkovich. Set in the 1920s and '30s, the film follows the life of Stephen, a brilliant but troubled physicist, obsessed with the death of a childhood friend fifteen years earlier.
The feature is being filmed with Canon's 5D Mk II, often with a multi-camera setup. Rushes are automatically transferred from the CF cards to a pair of G-Safe RAID arrays, on-location, by custom software. The software then stamps the camera files with timecode, based on the creation date of the file, and transcodes the H.264 from the cameras into ProRes 422 HQ for editing on another G-Technology drive, an 8TByte G-Speed eS (configured as RAID 5) in the edit suite. A small fleet of 500GByte G-Drive mobile USB discs are used to ferry data from place to place. The custom software was developed to remove the requirement for a dedicated data wrangler – a single drag and drop is all that's required to generate multiple, redundant copies of the data and initiate the timecode stamping and transcoding.
The pace of shooting, along with the multi-camera setup, generates a vast number of clips. A Bento database, running on the iPad, is used to log clip details on-set – the database is then synchronised with the main database running on a server in the edit suite. This allows the editor instant access to all the clips logged for the scene he is editing, along with information on the matching sound files (recorded on a Sound Devices 788T), log notes, Directors comments, and information from the script supervisor's notes. The database also stores reference stills from each scene.
The iPads are also used to view and annotate the script, using the elegant iAnnotate PDF reader and annotation app. Notes added from iAnnotate can be exported and are available on the production office's desktop PDF readers.
Finally, of course, selected rushes and assembled scenes can be uploaded to the Director's iPad as self-contained video files.
As well as being incredibly functional on the shoot and in the edit, the iPads have proven very robust. The unit used for logging clips gets a particular hammering – it's protected by a Proporta Mizu Shell (in fetching pink) which stops the back form getting scratched and makes it easier to hold, but it's not unusual to see someone balancing their coffee mug on the screen to free up a hand, which can't be recommended, but doesn't seem to do the iPad any harm at all.
Adam Garstone, Dimension's Editor, hopes to extend the use of the iPad in the future: "We didn't have time to get the script supervisor and sound recordist to log directly into their own iPads – that part of the database simply wasn't set up before shooting began – so my assistant has to add their logs manually. Already, though, using iPads has reduced the usual mountain of paper we use to a large mole-hill, and the centralised database saves a ton of time in the edit – I can find any take just by typing a few keywords."