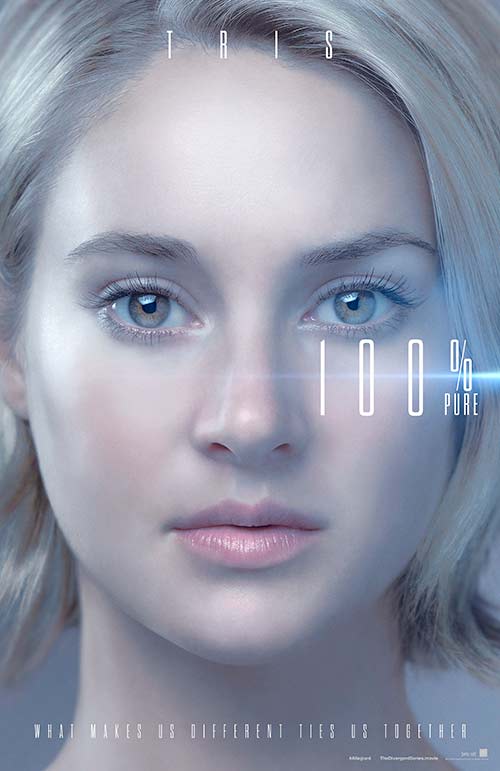 HDR Grade For 'Allegiant'
Posted on Apr 13, 2016 by Alex Fice
Company 3's Paul Ensby reveals how he used DaVinci Resolve Studio to deliver a HDR grade for the first time on the latest blockbuster installment of the Divergent series, Robert Schwentke's Allegiant.
The third installment of The Divergent series, Allegiant takes Tris and Four into a new world, far more dangerous than ever before.
Creating the final grade for the blockbuster was Company 3 London's Paul Ensby, who moved to live in Los Angeles for nine weeks to complete not just the grade, but also deliver in high dynamic range (HDR) for the very first time.
HDR Deliverable
"Director of photography Florian Ballhaus and I had collaborated together on several other features in the past when he approached me about Allegiant," begins Ensby. "Because of the tight turnaround, and because we had to deliver both IMAX and Dolby High Dynamic Range versions of the film, I was given a lot of autonomy on the grade once the brief was given.
"HDR has been something many in the industry are excited about for some time now, and now I can see why," he continues. "This was my first HDR experience and I was really impressed by what HDR could bring to the table for colourists. The image is so bright and vibrant, with lots of depth compared to what we are used to seeing on the television screen at home. Everything looks nice and crisp. The blacks are very black and the whites are very white, but you still manage to retain lots of the overall detail. There were some scenes where we were noticing elements, such as clouds, that we would never have known were there before without HDR."
With Resolve, Ensby was able to deliver a variety of different HDR versions of the movie for the big screen, as well as several home versions at varying degrees of brightness. "We were given a very strict schedule in order to deliver all of the different version. I was so familiar with the film," Ensby recalls.
"Using DaVinci Resolve for this was as simple as pressing a button, and all the different deliverable versions could be held in the same live project. Essentially, that meant we could still be referring to the original raw rushes throughout the entire process, giving us a huge amount of flexibility. Ultimately, I even completed the reframing for all the different aspect ratios, all directly in Resolve."
Dealing with the VFX
As well as needing to deliver in HDR for the very first time, Ensby was also challenged by the sheer number of visual effects elements involved in completing the final film.
"My work on Allegiant went beyond grading, in a way," he explains. "When Tris and Four escape behind the wall, they go into an area called The Fringe, which has never been seen before in the Divergent series. This gave me a little bit of creative freedom so I decided to give The Fringe a warm red and yellow look to contrast the colder look seen in the rest of the film."
"I would have multiple layers of mattes coming in from the visual effects house, with hundreds of elements, including computer generated ships and drones, flying around the scene. I had to make sure all of those elements matched with the rest of the grade in order to sell the visual effect, as well as use Resolve's blur and sharpening tools to decide what the drop off point for a shot would be, and whether a particular drone needed to be more in focus, or not, on a particular sequence."
Another aspect of the work, according to Ensby, was to make sure all the visual effects looked as real as possible by allowing for imperfections in the final sequence. "It's difficult because sometimes you will see a shot, and not quite know why it doesn't look real," he reveals. "That's normally because you've subconsciously noticed that the VFX in it has no imperfections. In the real world everything, even your keyboard, will have a little dust on it, or a few scuffmarks, for example. In 'Allegiant', I used Resolve to replicate these sorts of effects by creating elements such as atmospheric smoke or dust for CG ships and drones. I would also make sure all the skin tones were never affected by the use of a green or blue screen."