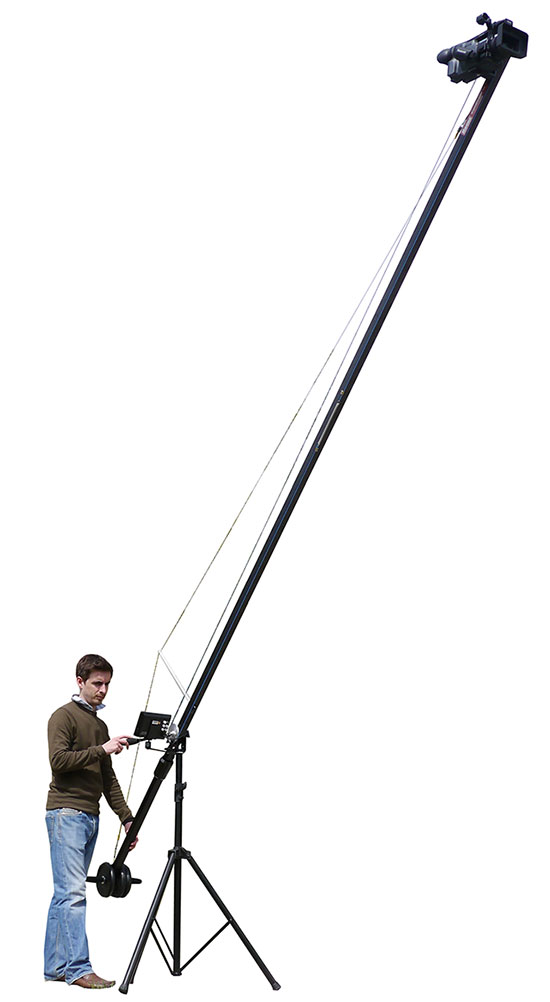 Hague K9 CamCrane With Stand & Camera Tilt Control
Posted on May 29, 2013 by Alex Fice
5m of Camcrane for only £430.
If you've ever envied those great crane shots across audiences and swooping shots above huge expanses your dreams may have come true with the new Hague Camera Supports' new K9 CamCrane. The K9 Camcrane reaches a respectable 5 metres in height and is supplied with its own stand and camera tilt control.
We haven't put one together but Hague promise the K9 is quick and simple to set up. Support is for cameras up to 2.5kg so ideal for handheld camcorders and DSLRs. You get your own stand, which can be adjusted for height, or an optional tripod bearing block is available which allows the CamCrane to be attached to any 100 or 75mm "bowl type" tripod.
The camera fastens directly to the camera plate on a pulley at the end of the crane, it's this pulley system that holds the camera level as the CamCrane is raised or lowered. A variable tilt control with lock enables you to tilt the camera 90 degrees and the camera pulley can be set in any position, so you can have the camcorder pointing directly downwards or upwards creating some very unusual shots.
Once balanced the camera can move from ground level to over 5 metres high and the crane will pan 360 degrees on the stand. You have the choice of using the CamCrane at it's full length or without one of the centre sections. The counterbalance arm has an adjustable fine trim weight and a weight bar with handgrips. Standard bar weights are used for counterbalance (you have to buy these yourself). An optional monitor bracket is available.
Specifications: Length from stand/tripod to camera 336cm at its longest length, or 225cm at its shortest length. Length from stand/tripod to weight bar 108cm. Total length: 444cm or 332cm at its shorter length. Vertical crane movement from ground level to 515cm high (at its longest length) or 345cm (at its shortest length). The maximum vertical crane movement includes go down as well as up, so the crane would need to be on a raised area to achieve the full movement.
Price is £430.00 ex vat, £516.00 inc vat.