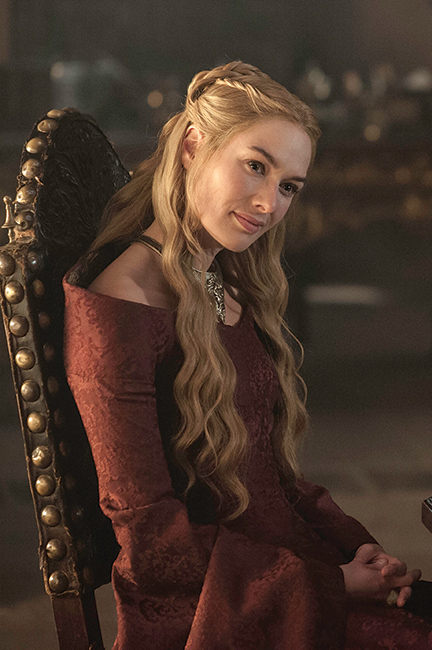 Game Player – How To Survive Editing A Season Of 'Game Of Thrones'
Posted on Oct 11, 2013 by Alex Fice
Tyrion Lannister – played by Peter Dinklage – is the nearest thing the series has to a hero, albeit a very badly behaved one.
Never has a television series been so unpredictable or dismissive in its dealings with main characters and so dense in its storylines. One of the show's editors Oral Ottey describes a typical season's work in this trans-global fantasy horror series that has gripped its audience.
For those who haven't seen it, and it is on Sky Atlantic in the UK so there are loads of you, Game Of Thrones is TV's equivalent to movie's Lord Of The Rings or Harry Potter in the sense of it's breadth of production and epic-ness. But what Game Of Thrones has over the child-friendly movies is a unpredictability in its narrative. Good against evil models are there but you are never sure which one will prevail, Disney it ain't! Main characters are unceremoniously butchered, actually in the midst of ceremonies, and treachery and ambition are like beacons for the stories direction.
The books are dense with plot and characters and the TV Episodes have to bring all that denseness in to coherent narrative to keep HBO and Sky Atlantic subscription payers happy within TV schedules and hopefully budgets, albeit increasingly large ones.
Oral Ottey was one of three editors who cut the first three series of Games Of Thrones. Three editors because of the huge nature of the production. Simultaneous shooting in four countries all with parallel and interwoven plots and every edit to be scrutinised and rubber stamped by the book's author George R.R. Martin who is also acting as a producer for the series.
"The sheer volume of stuff you have to somehow log inside your brain is amazing. You have to come up with an idea for the edit based on your memory. They could be shooting six episodes at the same time. You could have Daenerys who in this season was out in Morocco and Croatia, then you have the character Jon Snow in Iceland, then Tyrion in Belfast and so on and so. It just depends where the characters are.
"I might get assigned to three directors for three separate episodes which also might overlap the actual shooting, one editor couldn't do it."
Oral was bound for another career path when he discovered the television and movie business. "I did a course in trying to become an architect and I went for a job as a trainee to an architect, a trainee assistant. I didn't get the job but what came up was to become a runner for a film commercial company which is the company I'm at now, but I've stopped running! I couldn't even tell my folks about the change in my career and for years they thought I was still working as architect."
"I might get assigned to three directors for three separate episodes which also might overlap the actual shooting, one editor couldn't do it." Oral Ottey.
Oral had been involved in Games Of Thrones from the 'get-go'. He'd worked on another series for HBO before and his first serious job was Band Of Brothers and from there he went on to work on Rome where he met one of the current Executive Producers on Game Of Thrones, a guy called Frank Doelger.
"They had shot the pilot for Game Of Thrones and it hadn't gone down very well and Frank Doelger, who I would say is a creative producer, got hold of the pilot and invited me and some other people to have a look at it. They re-shot part of the pilot after re-casting some of the characters like Daenerys. I didn't know that the book had a large following but started to realise that this could be a big thing, it started having its own life."
Red Wedding
Season Three had at least six directors, Oral cut Episodes six, nine and ten. "The only thing you have to deal with is the sheer volume of material and getting your head around it. For example the Red Wedding scene from the Rains Of Castamere episode which I cut, was great and we had a worldwide response to it.
"That scene alone, the Director, a guy called David Nutter, he actually shot in a single day eleven and a half hours of footage. So that was quite daunting to edit that down to one hour. He was asked to direct that episode and because I had worked with him before, they wanted to keep that continuity and we get on really well. They all do that you know, it's better the devil you know.
"We had a meeting before he shot it about camera placement and the tone he was after. He was working at an awesome speed. I started cutting it the next day and managed to cut it in a day! I thought there was no point agonising over it just go at it with gusto, you get the shape of it and then you start planting the little looks here and there, the odd punctuation moments. You then polish it.
"My life in the industry started out as in documentary editing so with my documentary experience I was able to look at stuff and decide what the 'nugget' of the scene was and then start putting the jigsaw together.
"You look at your rushes and it's like looking for gold. You find the crux of the scene and let everything evolve round that. The character Walder Frey is the centrepoint, here is a man that at the pre-wedding has said that he will put up a tent and put on a big bash for the wedding and that everyone will be happy. So the idea is not to give the audience any hint of any treachery – with that in mind you have to edit in a way that doesn't give anything away even with eyes. Eyes can give us feelings of something that could happen or some betrayal so you have to keep it jolly, jolly, jolly until the moment. For those who haven't read the book you want to shock them."
The Process 
"We are in an edit suite, not on-set. We can go on-set if we want, I've tried to avoid it. The material comes to you, we have a Digital Lab on-site, the material gets fed in to that, they synch it up and then it goes via my assistants who then break it down in to scenes. You need all hands on deck to get it done, I'll edit and review then pass on to my assistants to make some sound effects and then use some library music to add some tone.
"Initially we had to use library music because we didn't have a composer on board. Game Of Thrones was trying to find its own sound and when I was doing that first episode and wondering what this music was going to be, I remember seeing a film called Apocalypto. It was really haunting and had me on the edge of my seat and the music played a big part of that. So I got my assistant to get the soundtrack. So I had this scene with the White Walkers coming through the forest chasing these guys and of course it was very subliminal, you weren't allowed to see too much detail in that but enough to scare you and so I put this music against it and they all got excited and said 'Where did you get the music?'. So a composer was appointed, they decided that they didn't want, for example, a John Williams type score. So they developed themes for different characters as time went on."
Book Adaptation
To weave the stories together in book form is an easier task than in one hour chunks for television so it is down to people like Producer Frank Doelger to maybe chop and change scenes where he thinks things will flow better. Oral explains the chain of command and the permissions process.
"Here how it works for Game Of Thrones, we don't have the Directors for the entire time while we finish up the programme. In my case I had two days with my Director and then he's gone. I would do a cut and then send out a DVD for them to have a look at and wait for their response. So within a week they would have had their cut and that's it they're gone, it's really more of an American thing as we don't really work like that in British TV.
"It's a different way of working that's for sure, really the Director's employed for creative input and then at the end of the day they're not there. I guess what  you have to do is find out what they had in mind and somehow make sure that whatever that was gets translated to the film at the end.
"To a large degree it's left to me to look at the scenes, move them around, figure out what works and what doesn't and then you present it to the producers for their objective response.
"The producers have promised to keep as close to the books as possible so even if I cut stuff out I then have to report what dialogue has been removed and they in turn present it to George Martin the author to see if he's happy with that. You might get a note saying could you put those lines back in because those lines might be very important in Episode eight if you'd taken them out of six for example.
"Getting the Alexa footage is no problem, there is just a lot of it! Each episode is like doing a single movie, so that's the way to treat it, HBO want it to look like a feature film. We do get all the scripts that we need for the different story lines. What I tend to do is to read the scripts and then somehow try to forget about the scripts and so when I get the rushes I try to be as objective as possible, you try to be a viewer although you're editing it. 'What would I want to see at this particular moment?'. Or let the viewer think that everything is OK. You also need to view the other episodes, if I was editing Episode 6 for instance I would watch 1-5."
Effects Lag
For the effects the production tries to do as much as they can in-camera but there's only a certain amount you can do and that doesn't include Dragons! "I remember one episode in Series Two, called Blackwater where the harbour had been set alight and that was HBO doing something they'd never done before and that was an effects-driven episode.
"We use Avid editors, the Americans tend to use those but as far as seeing VFX is concerned we get to see a progression of where they are up to, sometimes you don't get to see a complete effect until almost near transmission.
"I make a point of talking with the other editors to collaborate, we all have different styles but luckily we all have an eye for story telling and with the creative producer, Frank Doelger, he's there to keep that continuity in check."
Game Of Thrones is back on television next year without Oral cutting any episodes but this is a series without end so in true Game Of Thrones fashion 'anything can happen'.
Cersei Lannister – played by Lena Headey – schemes her way through the series.