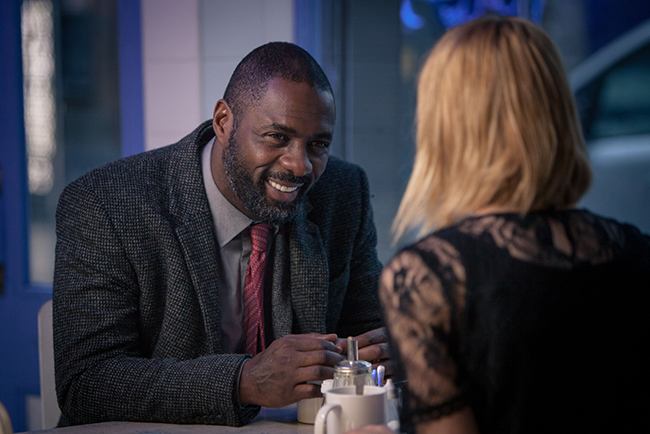 Basic Instinct – The Shooting Life Of John Conroy
Posted on Oct 10, 2013 by Julian Mitchell
DoP John Conroy on the set of Mr Selfridge with Arri Alexa in hand
Instinct in a cinematographer for the best possible shot is a moment that has been, in John Conroy's case, nurtured and fine-tuned over nearly 30 years of shooting experience. We talk to him about his craft and how digital helps him fight budget restraints and crazy schedules.
As in most entertainment based revolutions America started it. It was to be the golden age of television, gloriously told episodic stories with movie stars jumping ship to be in and movie technology sliding quite happily next to. If you live in a black and white world you could see movies as a place where the script lives in the diminishing gap between the effects – television as the place that honours the script but envies the effects.
We love the fact that digital cameras and efficient and edit-friendly codecs have played their part in shortening the aesthetic gap between the awe of the movie house and the box in the corner. 'A' list actors are now not tainted by working in both genres but further down the credits pecking order DoPs are also making hay in cinematic broadcast.
One such beneficiary is John Conroy. Check his IMDB entry and he has worked on some big movies clapper loading, focus pulling and camera operating amongst other disciplines. But started to take the cinematographer role in the mid to late 2000s including the prestigious shows Silent Witness (20 episodes), Upstairs Downstairs (two episodes), this year's Mr Selfridge (three episodes), Silk and the brilliant Luther (two episodes of the latest series). He's currently shooting The Smoke for Sky again on the Alexa with Primo lenses.
However it was Silent Witness that honed John's skill as he had to interpret different Director's designs as they came on through the series. The first series that John worked on used the Arri D-21 digital camera, their first stab at a digital camera design, then they went on to use the ubiquitous Alexa.
Luther
Luther has been a slow burner for the UK audience but Series 3 might have cemented the nation's love for this multi-dimensional sleuth. John had heard through Phillipa Giles his Exec Producer on Silence Witness about a possible job on this new series and Director Sam Miller in turn brought John on board but with a minimal brief about how he should shoot it. "I wanted it to have its own energy, something unique, even though it had been shot before. I didn't feel that we had to maintain a style from before. It's 'shaping' for me, there's nothing wrong with having dark scenes as long as you have light as well for contrast."
John brought his skill to the latest series of 'Luther'.
There are no prizes for guessing which camera set-up John ended up using because the Arri Alexa seems to be choice of many of the episodics in the UK. "I was happy to use the Alexa and the Master Primes. In fact I love digital and prefer it to film, it's more direct. It truncates the discussion you can have with a Director about wanting something to look a certain way. The quality at this stage is I think is the same as film. It's totally an aesthetic thing whether you want to shoot film or digital, from a quality point of view there's no difference."
A show like Luther will be guaranteed to achieve a cinematic look with a camera and lens package that currently shoots many of the latest blockbusters in Hollywood. John finds that discussions with Directors are now to do with how you bend that technology to your will, the shape, the tone and the colour. John and Luther Director Sam Miller spoke about shooting for the series and agreed that shooting to enhance the narrative was the only way forward for them, "When it came to colour and look we felt that there was plenty of room to explore. There is a scene in a safe house for example there's a lot of green and orange in that space which in effect acted as a standalone as other scenes could be quite blue and grey. It almost juxtaposed where you'd think the colour might be."
In-Camera
Mention using colour in digital post and John asserts that although grading techniques are great you have to give your grader (Jet Omoshebi graded Luther) something to work with and shaping a show must start with the look in-camera.
"I'm very much of a view of doing it in-camera. I come from a film background and have been working in film since I was about 15 professionally, so for me the more you can do in camera the better. Then you can go to the grade and have a really great experience. I wouldn't put a look in to the camera, I would still shoot it Log-C but because you are monitoring in Rec 709 you've got a really good idea of the way it's going to look. You always know if it looks good on Rec 709 then it's going to look great when you get to the Log-C stage and you go to the grade. But you can't be a passenger, you can't just put shape on faces when it's not there, you can enhance it, you can make it more of less maybe by punching the highlights, pushing the blacks but you can't look at a flat face and then decide you're going to put a shape on it in the grade, because they turn their head, they move their head."
TV Budgets And Their Legacy
Since light first hit silver halide cinematographers have been shaping the look of what they shoot, the event of digital post production made them even more protective of their shaping craft, but it is a very new century phenomenon that might restrict this particular skill further and that is budgets!
"It's very difficult, what you need is a great crew, I had a brilliant gaffer in Luther, Brandon Evans. You kind of need a short hand with them, you can't be spending time talking about stuff that doesn't need to be talked about. It's the same as your focus puller, Tom Taylor is amazing (Luther, Silent Witness). That meant that I could do a lot of stuff that sometimes you can't do because you have focus pullers that just don't 'get it' and are afraid to really go for it."
Much of John's training was as a focus puller and he didn't start lighting until he ran the second unit of Sweeney Todd in 2007. After leaving focus pulling behind he had a hard few years getting in to lighting as no matter how good you were pulling focus, it means nothing with lighting. "It's a different type of instinct. Even though you do need dramatic instinct as a focus puller and the best ones do. In fact they're like another operator with the camera sometimes. But lighting is a different instinct again, it's to do with mood and narrative and it puts everything else in to perspective – you start with the lighting and everything else falls in to place. Operating is defined by the lighting, it's not the other way around."
John was a camera operator as well and still operates his own camera when he can, another way of beating the TV schedules.
The Actors
This continual battle with the schedules has been helped through the evolution of digital cinematography especially from cameras like the RED and the Alexa, "The advent of false colour was a great thing because you're exposure metering as you're shooting, you don't have to be in a tent looking at it. I always have one of the buttons on the Alexa just for the false colour. For me that's a great time saver as I can make adjustments to the lighting, the framing without having to wait until we say 'cut' and then go up to the operator and have a conversation with him."
Like Oscar winner Anthony Dod-Mantle John is an actor's DoP, he loves to be near the action, the 'buzz' as he calls it rather than in a tent 50 feet away, "You can see things, react to them, it's much more instinctive, in fact for me lighting is all about instinct. I think when you come up through the ranks like I did you try to have a perfect 2:1 exposure ratio on the face, the back light and the key light and you get a perfectly exposed image, but is it a story telling image? Sometimes you need a silhouette or the glint of one eye and not worry about the exposure too much but worry about the image. It's almost like the tail wagging the dog sometimes, when you're operating your instincts work hand in hand with your lighting."
The instincts that John talks so much about are fed by the actors and action, he always has a plan but sometimes that changes, "I've just done The Smoke with Mike Barker as the director and seeing the way he works with actors you are always better off working with their energy than trying to impose your own thoughts on it, the Director Sam Miller is the same way.
"You can't get too technical about it either because then you'll lose the whole sense of the story telling, the whole spark that they bring to a scene. I think it's better that the DP/operator reacts to what is happening on the set with the director than planning to do something and sticking to it."
Negative Fill
The new breed of digital cameras are well known now to help DoPs with their lighting choices and John is no different and will use smaller units of light or softer units of lights in his set-ups but he thinks there are more important techniques that actually originate from shooting with film cameras, "I end up using a lot of negative fill because I think that contrast was inherent in film. One thing film did have was a lovely contrast and a lovely fall-off so with digital I'll spend more time hanging blacks up than putting up lights. So before when you might worry about how much light you are going to put on something, I would put light on to get shape but then literally spend the rest of the time filling any walls that weren't in shot with black. So I can produced the dense theatrical story telling, I suppose, that you used to get with film.
"Having said that I love the Alexa, it's brilliant. I love the way the light falls off or the curve as some people call it. It feels cinematic and you learn how to treat it properly as you go along, it has its own life like a film camera used to have with film in it." But John doesn't think people will pick digital cameras like they did emulsions mainly because of the post. "I think what will happen is that the sensors will get bigger like 65mm or 70mm sizes with better optics. Also, and this might sound oxymoronic, I can see the future giving a softer more clear picture. I use a lot of really fine nets on the back of the lenses to create a really soft feel without it blooming.
"With these cameras there is no place to hide anymore so you can't say 'Don't worry when it comes out the grade or the lab it'll be fine'. The Director's looking at the monitor and seeing the details or lack of what you've promised him. It cuts away a lot of the fat and I think you have to be really 'on it' with digital. That's why I think 20 years working as a camera assistant with the best DPs in the world can bring a film ethos and work ethic to digital.
"I love the fact that you have to do what you have to say you're going to do because it's there for everyone immediately if you don't do it.
"I wouldn't say that digital is harder than using film, I think you can't just treat it as a magic wand, just because you are using less light it doesn't mean it will look amazing every time. You still have to work at it, in fact because it's much harsher in terms of skin tones and all that sort of stuff, you really have to think about the quality of light you use. You can't just put up and light and hope.
"I would like to see lights become more location friendly. The problems you have when you shoot, certainly with these TV schedules and budgets, is that you don't shoot in the studios  you go to a location, Mr Selfridge was an exception. To rig in people's houses is very difficult, you can't put bars on walls where you can rig your lights. What I'm starting to do is adapt lights in to smaller single or double tubes but with more intensity fluorescent fittings that can be just out of vision. Sometimes I would have single tubes stuck to the ceiling with 3M sticky pads because they were locations where we couldn't put steel bars in or we didn't have the room to put the lights in, it's the logistics of it, that takes the time. Lighting technology for me needs to concentrate on lighter which is happening with LEDs, but softer as well and with more punch.