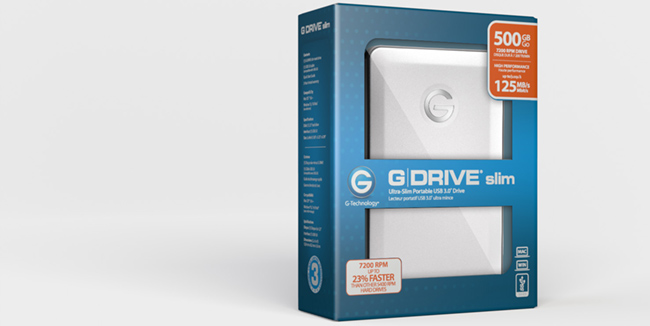 G-Technology Speed Up Their External Hard Drive Performance
Posted on Nov 13, 2013 by Alex Fice
G-Tech's G-Drive Slim (pictured above) and mobile get big speed bumps from their previous models.
G-Technology has announced two new portable drives. The G-DRIVE slim and G-DRIVE mobile are now available with 7,200 RPM hard disk drives (HDDs) and USB 3.0 connections. When compared to 5,400 RPM-based HDD models, these external drives claim to deliver up to 20-40 percent faster data transfer rates.
The G-DRIVE slim is designed for Apple MacBook, MacBook Pro, or MacBook Air. Featuring the industry's only 7mm z-height, 7,200 RPM, hard drive – the Travelstar Z7K500 – as well as a USB 3.0 interface, the G-DRIVE slim delivers transfer rates of up to 125MB per second, nearly 23 percent faster than other 5,400 RPM-based external drives. Its lightweight aluminum case packs up to 500GB of storage. The G-DRIVE slim is available for £69.95 (including VAT).
The G-DRIVE mobile USB 3.0 external drive features a USB 3.0 interface and a 1TB, 7,200 RPM HGST Travelstar7K1000 mobile hard drive, the G-DRIVE mobile USB 3.0 solution delivers transfer speeds of up to 136MB per second, which is up to 43 percent faster than its 5,400 RPM counterpart. The 1TB G-DRIVE mobile USB 3.0 is available for £105 (including VAT).
Both drives are Time Machine compatible and are bus-powered so when you're out and about you don't need to add an external AC power supply to your bag or laptop case. Each drive is formatted for Mac, but can be reformatted for Windows. USB 3.0 is also backwards compatible with USB 2.0.