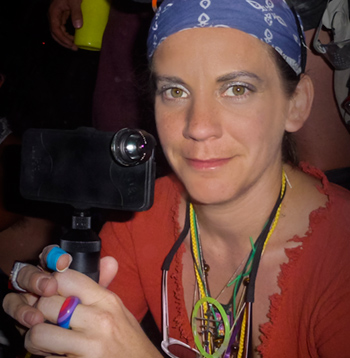 First Look: VeloCity Clip Rig For Smart Phones
Posted on Nov 13, 2013 by Alex Fice
VeloCity Clip rigs on handlebars and helmet. Also on a chest harness.
If you believe some observers the Apple iPhone 5S is the best smart phone in the world. Its camera spec is impressive and offers video at Arri Alexa-like standards – 1080p at 120fps! This is what happens when supreme computer ability mixes with optics and the quality will only get better.
VeloCity Clip is a US start-up and offers support products for smart phones and very small compact cameras (only the slimmest compacts will fit in the cradle).  Initially they are offering their Clip product which is the basis of most of their range. Like GoPro you have a slide and clip structure which can be fitted with adhesive-based tabs to whatever you want.
The chest harness for VeloCity Grip. Not the greatest fashion statement for today's teenager but well made.
The range also has attachments for handlebars and harnesses for chest and head wear.
The Clip works in a 'closing vice' way. You sandwich your beloved phone between two dense soft rubber cradles and then lock the rubber vices with a large red knob on a thread at the back. Being careful not to tighten on to the volume controls as you'll have a volume icon on the screen as you shoot.
The Clip can then be slid 180˙ via a notched joint and tightened as required. A mixture of different grades of black plastic gives the rig a solid feel. The Clip also has a thread on the top of one of the vices for more accessories like microphones or perhaps another rig.
It's all very well made and you can buy directly from their website and work out postage from wherever you live around the world.
The VeloCity grip is at the moment priced at $49.95
Danna Kinsky with her iPhone 5 and iPro lens.
This year, when cinematographer Danna Kinsky made her pilgrimage to Black Rock City for the Burning Man festival, she took with her the iPro Lens System from Schneider Optics for her iPhone. Kinsky says that the iPro lenses allowed her to capture the event in a very different way than she has before. "It's my fifth time," she says. "I shot a film with my Panasonic DVX 100A during my first year in 2005, but the dust has a way of penetrating everything. At the end of the day, I ended up paying a few hundred dollars just to have the camera properly cleaned. So I was worried about using my Nikon, Canon or Lumix as well."
Her solution was to "use the panorama feature of the iPhone 5 along with my Tele 2X iPro Lens to create panoramas that are 'zoomed' in optically," she continues. "This lens gave me a new freedom to be able to document from afar, but still be closer optically. It's my favourite lens out of the pack. It created far better photographs of the art at Burning Man than shooting without it and cropping later."
"The wide lens can give a GoPro feel, and the Fisheye is great for when you want to tell a story within the form on the image," she says. "Now I can satisfy my urge for instant gratification using the iPro Lens instead of using my fisheye Lomography camera."