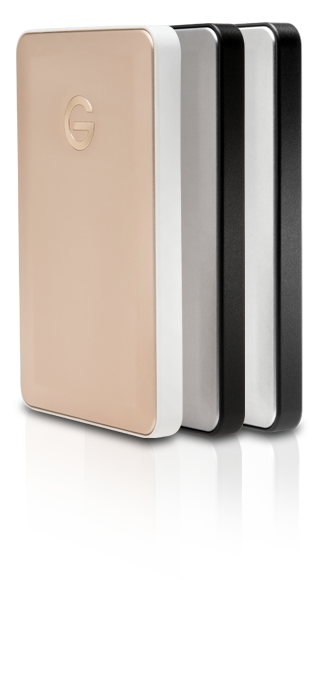 G-Technology Show New Portable USB Type-C Drives To Match Your Mac Book
Posted on Mar 8, 2016 by Alex Fice
G-Technology today announced the G-DRIVE mobile USB-C, a new portable drive that uses the latest USB Type-C technology. USB Type-C is the next-generation connector with a slim and sleek design, tailored to easily fit into thinner and lighter notebooks, like the latest Apple MacBook.
Bus-powered the 1TB drives require no outside power adapter and feature a thin, beveled aluminium case. You can match the drive with your favourite Apple MacBook design in gold, space grey or silver. Whether your system features the next generation USB-C or the standard USB 3.0/2.0 interface, the G-DRIVE mobile USB-C is compatible.
The G-DRIVE mobile USB-C features a 7200 RPM hard drive for transfer rates up to 136MB/s. It ships with one USB Type-C to Type-C cable and one USB Type-C to Type-A cable, allowing for backward compatibility.
Shipping this month, the gold and space grey colours will be available exclusively at Apple Stores, and the silver colour will be available at G-Technology resellers. For the 1TB capacity, the MSRP is £92 +VAT and comes with G-Technology's three-Year limited warranty.
For users that prefer USB 3.0 connectivity and more portable capacity, G-Technology now offers the G-DRIVE mobile USB in 2TB and 3TB capacities. Available in an aluminium black case, the G-DRIVE mobile USB is shipping today with MSRPs of £92 +VAT for 2TB capacity and £127 +VAT for 3TB capacity.