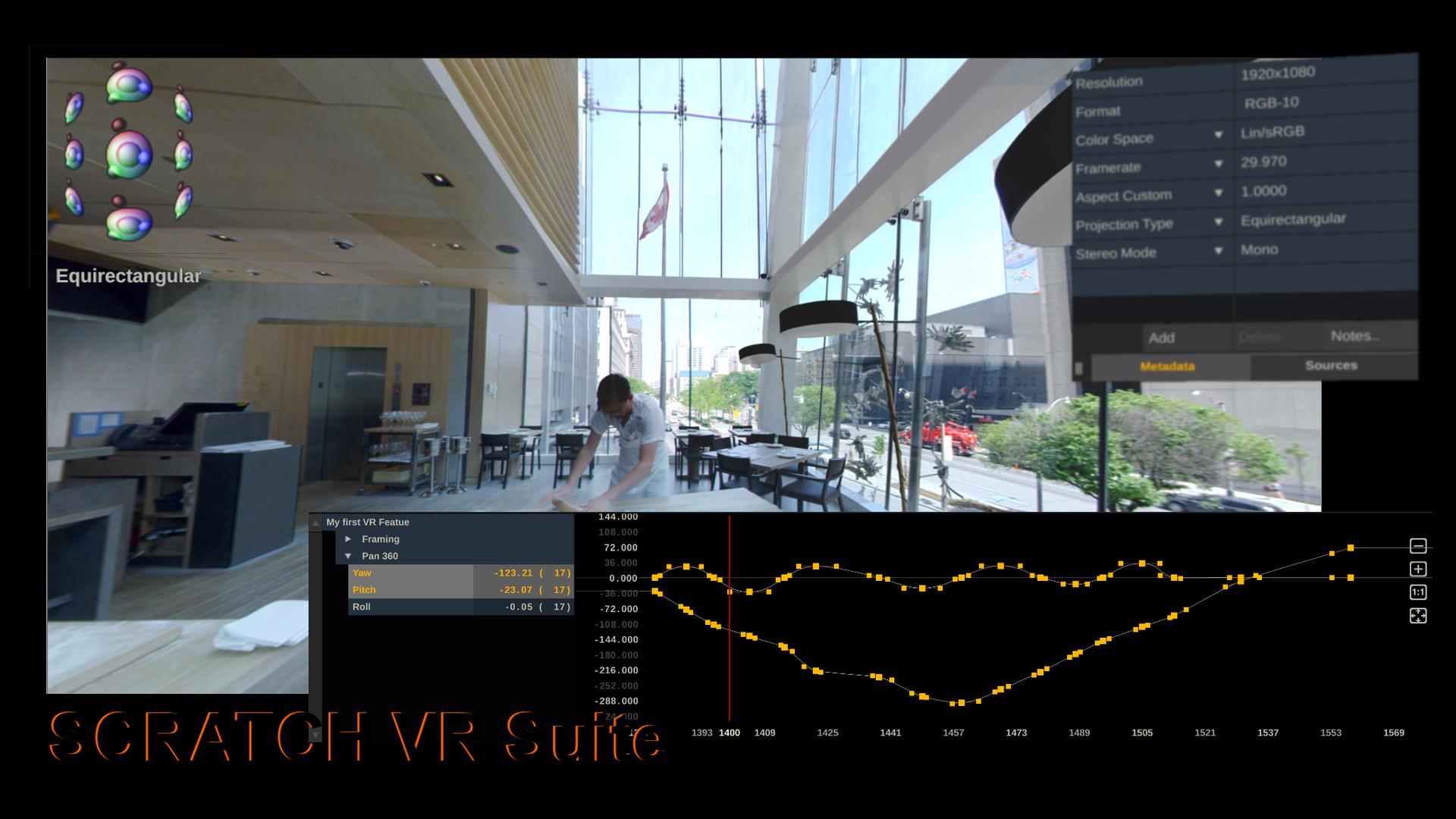 First Demos of SCRATCH VR Suite at NAB 2016
Posted on Apr 20, 2016 by Alex Fice
ASSIMILATE is showing its new SCRATCH VR Suite, a professional VR end-to-end workflow with a real-time toolset for working within a 360 environment – dailies, conform, colour grading, composting, finishing, and mastering in any format, any resolution.
The SCRATCH VR Suite includes the latest post-production tools and features of SCRATCH V8.4, and content creators will automatically be upgraded to SCRATCH 8.5 when it's announced. SCRATCH VR also includes SCRATCH Web, and tools that are specific to the VR suite. SCRATCH Web is a key component of the SCRATCH VR data-workflow and ecosystem, enabling real-time, on-line collaboration and review via Google Cardboard and Samsung GearVR headsets.
"The SCRATCH VR tools have proven to be very useful within a VR pipeline, and have been actively used as part of jobs with Samsung, Reebok, Momofuku, FOX, and many others," said Jeff Edson, CEO at ASSIMILATE. "VR is a new visual realm that requires the best advanced VR technology, and that's what we provide."
Special Price for NAB 2016
For a limited time, the SCRATCH VR suite is being offered at $995 US – a $1,995 US value. See http://store.assimilateinc.com/products.php?product=SCRATCH-VR-Suite.
New SCRATCH VR Suite Creative Tools
Control panel for Oculus Rift – All the Play controls used to browse through your timeline become available in the Oculus display as an overlay on top of the image. Use the mouse pointer to operate the controls while still looking in all directions of the image.  https://www.oculus.com/en-us/
Pan 360 framing controls – New Yaw, Pitch and Roll controls to re-orient a 360 shot. This allows you to control the point-of-interest of a shot, making sure it is in the middle. When editing multiple shots one after the other, you can ensure the point-of-interest of each shot is in the same direction. Examples of how to use the controls:
Create a pre-defined path in a 360 video. So even though the end-viewer will still be able to view in all directions, you, as a creator, can already define a path that the viewer will follow.
Stabilise a shot or replace camera motion to spherical projection offsets.
Effects wrapping – When applying an effect, such as a blur or clarity, SCRATCH samples pixels from the opposite side to calculate the effect on the left / right side of an image. This prevents a seam in the middle of the image when viewing it in a 360 projection.
360 repeat option – When the canvas of a composite layer falls over the left or right edge of the main image, it will be repeated on the opposite side. That way the shape will automatically wrap in a 360 projection without any seam.