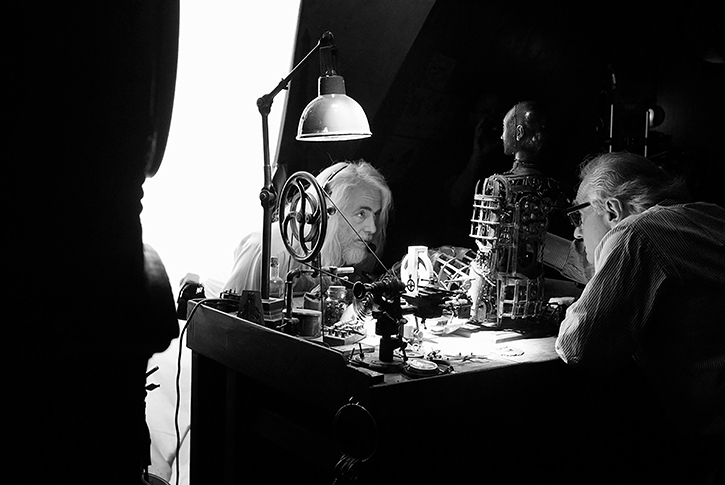 Film Addict
As he celebrates his Lifetime Achievement Award from the ASC we find out what makes Robert Richardson tick.
Words: Madelyn Most and Jana Hojdova / Pictures: Robert Richardson
On Saturday 9 February, 2019, the American Society of Cinematographers celebrated their 100th anniversary and presented the 33rd annual ASC awards for Outstanding Achievement in Cinematography, 2018, at the Dolby Ballroom in Hollywood, Los Angeles, California.
The Lifetime Achievement Award was presented to Robert Richardson, and it was Quentin Tarantino who gave a gracious, effusive and touching introduction while presenting the award to the person he calls  'his brother', his soul mate, his marital partner. "We have towels in my bathroom with my initials on them and his initials on them as well," QT giggled. As they embraced on stage, a soft voice revealing nerves and unease began.
"It has taken many decades to stand before you now. The journey is as much about survival as it is about success. I stand here with 100 years of history and 33 years of celebration for what many of you in this audience call work, some call craft and some call art. For 100 years this distinguished body has helped make it possible for dreamers like me to have a profession, to be part of its growth, and to share with fellow artists the joys and benefits of living and working in a magnificent and creative profession. My life has been crowded with the kindness of so many people. I speak about both those you would recognize and the memories of those long gone but not forgotten. It is not possible to name all those who ghost with us – or have taught us by example – or who live amongst us and push us to create at a higher level – but they are here with us. I wish to dedicate this award to those before and those who are here and those who will lead us in the future. This is an unexpected and a treasured award that needs to be shared with you and with them. I also wish to thank my lovely family who are here tonight – my four daughters, Kanchan, Maya, BB, Madeleine and my ex-wife Monona who have all supported me through both the good, the bad and the sometimes ugly. I have been fortunate to have worked with an incredible crew throughout my career, thank you Chris Centrella, Ian Kincaid and Gregor Tavenner for a lifetime of support, and I have been blessed with working with great directors – one of whom just spoke – thank you Quentin for your love and your brilliance – I treasure our relationship. As Godard once said, art attracts us only by what it reveals of our most secret self. Thank you ASC for such a distinguished honour.
Three is The Magic Number
Of the three cinematographers in the entire world to receive three Academy Awards in their career, Richardson is the only American. His first Oscar was in 1992 for JFK with director Oliver Stone, the second and third were both with director Martin Scorsese, in 2004 for The Aviator, and in 2012 for Hugo. Only Italy's Vittorio Storaro and Mexico's Emmanuel Lubezki have received such honour and distinction.
Richardson said he is very proud of his latest film with Matthew Heineman about the life of Marie Colvin. On 31 January 2019, the Assad regime was found liable for war correspondent Marie Colvin's targeted death in a landmark $300 million US lawsuit.
Richardson collaborated with documentary director Matthew Heineman in 2018 on A Private War, his fictionalised version of the life and times of Marie Colvin that won critical acclaim. He expresses deep sadness "that it didn't get much airplay. The audiences simply did not turn up. I can not fathom why. I sense that A Private War has more of a European sensibility. That, in these dark times, a US audience is not interested in that which is difficult to watch."
With Scorsese and Jagger
"I stand here with 100 years of history and 33 years of celebration for what many of you in this audience call work."
Robert with a crane, his favourite piece of gear.
Upbringing
Richardson describes his childhood as an idyllic world 'of land and sea' growing up in Cape Cod, Massachusetts, where he enjoyed 'freedom and adventure' at the family-owned Cape Cod Sea Camps, managed by his cousin these days. He had a persistent hearing problem at birth, that lead to 13 operations on his ears and continues to be a problem. Shooting an underwater sequence for Snow Falling on Cedars, Richardson ruptured an eardrum and had to have to a new eardrum grafted on his right ear.
Bob wanted to be a rock musician 'but the many ear operations and no technical talent shortened that dream," he says. He names Hendrix, Clapton, Page, BB King, Richards, McLaughlin, Stevie Ray Vaughan, Chuck Berry, Allman, Les Paul, Dylan, Neil Young and Santana among "numerous others in my head when I hold a camera. When I shot Shine a Light with Marty, the music felt one with my camera."
Although Robert has just been awarded a Lifetime Achievement award he is showing no signs of slowing down
"If I'm not shooting I do little other than watch films. All forms of films. That is my hobby."
Robert and his crane on the set of Inglourious Basterds.
Introduction to Film
Richardson "slipped into photography" in his teens, later realising he wanted to get into film. It was his mother who introduced Polaroids and film cameras into his life, from 35mm still to 8mm motion picture cameras. "She filmed my parents' trips and festivities, Christmases, Thanksgivings, birthdays. She also had a 35mm reflex camera which I played with from time to time, but I have no recollection of using her film camera," he adds.
Richardson took up black & white photography at Proctor Academy, a private school he was sent to, where he learned to develop and print his work. "I prefer to see what was not, rather than what was".
"What do you do when you are not working?" I ask. "If I am not shooting I do little other than watch films. All forms of films. Whether that be Un Flic or Death Rides a Horse or Kwaidan or Taste of Cherry (four recent viewings). My selections are wide. That is, I guess you would say, my hobby. I don't want to turn off. I don't want to relax. Everything I do is film oriented. It is my way of moving forward. Quite simply, I don't let go of movies".
I finally extracted that he does go swimming. "When there is clean water. Or I meditate, or I play tennis, but I don't have that time often. This holiday season is the first time I have had a month off," he adds. And when I say there must be something to get work out of his system, Richardson replies, "I just move onto the next one. I live in my cave and I watch films and I work back to back. Transfer the energy from one to the next. Try to maintain the flow."
The Films and Directors
"Does it disturb you, these violent films you shoot?" I ask Richardson. "Do you sleep well?' "An interesting question," he replies. "But I do not see all of my films as violent. I certainly can understand where you are coming from. I suspect you are speaking about Kill Bill, Django, Inglourious and Hateful. But it is difficult to put Casino or Adrift or Breathe or Hugo or Aviator into that mould. But back to your question. It is true I don't always sleep well. I personally need a solid eight hours, so when I finish work, I go straight to bed. I need sleep to be able to work and focus. I tend to have a low tolerance or a short fuse as to acceptability with those around me when I don't sleep. I've been doing this my whole life. But the issue of whether my lack of sleep or inability to sleep has anything to do with the subject of the films I shoot is not something I have considered. More often I am suffering from lack of satisfaction with my work." When I ask if directors rely on him to figure it out for them, he responds, "With most, no. For example, Quentin knows every shot, he hands me a shot list every day. Scorsese lists every shot in the script prior to filming. Marty was my first time experiencing that level of control. Although it is true that John Sayles knew precisely the length of each shot we did on both films that we collaborated on. He is economical in this manner because his budgets require this. He said while we were shooting Eight Men Out, 'I only need him running from first base to second'. He had already edited the film in his head, he sees the whole movie."
"Quentin will have very precise ideas for shots as well. He'll talk about them prior and on the day, he'll say 'these are the shots I need' – somewhere between 16 to 27. Both Marty and Quentin primarily shoot single camera. Quentin has said to those who ask why he doesn't shoot more than one camera, "I direct, I don't select". He is not going to put up five cameras just to have coverage. He knows precisely the perspective he requires. Quentin is truly a master of cinema. I have deep respect for Quentin, and love for him."
"When I was working with Oliver (Stone), he became a brother to me, we grew up together finding a path. I would outline the script completely. I had limited input in the beginning and more as time moved on. On Salvador and Platoon I would draw stick figures to help illustrate concepts I had and he would look at it, and say, "let's use this, not this." Oliver made the choices and decisions about the formats for JFK. There was so much research. Oliver was extraordinarily on point with that film."
"For example, Quentin knows every shot, he hands me a shot list every day. Scorsese lists every shot in the script prior to filming."
From The Hateful Eight and A Private War.
Camera Operator
Richardson is famous for operating the camera and for sitting on the crane, as Tarantino amusingly mentioned delivering his speech to the ASC audience during the awards. "We do everything on the crane, we even do inserts of a spoon on the crane" he laughed.
"Quentin stands beside the camera next to the actors, there is no video village, there is a tiny monitor on my camera that he looks at periodically to make sure I am composing as he wants. For me the best way to operate is with your eye to the eyepiece, and have that interaction with the camera. That stems from my documentary experience. I need a one-on-one relationship with the actor, rarely do we utilise a remote head unless there is a specific need."
I ask Robert, does he still take photographs? "In truth I do not take photographs any longer other than with my iPhone. I live in a cave with cinema and I haven't the space for more." Richardson mentions Robert Frank as the photographer who inspired him the most, but others include Weston, Minor White, Capa, Arbus, Cartier-Bresson, Bill Brand, Siskind, Stieglitz, Man Ray, Strand, Lewis Hine, Steichen, Garry Winogrand, Walker Evans, Cindy Sherman, Salgado, Eugene Smith, Sally Mann, Penn, O Winston Link, Susan Meiselas, Dorothea Lange, Yamamoto, Eggleston, Beaton.
"European films were the centre of my upbringing with Bergman, Truffaut, Godard, Dreyer, Pontecorvo, Carne, Renoir, Costa-Gavras, Cocteau, Malle, Resnais, Forman, Kieslowski, Bunuel, Lang, Herzog, Wenders, Ophuls, Melville, etc… American films were only bursting open with De Palma, Scorsese, Coppola, Lucas, Milius, Cassavetes, Bogdonavich, Rafelson, Altman, Pakula, Malick, Lynch, Burnett.
"One of the rewards of getting sent to the college in my late teens, was discovering Bergman. I found Seventh Seal, Persona, Wild Strawberries, Winter Light. Other films that inspired me were: The Conformist directed by Bertolucci and shot by Storaro, The Godfather and The Godfather Part 2. There is no particular order of importance in this list starting with Lawrence of Arabia, Battle of Algiers, Mean Streets, Raging Bull, Taxi Driver, Peeping Tom, Aguirre: The Wrath of God, Citizen Kane, Touch of Evil, 2001 A Space Odyssey, Paths of Glory, Sunrise, 81/2, Apocalypse Now, The Conversation, Seven Samurai, Le Samourai, Le Cercle Rouge, Persona, Rules of the Game, The Grand Illusion, Breathless, 400 Blows, Mirror, One From the Heart, An American in Paris, Andrei Rublev, Ivan's Childhood, The Earrings of Madame de, Shane, Giant, Badlands, Days of Heaven, The Leopard, T Men, The Good, The Bad, The Ugly, Heaven's Gate, The Decalogue, Rome, Open City, M, The Red Shoes, A Matter of Life and Death, Stagecoach, Tokyo Story, Vertigo, The Sorrow and the Pity, Annie Hall, Man with a Movie Camera, Dog Star Man, Battleship Potemkin, Jaws, All About Eve, Sunset Boulevard, Star Wars, The Wizard of Oz, The Killing Fields, Blade Runner, Clockwork Orange, La Jetée, Pather Panchali, Bicycle Thieves."
Robert Richardson's body of work:
• Once Upon A Time in Hollywood (2019)
• A Private War (2018)
• Adrift (2018)
• Breathe (2017)
• The Return (2017)
• Live by Night (2016)
• The Hateful Eight (2015)
• Wild Horses (2013)
• World War Z (2013)
• Django Unchained (2012)
• Hugo (2011)
• George Harrison: Living in the Material World (2011)
• Eat Pray Love (2010)
• Shutter Island (2010)
• Inglourious Basterds (2009)
• Standard Operating Procedure (2008)
• Shine a Light (2008)
• The Good Shepherd (2006)
• The Aviator (2004)
• Kill Bill: Vol. 2 (2004)
• Kill Bill: Vol. 1 (2003)
• The Four Feathers (2002)
• Powder Keg (2001)
• Bringing Out the Dead (1999)
• Snow Falling on Cedars (1999)
• The Horse Whisperer (1998)
• Wag the Dog (1997)
• Fast, Cheap & Out of Control (1997)
• U Turn (1997)
• Nixon (1995)
• Casino (1995)
• Natural Born Killers (1994)
• Heaven & Earth (1993)
• A Few Good Men (1992)
• JFK (1991)
• The Doors (1991)
• City of Hope (1991)
• Born on the Fourth of July (1989)
• Talk Radio (1988)
• Eight Men Out (1988)
• Wall Street (1987)
• Dudes (1987)
• Platoon (1986)
• Salvador (1986)
• Losin' It: Sex and the American Teenager (1985)
• The Front Line (1982)
• An Outpost of Progress (1982)
Rosamund Pike in A Private War
Inspired by Bergman
"Bergman's work was the event that single handedly turned me from someone who was perplexed about the future to someone sharply focused on learning as much about film as possible."
At Rhode Island School of Design, Richardson received his BFA and at the American Film Institute, he received an MFA. "Film became my life and my greatest love," he continues, declaring his fascination with The Battle of Algiers as well as Marcel Ophüls' The Sorrow and the Pity.
"When it comes to choosing what to work on, first of all I want to know who is the director," Richardson continues. "Then how strong the script and the story are. Marie Colvin was central to why I decided to make A Private War. With Matt, we had to decide what was the best visual path. We made a decision to stay within the documentary framework. Cinema verité was a word that kept appearing in our conversations. Keep it real and as unlit as possible, except for the dream sequences. We had 36 or 37 days with a $10 million budget and it was all on location in Jordan or London."
"One of the first films I made was Crossfire, a documentary about the war in Salvador. This influenced greatly my work on A Private War and far earlier on Salvador with Oliver Stone. On Crossfire I was asked by Jeff Harmon to shoot with the military while a French crew were to cover the guerillas. My politics were not in agreement with military, but I knew that the experience was intuitively the correct decision. I shot interviews with the death squads and the military. Somewhere into a month of shooting, as we were ending our filming, we heard that the French crew had to leave the country and I was asked by their director to start shooting with the guerillas, so in the end I shot both sides of the war. That was my first time under fire. That experience helped feed my knowledge and gave me a base on which to stand when I filmed Salvador and Platoon. It was invaluable. Furthermore, I learned to believe in my intuition. That is one of the perspectives I attempt to share with anyone asking what is most important when it comes to working in this business. That
and perseverance."
How to Survive
Richardson continues, "The industry can be a cruel beast. One needs to hold on to one's sanity and ride out the storm. And there are many storms. Between the storms there is silence. Then there is down time. It can be quite long. You have to believe in yourself as well as maintain a strong support team. Within those empty hours you begin to evaluate what it is you want, who you are, what needs to be resolved – are you talented, are you in the right mental and spiritual state? Never take a job you are not certain you can do with great skill. One needs to focus on what is the primary goal and then to listen to your inner self on how to achieve that goal. There is no easy path. Patience, talent, luck and intuition."
Quentin Tarantino on Robert Richardson 
Director Tarantino speaking about his friend and frequent DOP at Robert's ASC Life Achievement Award presentation.
I am here to give the Lifetime Achievement Award to my collaborator and colleague Robert Richardson. I first met Bob when he contacted me and asked if we could get together to discuss Kill Bill which he wanted to shoot. I already had hired two other cinematographers, but I could not NOT take this meeting. I wanted to hear what he had to say so we met in Toi on Sunset and I had chicken pad thai and Bob had 17 espressos. I can honestly say that was the greatest first date of my life and when it was over, I asked him to marry me and I broke off my two other engagements.  And that was five or six films ago if you count Kill Bill twice.  We have towels in my bathroom with my initials and his initials on them.
One of the things about Bob, along with my late great editor Sally Menke, is that Robert is the greatest artistic collaborator of my life. Absolutely. And I've learned so much working with Bob. When the sun is over here in the sky, I have learned, and it took me a long time to learn, that we will shoot right into it from this angle and when the sun is over there, we will shoot into it from the other side.
One of the greatest things about Bob, and that applies to most cinematographers sitting in the room here, is they have much more of a passion for cinema than most directors, I mean by far,  frankly, to tell the truth. And if I am doing a movie, whatever it is, I give him 80 movies to watch, and he just says, 'gimme more, gimme more'.
We have exactly the same visual grammar and it is so much fun to watch movies together with him, preparing. I remember when we were getting ready for Django Unchained and we would get 35mm prints of Max Ophüls' The Exile and Letter from an Unknown Woman and we were watching one of those amazing crane shots that went on forever and we were, wait a minute, how does he do that? So we had the projectionist re- thread the film and we watched that sequence again and went back to watch the camera  follow her up the stairs and follow her up the railing… and then the actor walks through the wall, and Bob shouts, that's how he did it, he actually walks through the wall!
From Django onwards we use the crane like other people use a steadicam, or a dolly, we use the crane to shoot an insert of a spoon. I mean, once you take the wall out, why not?  That brings me back to something Jeff Bridges just said when he was up here. Bob is so much fun to work with. We laugh all day long. Sitting at that table there is his gaffer Ian Kincaid. We yuk it up and make jokes from 5am until 7pm. Every single day. I always had fun making films but I never had so much fun as making films with Robert Richardson, so without further ado, we will watch a reel of his films.