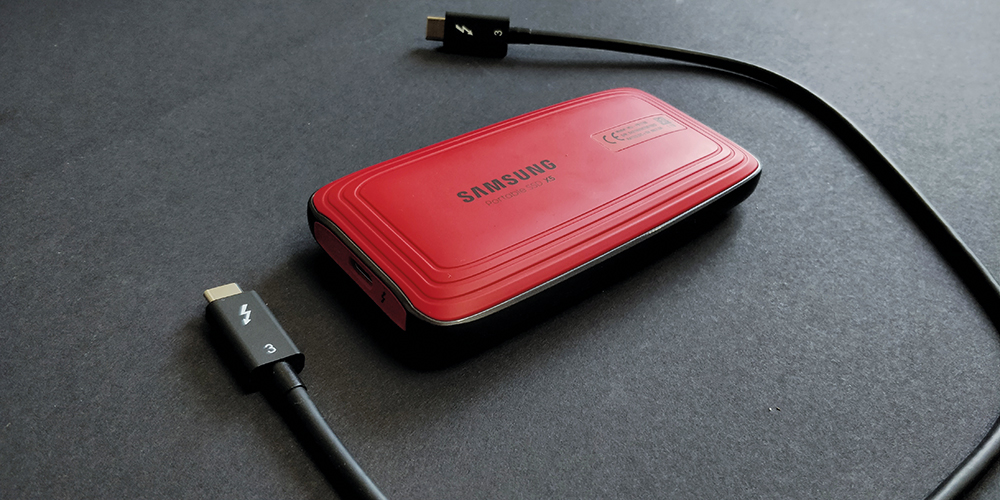 Fastest Always Wins
Posted on Oct 3, 2019
The Samsung Portable SSD X5 is sure to delight anyone using Thunderbolt 3 technology and in need of superfast transfers. Rory Cantwell from Soho Editors puts one to the test
---
Advertisement feature
SOHO EDITORS is a global training and talent agency for post-production crew. It runs multiple editing and colour grading studios – and these have to carry the latest incremental software, with the fastest processors in the newest hardware.
The company has re-equipped its workstations, which usually means a parallel update of accessories to take advantage of any speed hikes that are part and parcel of new connection technology. One new connection is Thunderbolt 3, so it was timely that Rory Cantwell could twin his new Thunderbolt 3 workstation with the cutting-edge technology of the Samsung Portable SSD X5.
With technological synergies between NVMe and Thunderbolt 3 technology, the Samsung portable drive offers superfast read/write speeds up to 2800/2300 MB/s. Its read/write speeds are respectively up to 5.2x/4.5x faster than Samsung PSSD (SATA), and up to 25.5x/20.9x faster than Samsung's external HDD.
New camera formats
Rory had previously been using the Samsung T3 Portable SSD. However, with new camera Raw formats becoming more commonplace, he saw an opportunity with Thunderbolt 3 to turbocharge his work throughput, taking them to levels he couldn't have imagined two years ago. "I had a job I was grading and wanted to back up the media, and I had about half a terabyte of data on the drive that was supplied – the Samsung Portable SSD X5 drive blasted through it in no time at all, I'd never seen anything so quick," says Cantwell. "In our world, the goalposts are always moving and that's especially true of camera formats. We're now getting new Raw camera formats like ProRes Raw and Blackmagic Design BRAW. These are beautiful, but they produce big files, although they are very efficient at the same time. We need new ways of transferring them in a studio situation. So, the trend is always bigger and better, which usually means larger files to deal with.
The Samsung SSD X5 features a thermal management technology
"Ideally you don't want to be sitting around waiting for footage to move. If you're delayed in the process that you're trying to do, then you are basically being inefficient; that's why the Samsung Portable SSD X5 drive is so enabling. Speed is everything in that situation. The drive is also stunningly good-looking, which makes us look good to be seen using it."
Cantwell likes the sleek design of the Samsung Portable SSD X5 and its blisteringly fast read/write speeds
The design of the Samsung portable drive is, in fact, inspired by a supercar – it emphasises its performance and elegance through its dynamic and streamlined shape. With housing and an internal protection guard frame made by a durable yet light magnesium, it withstands drops of up to two metres.
The Samsung Portable SSD X5 also features a thermal management technology called Dynamic Thermal Guard, plus a mechanical solution, which means it maintains optimal temperature by its operating speed. It's built to absorb working heat through a heat sink to prevent overheating, keeping the surface temperature below 45° Celsius.
Need another copy
Apart from the training and agency side of Soho Editors, there is also a client service that enables Cantwell to take on projects for editing and grading. With clients either attending or waiting for the edit or grade, preventing any loss of original footage is vital, therefore backing up or cloning drives is incredibly important. "The first operation is to get a copy of footage; you want to get a copy of all the media, you build for 'disaster recovery' really. Then if the original drives die, you are still in the game."
He adds: "The key is to minimise the downtime of backing up and the Samsung Portable SSD X5 is perfect for that – time isn't going to be a problem. You can also see it as a drive you can courier out to a customer; people rely so much on the cloud for transfer, but this drive gives you that speed without the vagaries of the internet. The logistics of getting, maybe, half a terabyte up and down via cloud services can be insurmountable. The need for a drive that you can courier will always be there."
Further to that, the Samsung Portable SSD X5 has extremely robust security. With Samsung Portable SSD software, this Samsung portable drive securely protects your data. It also provides optional password protection through AES 256-bit hardware encryption.
Main storage options
With Thunderbolt 3 connectivity at its core, the Samsung Portable SSD X5 complements new Thunderbolt 3-enabled workstations perfectly. Cantwell explains how this drive could add new flexibility to your workflow. "You could spec to your new workstation to include the Samsung Portable SSD X5 drive as part of your main storage – this could also save money. You could have a single terabyte drive for internal storage and then buy a couple of Samsung Portable SSD X5 drives, which range from 500GB to 2TB, to give you flexibility without affecting the speed of your workstation – the combination of this drive and Thunderbolt 3 is that fast. The drives are also blisteringly quick between them. There's always a place for speed in this equation."
For more information, please visit SAMSUNG's website