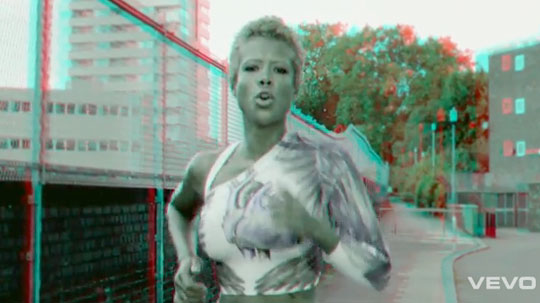 Fashion Shooter Rankin Shoots 3d Video
Posted on Oct 28, 2010 by Alex Fice
Kelis' latest music video shot with SI2K cameras by Rankin in 3DMulti-platinum award winning songstress Kelis has launched a 3D inspired video track for her new single 'Scream'. Taken from her current album 'Flesh Tone', Scream was directed by fashion photographer Rankin and shot using 3d production company Inition. The video features Kelis jogging in slow motion on a treadmill through a north London estate wearing various couture outfits.
This is cut with intermittent shots of the star adorning her trade mark assortment of wild hats and dancing in the dark with lights reflecting off her UV body paint. The singer premiered the 3d clip on YouTube.
You can watch the 3D video wearing anaglyph glasses here: http://www.youtube.com/watch?v=j-F5t7KMTgk. Alternatively a 2D version of the song is here: http://www.youtube.com/watch?v=DK1LSsiwdFY.
Inition shot the video using their Quasar rig and SI2k 3d camera system. Post production was completed at On Sight. Before undertaking this project Rankin and Inition had previously worked together on a number of tests shoots to enable Rankin to explore and develop his style in this new medium.
Rankin commented "The new evolution in 3d technology is incredibly exciting. It's the ultimate for a photographer and director to see their imagery in three dimensions, the result is so much more impactful. I look forward to the day when there is no need for the glasses and every screen can viewed in 3d. It pushes creativity to another level. Brett Turnbull DP on the shoot said : "We shot scream in 2d and 3d simultaneously using the same system.
The whole set up was very flexible and mobile allowing us to experiment and see instant 3d playback on set." Andy Millns Director at Inition said : "Collaborating with such a strong visual director such as Rankin was a pleasure as he was quick to understand the creative challenges and opportunities in the medium."