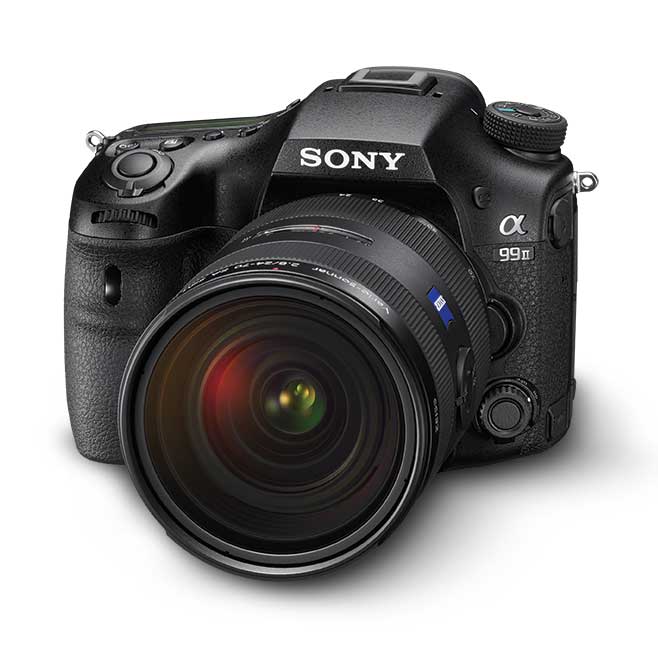 DSLR resurrection
Posted on Dec 23, 2016 by Julian Mitchell
OR the rise, fall and possible rise again of DSLRs. New cameras, newer ways to post-produce their footage and the onset of HDR might give DSLRs a new lease of life for pro video
WORDS Julian Mitchell
If we didn't know it already the announcement of the iPhone 7 with its fantastic twin-lens camera confirmed it – the consumer camera is dead. The CIPA (Camera and Imaging Products Association) has tracked the sales curve of these cameras and all was good until the original iPhone materialised. Then the upwards curve turned turtle and headed south.
We're talking about cameras of the point-and-shoot variety here, interestingly more hobbyist models with separate lenses and manual exposure tools more or less held their own with only a slight deviation downwards. These cameras also picked up sales when someone at Canon decided to put video on their Canon EOS 5D Mark II camera. The rest is history, with every large-sensor DSLR or mirrorless camera manufacturer then chasing the videography market.
Professional shooters played with them, seduced by the big-sensor look, broadcasters promised not to use them although ultimately wilted under the weight of footage being generated by their commissioned producers. But ultimately a mixture of the limitations of the form factor – one that was never meant for video – the limitations of the codecs, pixel binning, line skipping and sensor skew were too much for most people, and the arrival of lower priced super 35 sized digital camcorders that were meant for the job, were the final nails in the coffin.
That, of course, is a severe potted history of the years from 2009 until maybe 2015 when DoPs were known to be either buying a Sony A7 variant or giving up on DSLRs for good. But technology marches on as ever and now there are signs that the great things about the DSLRs – small size, big sensors, portability, shallow depth-of-field – might be returning to some models.
Fujifilm X-T2 and others
When someone at Canon put video in the EOS 5D Mark II it was seen as a finger in the air idea, not much was expected – little did they know. Fujifilm has now released their X-T2 with a lot more video nous. The company has obviously seen the impact that Sony's A7R series of cameras have made on the pro and semi-pro market. These cameras are expensive, the Sony A7R II is around £2999, but come with an impressive spec that doesn't include line skipping or pixel binning. In fact, the Sony A7S and A7S Mark II (and now the A99 Mark II) are the only cameras in the world that shoot 4K using the full width of the full-frame sensor with no binning or line skipping (Canon does the latter on many of its cameras). Also the super 35 crop from A7R Mark II is 15 megapixels, which allows for oversampling to 4K.
Talking about the new £1299 Fujifilm X-T2 and supersampling, the X-T2 offers this too. This is an APS-C sensor camera with the usual 8-bit H.264 codec but the fact that they have incorporated supersampling in it bodes well for Fujifilm's video future. The X-T2's 4K is of the 3840×2160 variety at 29.97, 25, 24 and 23.98fps but only at 100Mbps. We'll test the camera itself next month.
The Canon EOS 5D Mark IV has also just been launched but still with a de-tuned performance for the pro video world. You can understand this as Canon has a camcorder market to protect. The Mark IV's 4K is a full DCI at 29.97p, 25p, 24p and 23.98p but with a data rate of 500Mbps.
Fresh from Photokina however comes news of the long-awaited Panasonic GH5. This wasn't so much a launch but a technology showing, so fine details were hard to find but a 10-bit performance is the headliner. 10-bit at 4:2:2 4k/60p – now we just need to know about the compression and the noise performance. We subsequently found out that the 10-bit 4:2:2 4K 60p will only be available as an HDMI output option.
This is still major news for pros shooting with DSLRs as the now old GH4 is used quite frequently in the pro circles (read The Grand Tour article next monthto see how the camera is used for in-car footage).
Also new from Photokina was the Sony A99 Mark II that enables internal 4K with full sensor readout without pixel binning in the XAVC S format at 100Mbps. But more than this, frame rates from one frame-per-second to 120fps can be selected in eight steps for up to 60x quick motion and 5x slow-motion recording, how usable this is we don't know. There are also picture profiles, time code and an HDMI clear output. Also gamma assist for real time S-Log monitoring and a zebra mode for exposure adjustment. S-Log3 and S-Log2 gamma are also now included (see our Log Shooting article on page 26 to see why this is important). The A99 Mark II is priced at £2999 body only.
Also launched was the Fujifilm GFX digital medium-format camera with a sensor size of 43.8×32.9mm. But the camera has no indication of offering video on the dials. More interesting perhaps are the six new G Series lenses including a 63mm f/2.8 to go with it, maybe for use with the new RED VistaVision camera or ALEXA 65? Fujifilm's 43.8×32.9mm sensor has a 26.7mm back flange distance; RED VistaVision is 40.96×21.6mm, but the PL back flange is 52mm so these lenses won't work on PL mounts.
Another new camera with an interesting video story is the Olympus OM-D E-M1 Mark II. The company quotes that the camera can record 60fps Raw in single AF mode. Can this be recorded by tethering a computer? That would be interesting. Standard video on the new camera is just standard but with a 24p 237Mbps option too.
How could Fujifilm improve an X-T3?
The company can trade on the colour science. The colour legacy Fujifilm has from its film days is immense and pretty unique, the company should use that to its advantage. Fujifilm has no lower-end camcorder market to eat into so its next camera has full rein to incorporate all that Sony and Panasonic are putting in to their cameras (internal ten-bit ProRES would be even better). Supersampling is a great start, eight-bit MP4 at 100Mbps is standard.
But then look outside the box, become the first manufacturer to make a dongle to allow use of cabled SSDs, the best value media out there.
Fujifilm could make the camera drone friendly. 'Dronies' are not as brand loyal as other cinema and still guys. The camera is a secondary piece of kit for drone work. Also, they are more likely to take compelling pics for a Fujifilm showreel.
Menu design is very important, and there is no harm in having a completely different style for video and stills. Why not locate its mirrorless camera monocular viewfinder far left as others have done so your nose doesn't squash up against camera? While you're at it make a dedicated high frame rate version, even if it is just 24/25fps and 120fps 4K.
Fujifilm could consider a bolt-on cooler. At IBC, Chinese company Tilta showed a cooler for the A7 range Fujifilm could also make a bolt-on Raw processor or use Thunderbolt 3 and a Mac laptop as the Raw recorder.
The X-T3 wouldn't have to be small to win over the high-speed market. Sports guys usually use massive lenses and carry laptops yet the camera is relatively small.
DSLR footage for HDR
At the height of the DSLR revolution big post-production studios laid out R&D and studio time to weave through post-processing the limited 8-bit footage that started to pour in. Now you won't find many presets in Baselight, Resolve or Pablo to deal with that kind of footage, but does HDR hold any hope for the DSLR shooter? Can an 8-bit in-camera DSLR log recording be graded to make good HDR images? Isn't it just a matter of repinning the white higher up? Can't software smooth out banding issues? Is it a case of forgetting the numbers and having a look? In particular, if an eight-stop image is overlayed on a ten-stop HDR plot, can the last stop be stretched two stops?
We asked a few people these questions and quite rightly they all said they would be interested in a test, but also explained their thinking.
Colourist Greg Fisher who has graded films like Spectre, Gravity and Hugo said: "If you're shooting 8-bit then if the picture content is sympathetic to 8 bits, then you're fine. If you shoot 8-bit and you shoot graduated blue sky, then you'll get banding issues. There's just no way around that. If you shoot 10-bit but it's a bit more compressed, you're probably getting a better result in that situation, but it's very difficult to know as it's very content specific and how the codec will react. 10-bit has been around for quite a while and is pretty robust, once you start doing HDR then there's a question of whether 10 bits is enough. If you drop an 8-bit recording in to an HDR format, you are stretching it out and you don't have the bit depth to allow you to do that without seeing the lack of bit depth, so that's where you'll get banding coming in. On any bright lights or flat colour grads you'll start to see the boundaries of where something falls between one bit and another. 10-bit DSLRs are a perfectly fine approach, but if you shoot Raw with little or no compression, you'll probably get images that will survive in post much better. But the additional kit will give you more points of failure."
FilmLight's colour expert Daniele Siragusano said, "The question is not easy to answer. The required bit depth to avoid banding is dependent on the content and noise. Structured image content can be sampled with less bit depth, and graduations like skies will need more bit depth. I would strongly recommend more or equal to 10-bit capture though."
Thomas Urbye from The Look said: "I'm sure you can grade 8-bit images in to HDR, but the risk of banding from any 8-bit images means that I would have concerns about any major broadcaster accepting it. 8-bit images with dynamic rounding is one thing at HD, but at 4K as well? That PQ curve is very strong, I wonder if 8-bit images would hold up?
"You might manage to get away with it as a B camera for 'action cutaways' but in my experience, you can often see the difference against a camera like the ALEXA, however well you try and grade it in. The compression on the codecs is often so high and the footage is soft but with artificial sharpening, it's hard to get a good result."