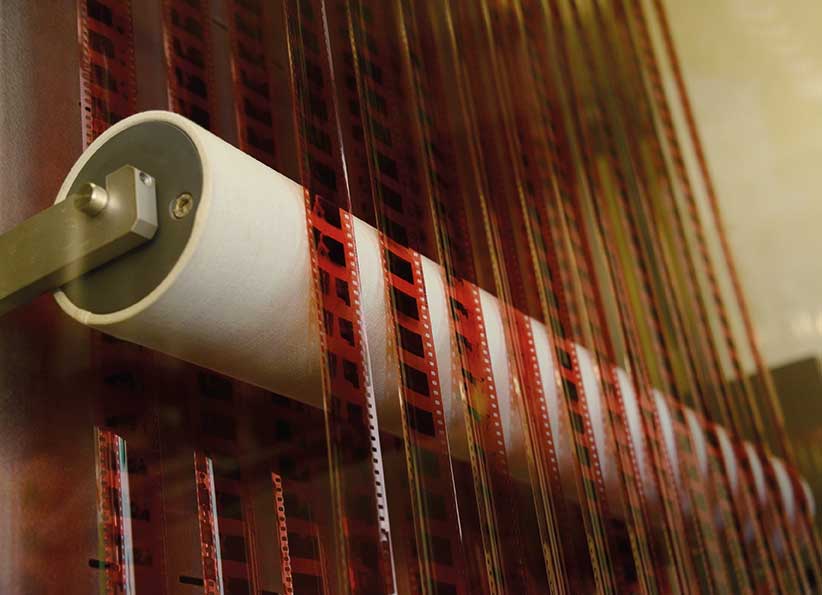 Film's Role In The Digital World
Posted on Dec 23, 2016 by Julian Mitchell
Film use is on a roll. This year and next year film production and more importantly processing is enjoying something of a resurgence and there are a number of reasons for it
Words Julian Mitchell
A lot of the studios are shooting film in the UK at the moment and that is being driven by a couple of things mainly. One is that studio space in the UK is very good. There has been the extension to Pinewood, Pinewood Studio Wales, plus Warner Bros acquiring Leavesden Studios and extending it. But it's also been driven by tax incentives, as Antonio Rasura from Kodak explains. "There is no tax incentive in place in Los Angeles, whereas in the UK if you go through the process of the cultural test there is a film tax-relief system in place which can be applied to up to 25% of the spend. You could also argue that the recent Brexit announcement
and the pound's slide again the
dollar has made it even more attractive for dollar-based productions being put together.
"The other less significant thing is that British directors are pushing a lot of the films productions, like Kenneth Branagh and Murder on the Orient Express. So it's looking good. The percentage of movies being shot on film has also risen from around 2014."
But why is this happening and can it be called a resurgence? Antonio thinks that Kodak, now out of the bankruptcy process, is much healthier, leaner and looking to expand its services. "Back in 2010 to 2012 there was a lot of speculation whether Kodak would even re-emerge
with film being part of our portfolio of products. Would we still supply it and what would we supply? That speculation has died down. We're not going to see film take over from digital cinematography, we're rapidly increasing from HD to 2K, 4K and in some cases 8K."
The film distribution business is now over and that represented the biggest share of Kodak's profits; so where are the growth areas? "Digital cinema is fully grounded so that market's gone. However what we're conscious of and what we're working towards is a number of theatres that have said that they are getting an increasing interest in a 'film on film' experience – films that were shot on film to then be projected on film. It's niche, but we are seeing that.That's what we do – we produce film. Whether it's for distribution purposes orfilm for capture purposes, it's all good for us."
This is of course all common knowledge and part of the inevitable change to digital media but Kodak has made some interesting announcements recently including the buy-out of one of the only film processing labs left, the boutique idailies. Antonio maps out Kodak's thinking. "The lab business is a volume-based business, you need significant volume as the related revenue returns are fairly low. With the big distribution labs moving out of the space like Technicolor and Deluxe and a number of bigger labs in France, this left a number of smaller boutique front-end labs. We're talking camera film only processing so nowhere near the volume of print film."
Antonio cites cinematographers wanting to shoot film but hearing almost constant bad news about labs shutting down. The feeling was that no labs were left. "We know that if we're still going to sell film we're going to have to strategically support the infrastructure. So we made two announcements earlier this year; the first was that we would bring processing capability back to the East Coast because the last remaining lab in New York closed its doors in May last year. Cinematographers wanted to shoot film but wouldn't entertain the fact that they would have to ship the neg all the way across the country to LA. Also there's then the delay of getting their dailies back. We are therefore opening a front-end Kodak owned facility there which should be open by the end of the year. It will be able to do 8mm, 16mm and 35mm colour negative. Not 65mm as it's a bespoke format and companies like Fotokem specialise in it."
Kodak say that they don't want to compete with 65mm but in Europe it's a different matter as the last remaining 65mm lab closed its doors two years ago in France which meant that projects that did shoot 65mm, including bits ofStar Wars: The Force Awakens and Mission Impossible 5, were forced to ship over to LA.
"When we were presented with a large FOX project this year which wanted to shoot on 65mm their position was very clear. They said that unless they could get 65mm processing here in Europe this was not going to be feasible. It was at that point Kodak had to re-commit our support for film infrastructure so part of our purchase of idailies was to underscore that processing capability and inject that type of capital expenditure required to get a 65mm operation in place."
But the placement of the investment is slightly different as the actual placement of the equipment is at the other operating film lab Cinelab in West London. "idailies is now wholly owned by Kodak and the other lab is called Cinelab. The 65mm processor is actually going to be at Cinelab. We see this as working with industry partners and don't want to be seen competing in that space. It's about providing support for filmmakers."
For themselves, Cinelab have been equal to the task and managed to incorporate the 65mm line in record time (there is a film to be shot in 65mm waiting for this service to become active). Kodak says that testing is already underway and by the end of October 2016 the service will be running.
The arrangement in its crudest form is Kodak leasing space at Cinelab but both parties see it as a partnership. The name idailies is now subsumed into the Kodak name as Kodak Film Lab London and the name has already ceased to exist. The New York lab is to be called Kodak Film Lab New York. The London lab is likely to be based at a film studio but whether it is Pinewood or not has yet to be confirmed.
There is another huge new part of Kodak that we haven't covered in this issue. Their archive digitising business has had a huge investment and will market to every archive in the world. With technology advances this service can also be mobile which will help with older archives. More on this in the next issue.
——————————————–
Q&A with Director of R&D at Film Factory, Rip Hampton O'Neil
Would you say that film is experiencing a certain resurgence and what would you put that down to? Better cost management, crews who can work with both film and digital? Smaller, more efficient labs?
I think that film is definitely experiencing a resurgence. As one of the last wet labs in Paris, we have seen a lot more people coming back to film as a medium, and even trying to do things such as splicing instead of editing digitally. There's something great about film, about knowing that the whole thing you've created is there as a roll in your hands as opposed to on a hard disk with that thesis you wrote five years ago.
Of course, smaller, more efficient labs play a part, as well as the cost of hardware like the Cintel Scanner, which we use at Film Factory, going down to prices that would have once been unheard of. I think that overall, though, there's no one single reason for this resurgence. It really comes down to the fact that we are simply so used to immediately embracing new technology, and digital was no exception. It's not until later that we slow down, look around and ask ourselves: "What did we use before this again?" and realise that that old method was really good too. Just take a look at vinyl's recent resurgence!
Is it possible to draw a cost comparison between a film shoot and a digital shoot up to the point that both become data going through post? How can the cost of film stock be amortised to make it cheaper to use it?
I feel like for most people, digital is considered cheap – it's easy to use, there are no tapes or anything like that to deal with. Meanwhile, film stock itself is actually still pretty expensive and is also still slightly more expensive to process.
This might make it seem as though digital is a better medium, but it's also not without its hidden costs. Cameras filming digitally tend to run for longer, incurring greater costs in managing all of those rushes in post-production. Film productions tend to be more tightly controlled, you'd only be shooting a selected amount of footage and scanning in a selected amount of footage, so much less time is wasted in post. Another point to remember is that while it is still slightly more expensive to process, the falling price point of new technologies means that price is a rapidly diminishing issue for filmmakers and production companies wanting to blend digital and film. The Cintel scanner is a very good system that has a lot of promise for the future. Right now we are able to offer a faster, more cost-effective service that allows clients to make decisions about which format they shoot in based on aesthetic rather than cost.
A DoP recently said to me, we spend so much of our time trying to recreate the look of film using digital when if you actually use film from the start, it comes out of the box that way! Right now a lot of people are intimidated by the idea of film, but as soon as they go back to it they realise it no longer has all the creative limitations that digital has – like the way it deals with highlights and lowlights. You can go from a completely dark space to bright sunlight and still expect to have something on your film. That alone might be worth the increased price point.
What is the single thing that will keep film popular with film makers? 
That's a good question! I think that film does capture light very well and there's this certain aesthetic quality, a texture, a life to it that's unique. You just do
not find that in digital at all and I think that's what's going to keep film popular with filmmakers.