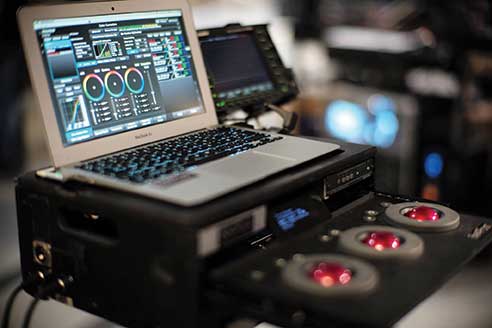 DITs – The Inbetweener Discipline
Posted on Dec 23, 2016 by Julian Mitchell
DITs look after your precious data but their rampant evolution is putting them in the middle of bigger, creative decisions
Words: Julian Mitchell
The world of the Digital Image Technician was created by digital cinematography but not by filmmaking. From this skewed start it became a crew job that defied categorisation, vilified by some but supported and nurtured by others. Now there are calls for more standardisation and accredited training as DITs look to practise their art further up the signal chain.
But where does a modern DIT's territory start and end? Alanna Miejluk is not a member of a DIT agency, most DITs are, so wins work through her experience, credits and word of mouth. She explains her DIT life. "I started as an assistant editor about eight or nine years ago and I've been an DIT for about six or seven years. When I started it was just getting going, I would get a call asking me to data wrangle a feature, back then it was data wrangling and quality checking, you might even do a little assembly edit, every job was always different when I started.
"Now there are two sides, it kind of depends if the DoP wants you as a technical aide or if the DoP wants you there as an on-set colourist, a lot of people are going that way recently. That's what I do with the DoP Tony Miller. I used to edit so I've spent many hours in grading suites in Soho and I became self-taught in DaVinci's Resolve. One of the first jobs that I did was grading on was a film called Prey and the feedback from people was amazing, they were really impressed with the dailies. The DoPs got really excited about what they could explore as for them it was an extension of the lighting.
"We put up a black tent as standard now – I'm often in TV drama so it's the back of a camera truck, lights off in the old darkroom or an area nearby. I will work closely with the camera and lenses and the settings in-camera, for instance on Fleabag we used the anamorphic Cooke lenses and we did have a problem with drop-off so I had an eye on that all the time. Also I watch for things like the edge of matte boxes sometimes because things are moving so quickly they can obviously miss stuff that I can pick up quickly afterwards. Bad pixels are another thing you have to look out for.
"I'll keep an eye on the exposure throughout the scene, if there's any clipping, whether it's going too far into the shadows anything like that. The job has evolved hugely from where I started. If I was an outsider and wanted to be a DIT I wouldn't know how to suddenly learn all of this. For me it's been years and years of experience, learning on the job and doing different jobs as well to pick up all the experience and that makes a good DIT. I think that's part of the problem, there's no real education or qualification."
DIT agencies
There are a few agencies in the UK, companies like 4K London, The Digital Orchard and Mission Digital hire out technicians with kit. Sam Margaritis from The Digital Orchard thinks that the right DIT isn't always the one with the most credits. "In a lot of people's eyes your credit list is the currency of getting jobs, especially if they don't know the person. Or it can be word of mouth from focus pullers, second ACs maybe, people on set, or the DoP may have worked with them once before and got on like a house on fire and never want to work with anyone else. It may also come from production and they know from experience that they keep their media safe. If it's a new line producer they will ask for a CV and if someone else has got a few more credits, credits that they recognise better, something like that, then they might get the job. Sometimes we taken people on because of their incredible CV and when it comes to it they might not be right, but we only find out when they've done a few jobs.
"It's really frustrating for us when we know that a DIT is perfect for the job yet they might not have 30 credits where someone else may have them. They may have ten or whatever but we know they will do the job perfectly. CVs and credit lists can really be taken in the wrong way; I find that the main frustration when it comes to putting people up for jobs."
Alanna is quite happy with her non-agency existence. "Most DITs I know are in agencies. I don't see the point of joining one, we make money off our kit at the end of the day and when you go to an agency you actually use their kit. I've got enough work coming my way on my own that I don't think I need an agency that will go out and get me work. There is personal pressure about getting the latest kit you want to offer the best and you want your job to be as easy as it can be so to do that you need good equipment. Say you suddenly get called up for a 4K job, you can't just turn up with an old laptop, you need to offer certain equipment for certain jobs. It is pressure on you and that's why some people join the agencies because then that pressure is taken away. Working for yourself rather than being employed by an agency – you are taking all that on your shoulders."
Who does the colour?
Any grading decisions should be made in the environment designed for the job, a DI suite for example.
If you talk to DITs that's half true but if you talk with some colourists, colour is definitely their domain. Greg Fisher from Company 3 is against most colour decisions being made outside the DI session. "Yes I come across it a lot. Most of the time I would say that on-set grading was extremely unhelpful. But occasionally it can be helpful. It's a bit hit-and-miss. I'd say that if you have someone who has never done any colour work with the DoP on set in unknown lighting conditions then it's a risky procedure. You wouldn't allow someone who hasn't done any grading to grade your DI so why would you let them grade it on set. It's inherently flawed.
"But sometimes what we'll do if it's a job that we're also doing the dailies on or I'm involved in testing on is that we'll try and set a look for the film or a couple of looks and work with the DIT so they have a couple of different look-up tables or one look-up table, but we'll make a couple of CDL settings which give particular looks. We try and encourage them to only use those. Even if I know that they know this I make the point that they have to be very careful about changing exposure and colour if they start lighting from the monitor. As soon as that happens everything has to be calibrated, the environment has to be right and everyone has to understand what is going on.
"With the ARRI ALEXA, DoPs don't often use the monitor, they would light as they would have for film. I think if the DoP does that it's a very valid way of working especially if you're shooting raw. We've had many jobs where the on-set colour brightens up the image and the camera is stopped down to make it look right on the monitor and then the entire film is underexposed. Those kind of things are happening less and less, because people are more aware that it's a dangerous practice and perhaps a few DITs have been burned by it a little bit. But they are still for my taste a bit gung-ho about it."
Alanna has the DIT side of the argument: "My personal aim is to push forward the grading side of everything on set, it's definitely going forward. Me and Tony are looking at the Daylight system from FilmLight. At the moment what we do is great, we get the dailies to a position on set where on that day we consider it a pretty good, almost final grade. So when we get the assemblies through everything is completely consistent as it would be in the final edit, bar some discrepancies. Tony, the DoP will then go, 'Right, this is amazing but what would make it better would be to take it to the grade.' At the minute they still have to start from scratch in the grade because they are not using anything that's compatible down the line. So if we used the new Daylight you can put your dailies through to AVID and when it finally goes back to Baselight every single adjustment that we've made is there so can be changed, got rid of, kept – that would be amazing."
Sam Margaritis from The Digital Orchard thinks colour grading 'is the job' but only on features. "On feature films that is what you are doing, on-set colour, live grades. They can't afford that type of DIT on British TV drama, they just want their data handled and then the post house deals with colour later on. It comes from the DoPs and if they have worked on a big feature, had the on-set colour, the monitoring, the live grade and all of that. He'll possibly want that on a lower budget job but they won't pay for the kit to do that. But companies like Sky Atlantic are beginning to understand a bit more because they're mainly going 4K. They're understanding that they have to increase the budget to be able to cope with that."
Mark Purvis from Mission Digital is another huge supporter of on-set grades. "We've been using live grade for about seven years now and we get comments from cinematographers who say that the technician we had on our last project was absolutely fantastic, we're now sitting in the grade and we're not having to establish the look, we're just refining it and we're not getting notes from the producer saying that's not how they imagined it. So you're getting to maximise that time you have in the grade so having an influence over the final image on set. The cinematographer gets to really illustrate how they imagined that picture looking. A lot of people would turn around and say I can do all that in the grade further down the line but how do you want to be spending that time in the grade, wouldn't you rather be refining what has been done and making it look perfect?
"For instance, we worked on a film called Tulip Fever a couple of years ago and we had that film graded by the time we finished shooting. The colourist said that he started from scratch again but I don't believe that, the look that the cinematographer has seen created by the DIT was key to establishing a very collaborative relationship."
DIT training
Mark also has a deep connection with training and is making it official. "We're partnering up with Staffordshire University. We've written a training course for DITs which Staffordshire are helping us certify. So we would have a certified DIT training course which would be over two days. It's not like you do the course and you become a DIT, you do it with some experience behind you and some hand-holding afterwards."
Alanna Miejluk says, "I don't think there has been two jobs the same – you tailor your job from what they are asking of you and what they need. People ask what a DIT does but it is constantly evolving even from job to job. Talk to the agencies about where the new DITs are coming from. With the agencies I often get their DITs in if I need a day's cover – they define different areas like on-set colourists. Often big features have DIT trainees where people are learning on the job. I was in the first wave of DITs and we almost developed with the technology and now we've got to a point where I feel we are the first group of people who have come through and now have the skills but learnt it from being there and doing it.
"I think there will be different kinds of DITs under the umbrella. What's interesting about DITs is I'm not very nerdy and a lot of people see the job as a nerdy one; other DITs are very nerdy but I don't think that the job is for someone who sits on forums looking for answers to technical problems. One thing that has never changed in the job is that you're always an in-between for camera and post-production. You're involved from pre-production, you talk with production about how they're going to shoot it, what format, how much is going to be shot, how we're going to store it, how post wants that delivered and all the way to the conform you've got to make sure there aren't going to be any problems. That won't change. I've had a few DoPs who seem to be nervous around DITs – maybe they've had a bad experience of someone who doesn't know what they're doing, people coming and saying they're a DIT and not knowing what the job is and messing things up. No standardisation. If a loader, for example, has just recommended their friend then you could have a bad result."
Sam Margaritis comments, "You also get the situation when a friend of a friend gets the job but that's just the nature of the industry and will always be there. I think on the things that really matter it probably doesn't happen much, people take it slightly more seriously."
How the DIT market operates in France
DITs have been in France for about eight years now, first on some experimental projects shot with Thomson's Viper or Dalsa camera, but then the job was democratised with the arrival of RED cameras and then, of course, the ARRI ALEXA.
Matthieu Straub from Be4Post describes the transitional teething problems. "It was not easy for camera crews to accept this new position because most cinematographers wanted to keep a similar camera team to what they had with 35mm. But after several good experiences, the habit changed and nowadays we work with most of the DoPs. In France the number of DITs is changing, but slowly. There are 15 senior DITs in France. Post-production has also started providing services on set." Be4Post has even joined the French Association of Directors of Photography (AFC).
The French market is changing gradually, mainly in advertising and feature films, although there are no or very few DITs working in television in France.
An important element though is that due to a system called Intermittent du spectacle – DITs are not allowed to charge for the equipment they have, although they do receive payments for periods when they are not working. To be entitled to this allowance you must have to have worked more than 510 hours in the last 12 months. Salaries are highly regulated in terms of projects and budgets of movies.
The French Association of DITs (ADIT) was created in 2012 by six DITs wishing to offer this profession a framework of knowledge and minimum wage. The association also offers training and communication with all stakeholders of a film, whether in production or technical level.