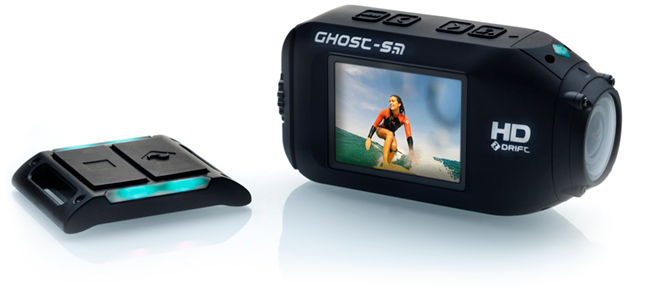 Drift Innovation Launch New Ghost-S
Posted on Nov 20, 2013 by Alex Fice
The new Drift Innovation Ghost-S – new sensor with better low light performance
Drift Innovation has unveiled their latest action cam, the Drift-S. Although the new model looks the same and has the same physical features as the prefious HD Ghost, like the swivelling lens structure and the Gorilla glass screen, the improvements are in the firmware and in the new Sony 12MP CMOS sensor and seven element aspheric lens technology.
This time Drift-S is offering 1080p at 60 frames a second, not even a taster of 4k here. The frames go up as the resolution comes down so 720p will bring you 120 fps, all the way down or up to WVGA at 240fps. There is also an option to raise the performance of the h.264 codec up to 35Mbps, we not sure whether that has a detrimental effect on the resolution or frame rate.
Battery life has improved to 3.5 hours if you're running 1080 at 30fps, it dips down as the frame rates go up. you'll get just under three hours at 1080/60p which is still good.
Software features for the HD Ghost has been drip fed over the last year and includes the car DVR mode or as Russian YouTubers call 'Dash Cam'. Basically an adjustable looping feature. (Put Russian Dash Cam in to YouTube for a video compilation of why your insurance company won't like it if you mention driving there.) The time-lapse mode was also dropped in this year as a feature and came with a wind-up accessory that fully rotates 360˚ in one hour.
The DVR mode is in there for the 'S' but so is a new one  'Clone Mode'. Through Wifi up to five cameras can now be synched together for recording and mode changing, great for multicam shoots.
There are also scenes modes including a low light one to use the better low light performance of the Sony CMOS sensor. Other scenes are Normal and Vivid.
The new cameras has a new price of £329.99 but also has the same great attention to detail in the product and in the packaging.
Drift Ghost-S comes with all of the accessories you need right out of the box: a two-way active status remote control,  universal clip, mount kit, goggle mounts, connector hatch, battery, wrist strap and USB cables.