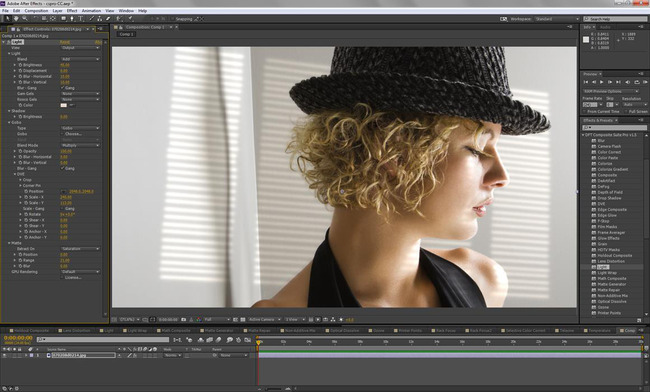 Digital Film Tools Break Out Of Their Facility
Posted on Nov 18, 2013 by Alex Fice
Composite Suite Pro 1.5
Digital Film Tools were for years used by the compositors and VFX experts at Digital Film Works in Los Angeles. Now they are being marketed to a wider audience. Composite Suite Pro features a well-rounded collection of visual effects plug-ins that were previously only available in-house at the facility.  Composite Suite Pro provides all that is needed to combine multiple images by using compositing tricks and techniques, colour correction, blur, grain, matte manipulation, lens distortion, lighting effects and edge blending.
The Suite is now available for $395.
"With Composite Suite Pro's GPU-accelerated plug-ins, editors and artists can quickly eradicate the most common effects problems or employ specialised compositing plug-ins for combining imagery such as fire, smoke and explosions," comments Marco Paolini, founder and president, Digital Film Tools. "Easily cut out or isolate objects using our proprietary matte generator or pick from a variety of colour correctors and natural lighting effects to spice up your images."
If installed on the same machine, one license will run in the following applications: Adobe After Effects CS5 and up, Adobe Premiere Pro CS5 and up, Apple Final Cut Pro 6/7/X, and 64-bit versions of Avid Symphony, Media Composer, and Newscutter. Upgrades from previous versions are available for 100 USD.