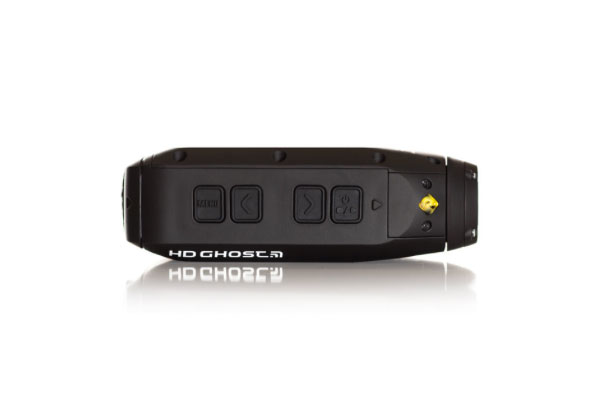 Drift Innovation HD Ghost
Posted on Nov 14, 2012 by Alex Fice
Ghost HD with remote wrist band for remote management.
Drift Innovation, pretenders to the GoPro crown, has announced their latest camera the HD Ghost. (The term HD seems a bit passé now we are talking about 4k so much). The Ghost builds on the feature set and is not a revolution in the small camera market. New features like a two-way LED remote control with on/off indicator light, video recording/tagging capabilities in continuous loop mode, and an integrated 2-inch Gorilla Glass LCD screen.
Drift Active StatusTwo-Way Remote with LED Lights 
Drift claim that the HD Ghost is the only action camera packaged standard with a wearable on/off remote control with LEDs and wrist strap. The LED lights on the remote communicate the mode currently in use displaying a colour-coded system indicating Video, Photo, Timelapse or Photoburst modes. The remote also allows users to take photos and change function modes from up to 30 feet (10m) away, as well as to start and stop recording.
Drift FlashbackVideo Tag/Loop 
You can now save a recorded event up to five minutes after it happens while in Video Tag/Loop mode, which records footage in a continuous loop style. The video clip is stored in the camera's memory, and will save the clip only if the user chooses to "tag" it.
The Ghost unveiled in its caseBuilt-In 2-Inch LCD Screen with Gorilla Glass
The screen allows real-time viewing of camera angles before you press record. It also supports instant video playback of recorded footage. Gorilla Glass® promises to ensure scratch-proof performance.
Drift DataLinkWi-Fi Enabled & Drift App 
Combined with the Drift Mobile App (coming soon for both IOS and Android) you can preview and line up a shot remotely from your phone, change camera settings, shot recording, photo capture and playback, directly through your mobile device. You can even download content from the camera to your smartphone instantly and share content wirelessly.
LED lights correspond to the lights on the remote to confirm which setting you are inDrift PowerStation (or battery).
Another claim from the company is that the Drift HD Ghost has the "longest standard battery life on the market", providing 3 hours of recording time per charge, courtesy of the included 1700 mAh rechargeable lithium-ion battery which they call the 'Drift PowerStation'.
Advanced Drift PureAudio Technology 
The microphone features digital and mechanical dynamic modulation technology. Standard in all Drift cameras are multiple sensitivity settings and an external 3.5mm microphone connector for a better mic.
Enhanced 7 Element Lens Design 
The Drift HD Ghost has an upgraded lens design consisting of seven elements. HD video is shot in a variety of resolutions (ranging from 1080p, 960p, 720p to WVGA), you can simultaneously shoot still photos without interrupting filming.
Nine feet (3m) waterproof without any housing 
The Drift HD Ghost features an improved design allowing the camera to be nine feet (3m) waterproof out of the box. For deep water enthusiasts Drift offers a waterproof housing which allows you to capture underwater adventures up to 180 feet (60m) depth.
The Drift HD Ghost is available for purchase for US $399 on http://store.driftinnovation.com/camera/drift-hd-ghost.