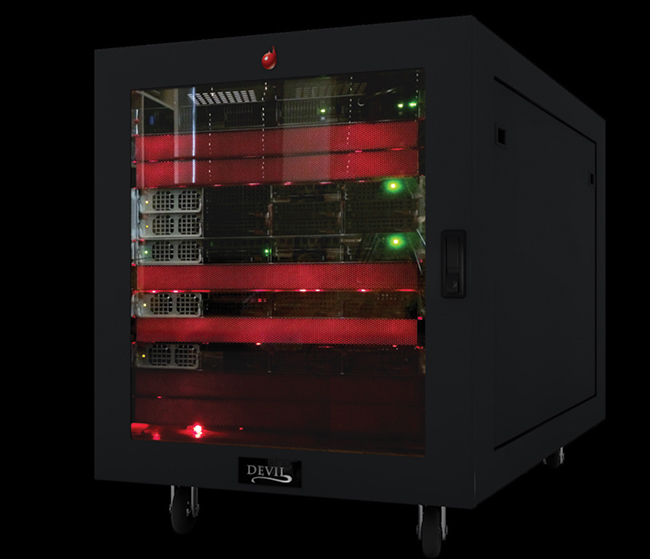 Devils And Demons Want Super Computers For All (Or What Ted From Red did next)
Posted on Apr 24, 2014 by Alex Fice
The Demon DMPa, running dual 3.2 GHz AMD processors, and 16 cores, is better suited to software that needs a high core count, such as After Effects, Maya, and 3D Studio Max.
Devils & Demons are a family of pre-configured systems, powered with Micron components and AMD processing. They are available in several 'flavours' that maximise software performance through custom-configurations of processor speeds, core counts and CPU/GPUs. The Devil & Demon Strategy has launched at a time when the motion picture and TV industries have become computer-centric, requiring more visual computing power and greater rendering speed than ever before.
"We realise, from our experience that it's often a waste of money to buy the same dual proc, multi-core system for every artist," said John Parenteau, MD of The Devil & Demon. "We build a single-processor, high-GHz model, not to be less expensive, but to offer a machine that works best with certain software, while also offering a high-core-count, dual-proc model when you really need it for other tasks."
Demon boxes are fast standalone, desk-side workstations. For even higher performance, Demon artist stations can be easily connected to a Devil, and its multi-layer supercomputer design, in an ultra-fast Infiniband network. For artist work that is too complex even for a Demon, The Devil's Advocate offers a single-layer, four-processor system with 64 cores, designed to supercharge time-consuming workstation tasks, such as simulations or lighting/shading.
• The Demon DSPa, with a single-processor 4.7GHz AMD chip and eight cores, is for software that doesn't rely on a high core count, but loves a fast processor. Compositors, roto/paint artists and matte painters, using programs such as Nuke, Photoshop, and Silhouette, could find the DSPa is a higher performance system for their workflow.
• For FX simulators and lighter/shaders, who find slow rendering or simulations a hindrance to their workflow, the Devil's Advocate, with its 64-core, four-processor, 128GB RAM, is designed to give the artist interactivity previously unavailable.
Devil Supercomputers provide fast-turnaround processing, multi-workstation emulation, a distributed processing render machine for huge renders, or a super fast ultra-blade system that promises to out-perform standard blade render set-ups, turning rendering 'hours into minutes'.