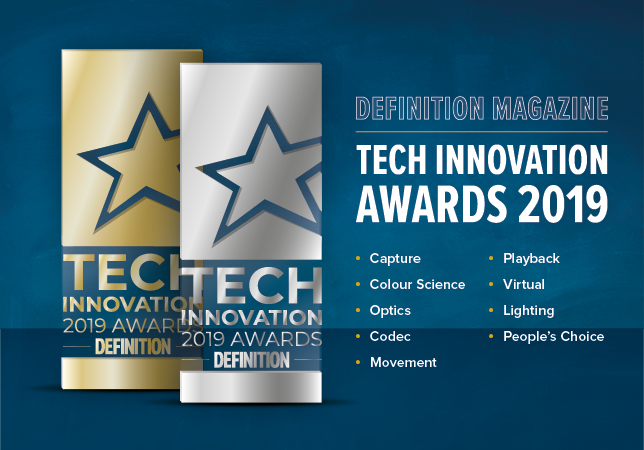 Definition's Tech Innovation Awards 2019 – The Categories
Our Tech Innovation Award winners will be announced at this year's Cine Gear LA.
Award Categories
Definition deals with tech innovation all day and the application of it within production. We are in awe of the some of the technical achievement we see and wanted to celebrate the fact by highlighting some of the best tech out there across all production disciplines.
We have now identified the categories that we want to spotlight for these awards – see these below. Soon, we will be announcing the shortlist in each category with winners being presented with their awards at Cine Gear LA at the end of May.
As a parallel track you will also be allowed to vote for your favourite from those shortlists, and instructions of how to do so will be published soon. Keep an eye on our social media feeds @definitionmags and also look out for #DEFINITIONINNOVATION.
Here are the categories that are currently being voted on from technology introduced in the last 12 months.
CAPTURE – sensor technology
COLOUR SCIENCE – advances in camera colour processing
OPTICS – lenses, lens control and filters
CODEC – advances in compressing and decompressing footage
MOVEMENT – new ways to move a camera
PLAYBACK – recording, recording media and monitors
VIRTUAL – cinematic tools for the virtual world
LIGHTING – includes legacy and LED technology
PEOPLE'S CHOICE – your chance to vote from the shortlists, and make your own suggestion of innovation. More details coming soon!
The shortlists will be made public just after the @NABSHOW and the winners will be announced at Cine Gear LA #DEFINITIONINNOVATION – make sure you have your say!