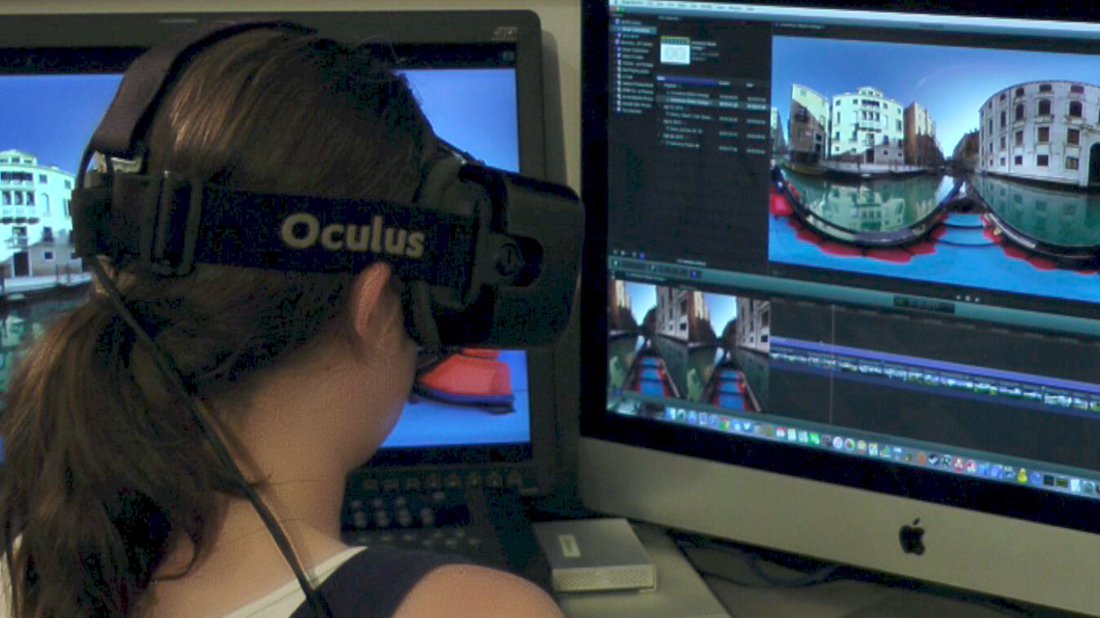 Dashwood 360VR Toolbox Is A Downloadable Beta
Posted on Sep 25, 2015 by Alex Fice
Dashwood Cinema Solutions, developers of Mac OS X apps and post-production plugins, has released the downloadable public beta of its brand new product 360VR Toolbox.
If you were at the recent IBC 2015 Convention they were showing the ability to preview 360 degree spherical footage in the Oculus Rift while playing from an edited sequence in Apple Final Cut Pro, Adobe Premiere Pro or Adobe After Effects.
The latest patent-pending features have now been revealed in the public beta of 360VR Toolbox. These include full stereoscopic 3D support, reorientation of equirectangular "LatLong" panoramic footage, output of "pan and scan" mono or stereoscopic video, placement of 2D elements inside spherical footage, support for equirectangular, stereographic or cubic projections, and "seamless" 360 degree filters like blur, sharpen, glow and noise reduction.
"360VR Toolbox had an incredible reception during IBC and has already been downloaded thousands of times." said Tim Dashwood, founder of Dashwood Cinema Solutions. "We honed the feature set through feedback from our stellar beta test group of VR professionals, and are excited to put the public beta in the hands of the masses. I am very proud to say that 360VR Toolbox is already in the post-pipeline of numerous 360 degree content producers, including industry leaders JauntVR,  Immersive Media, and Al Jazeera Media Network."
"The immediacy of our 360 degree video content means a very fast turn-around from capture to delivery." said Ousama Itani, Senior Officer, Innovation, Al Jazeera Media Network. "Dashwood's 360VR Toolbox gives us the tools to edit and finish our VR content with the same ease as traditional broadcast video. The real-time HMD preview feature immensely speeds up the story editing process, and tasks like superimposing graphics or lower-third titles become simple."
Dashwood 360VR Toolbox Free Trial and Purchase Information
The 360VR Toolbox public beta is available for download and installation now on the FxFactory (http://fxfactory.com) plugin store. A permanent license can be purchased at a 50% discounted price of $599 USD through September 30th. The public beta may be used as a free watermarked trial without purchase. Features are subject to change in future releases. Details at http://www.dashwood360.com
360VR Toolbox Features included in public beta: 
supports both 2D and stereoscopic 3D 360 degree video
Oculus Rift DK2 real-time monitoring of timeline from Premiere Pro, After Effects or Final Cut Pro
reorientation of 360 degree spherical equirectangular "LatLong" video
180 degree fisheye to 360 degree spherical equirectangular "LatLong" video
supports many output projections including 2:1 "LatLong" equirectangular, "Little Planet" 1:1 stereographic, and "Skybox" 4:3 cubic
output to "flat" mono or stereoscopic 3D "panand scan" of 360 degree spherical video at any desired field of view and keyframeable orientation
preview head mounted display (HMD) point of view in the canvas or front/back facing dome with artificial horizon.