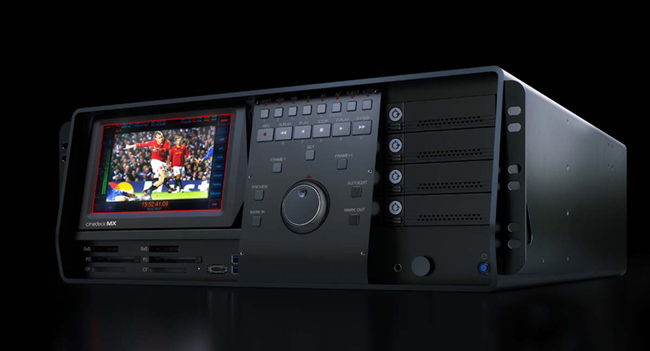 CineDeck's Recorder Journey From Movie Sets To Broadcast Mobiles
Posted on Nov 6, 2013 by Alex Fice
Cinedeck continue to re-invent themselves and are currently replacing VTRs in mobiles.
Cinedeck were one of the first companies to offer hard drive video recorders but with a monitor to the film industry. In its realm this was revolutionary, unfortunately so revolutionary that imitators were many as were price reductions. Cinedeck has since surrendered the market to others and had a certain reinvention as a result.
Now they have a range of multi-faceted capable recorder boxes that appeal to digital cinema, broadcast and post production worlds alike. So that means VTR deck replacements, plug-and-play ingest servers for broadcast, and in archive remastering operations.
Cinedeck RX3G and MX (pic above) recorders are used in digital cinema, live, OB and studio production, delivering 2D/3D, 444, Dual-Link, 60P, single/multi-cam recording. Now, new Playlisting and RS-422 deck control features, underpinned by a range of codecs (if you have a new one they'll implement, sometimes over the weekend). Realtime multi-format playback and advanced operational toolsets, allow the RX and MX to also undertake a wide range of everyday non-linear editorial, telecine transfer, duplication, archive remastering and post production operations.
Cinedeck MX and RX both create ready-to-edit files in realtime, eliminating ingest/transcode processes and enabling fast gateways from production-to-post. Both systems record master and proxy codecs to redundant file destinations, including internal SSDs, local attached storage and network storage (SAN/NAS), creating production and back-up files simultaneously.
Additional features including colour LUT import, Segment Record, enhanced Burn-in options, Closed Caption support, H.264 Streaming, and Extended Encoder Audio Support put Cinedecks on an entirely different level compared to other ingest and recording solutions.
Price points are $9,495 per play/record channel with the Cinedeck RX3G, and $13,499 with the Cinedeck MX.