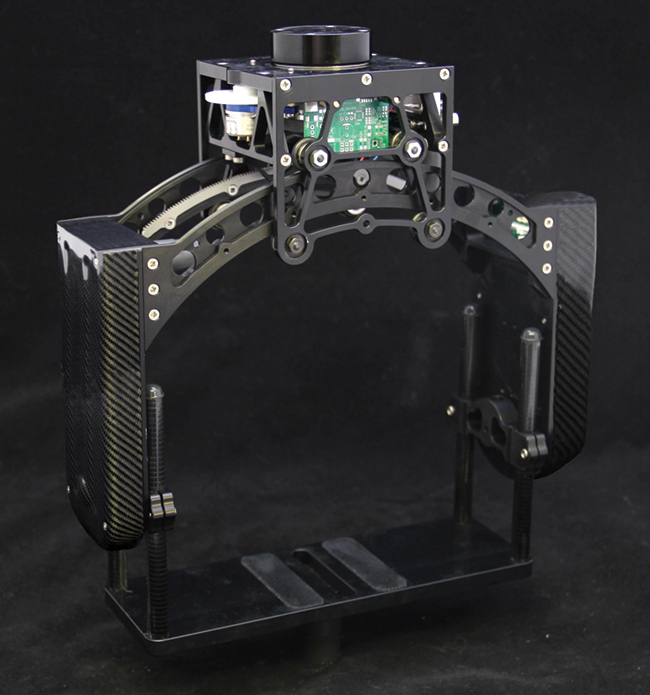 Bradley's Gekko Stabilised Rig
Posted on Nov 6, 2013 by Alex Fice
"None of our parts come from the radio-controlled model aeroplane market, and none of the controls are plastic." – David Bradley
Ever since the MoVI caused such a stir at NAB 2013 David Bradley has been working long in to the night to produce a product that would equal and then out-do that particular product and it's imitators.
Well Gekko is it. With long experience in remote camera mounts and gyro stabilisation, Bradley has designed a clever joint that rotates in three axes to stabilise the camera in all three directions, Pan, Tilt and Roll, which means you can point the camera in any direction you like without drift.
As the Gekko is designed for professional camera work, there are subtle differences in the engineering and electronic controls that ensure the degree of accuracy, and speed of control required for professional filming. The gimbal compensates for the typical movement and tilting of the aircraft and Bradley's well known remote control operates fast enough to point the camera at exactly the right moment.
David Bradley explains how the design and manufacture of this product set it apart from others, "This is the first truly professional camera gimbal for the film and TV industries. It is manufactured entirely from professional components, none of our parts come from the radio-controlled model aeroplane market, and none of the controls are plastic."
The Gekko's payload is over 10kg, so it can handle cameras of any size, from a small Go-Pro to a full sized Arri Alexa, even though the unit itself weighs only 1.4 kg. The cameras are fitted to an attachment plate which is 200 mm wide.
As you would expect, Bradley provides full camera control options. There is a built-in CCU and radio-operated remote control for the engineering set-up, gyros, motors and camera controls – paint and racking. All these are via a live radio transmission from the RCP, which makes this ideal for both live and recorded filming, and there is an optional upgrade to Bradley's larger Gyro controller which offers more ergonomic actions.
Gekko should be for sale soon for around £15.000.