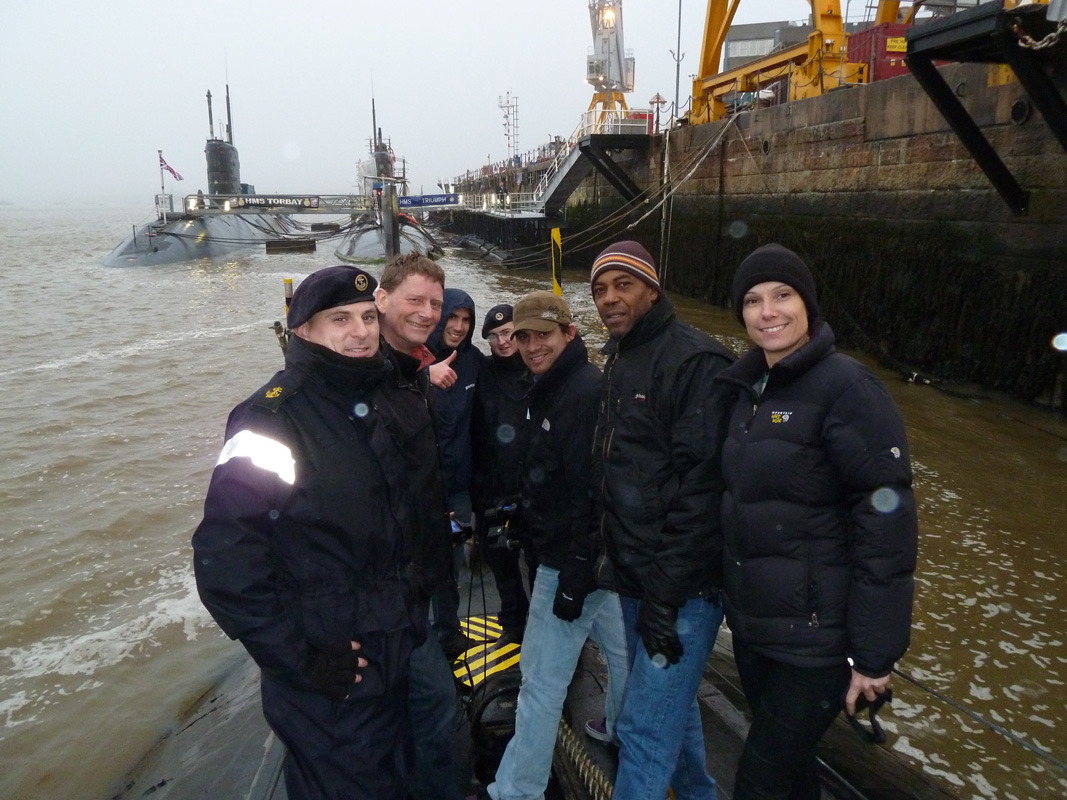 Capturing The Nuclear Family
Posted on Feb 24, 2012 by Alex Fice
For the first time a film crew has been allowed on to a nuclear combat submarine for a total of 50 days130 men on a submarine for nearly eight months, once permission was granted to shoot a reality show, you just knew there would be stories. Firelight Productions have produced three one hour shows capturing the unique environment of a nuclear submarine. Every thing was fine until the submarine was called up to monitor the unfolding Arab spring rebellions.
Four years ago Firelight Productions produced a reality television series called Ice Patrol about HMS Endurance, the Navy's only ice breaker. The six part series was shortened to four after the ship unfortunately nearly sunk, no boat no drama. Now the same production company brings us Submarine Patrol a three part series with an embedded crew, embedded in the true meaning of the word as in with the crew 24 hours a day for eight weeks, under the sea for most of it! The brief was similar to Ice Patrol, record the lives of the military personnel on board.
Ten years ago this kind of access to what is known in the Navy as the 'secret service' would have been unthinkable but agendas and accountability change. Producer Rosie Kingham was also very keen to unveil the characters and regime of a modern day nuclear submarine.
But what do you film and how do you achieve something for broadcaster National Geographic that holds the interest without resorting to a uniformed version of Big Brother with minicams everywhere? You start with the respect that Producer and crew have for the military and then identify storylines sometimes even before the trip starts. Rosie Kingham describes the environment. "There is no where to go where you can be on your own for a second, but they're used to that."
As it turned out the stories weren't hard to find especially when the Sub was called up to monitor the Arab uprising in Libya. Rosie explains that some of her producer instincts were curtailed as she planned the programme, "The planning and scheduling of the production was by the far the most complicated and challenging of projects I've ever had to manage; one you can only master in the sense of being prepared to plan again and again. Submarine's schedules never stop changing. Complications arose in securing a boat for long enough; tasking and operations moved daily as they were responding to a myriad of government and NATO requests. Managing months of constant change; whilst at sea and dived, no contact with my crew all made for some sleepless times. On occasion my best bet was to turn on the television and watch the news or just wait for communication from the submarine. You always have to  be ready to respond and re-schedule.
"Normal shot selection was also a problem because we couldn't just hire a helicopter and do some aerial shots, we were after all meant to be effectively invisible."
The crew of two were to accompany the submarine on a mission for up to eight weeks of an eight month tour of duty. Producer /Director/cameraman Geoff Small and cameraman Dan Lemon shot the majority of the footage. Dan joined the boat half way through as a planned replacement for Producer/Director Jules Seymour. Geoff readily admits that he didn't know how he was going to shoot something in such a confined space, "One of the first things we wanted to do was set up loads of locked-off minicams because we were worried about things happening and us not being around to film them. The way it turned out was that we stripped those out before we left because we thought that even if we were late to an event we would have been all over it anyway. You pretty much have to trust to luck that you're going to be at the right place at the right time. Our story was more about the people, the ship's company so there was always something to report on in terms of what they were doing and the life that they were leading being in this alien and extreme environment."
The crew decided to shoot on two Sony EX3 camcorder with shoulder rigs and NanoFlash recorders (the EX3 is only 35Mb/s recording where broadcasters need at least 50Mb/s hence the NanoFlash), the standard lenses were used as the wide end was sufficient for the cramped scenes. Cameraman Dan Lemon was picked for the job because of his EX experience but not his claustrophobia. He had been told about the job but not the nature of it until he met with Rosie, then a week later after a two day training course he was on the boat. "I was absolutely terrified as I'm not that fantastic on the underground let alone a submarine. However once you're on board you kind of forget about it and get on with the job.
"By the time I joined the crew were used to having cameras in their faces. A lot of the stories were already being developed. There were 130 crew on board and we were sticking to about a dozen of them. Also because of the shift patterns you didn't get to see some of the crew at all.
"It was by far the most incredible thing I've ever done. I think we were the only civilians to be ever allowed on board a service nuclear submarine for any length of time".
Submarine Patrol was aired on National Geographic from February 6 at 9.00pm