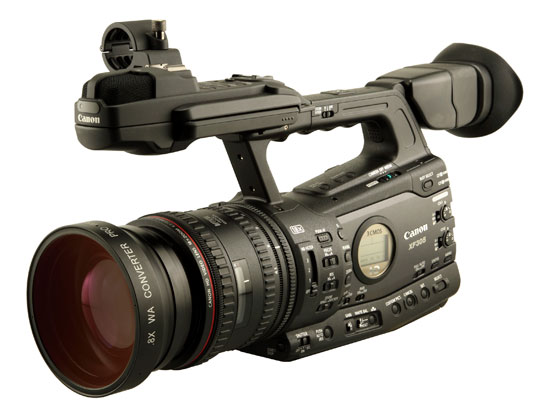 Canon's Popular XF305 Camcorder Gets More Accessories
Posted on Jan 11, 2011 by Alex Fice
Canon XF305 with .8X Wide Angle Converter AttachedCentury, a division of Schneider Optics is now shipping a new HD Wide Angle lens attachment for the Canon XF300 and XF305.  The WA-8XLC-XF Wide Angle Converter attaches directly to the front of the camcorder lens to increase viewing coverage by 20%.
In operation the Century .8X Wide Angle Converter will allow full zoom functionality, providing a 20% increase in coverage from the point of wide angle through the entire zoom range.
The lens has a bayonet mount that fits directly to the front of the lens with a simple twist and lock mechanism.  Century's bayonet mount saves time in the field by taking just a few seconds to attach, eliminating the risk of thread jamming and reducing wear and tear on the lens.
Further lens accessories for the XF300/XF305 will be available from Century in 2011, featuring a .6x HD Wide Angle Adaptor, Fisheye HD Adaptor and 1.6 HD Tele-Converter.