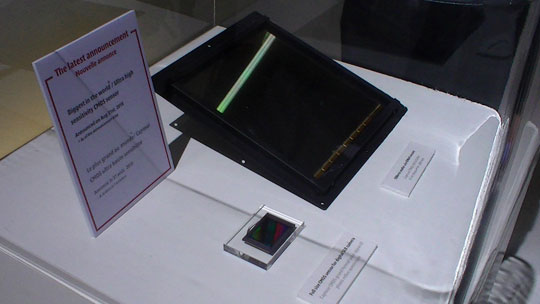 Canon's Expo 2010 Presents Imaging's Future
Posted on Oct 13, 2010 by Alex Fice
Canon's Paris EXPO 2010 was at the site of an old meat market in North Paris
Every five years Canon Inc sets out their 'new technology' stall in the form of an EXPO. This week sees the 2010 Expo in Paris set in an old meat market in the north of the city. Mr Fujio Mitarai Chairman and CEO Canon Inc. made his keynote speech and emphasized what a difficult couple of years it had been economically, Canon themselves saw profits fall off a cliff this year. But his speech was upbeat with good news of a fast recovery in the Far East and one in Europe albeit of the slower variety.
But there was nothing but positives for the white heat of technology at Canon. Eight patents emanating from R&D every working day are applied for at Canon and the Expo was here to show you a tiny proportion of them.
Canon's new prototype 4K stills and video camera – otherwise known as the 'Hairdryer'
For us this meant some of the technologies we had already heard about when the EXPO hit New York a few weeks back. The famous 'Hairdryer' designed 4K camera, the huge highly sensitive 300mm sensor and the new 120 million pixel sensor. But there were others. New broadcast monitors, a six colour filter CMOS sensor with a 50 million pixel sensor, and a 360 degree panoramic camera.
The 'Hairdryer' 4K camera has made many headlines and not only for it's extraordinary appearance. It has a newly designed sensor that is 2/3inch, 8-megapixel shooting at 4K at frame rates above 60fps. It also has a fixed lens shooting from 24-480mm with aperture from f1.8 to 3.8 and powered by a new electronically controlled lens drive system. For the green brigade a bio based plastic is used in exterior parts and a plant-derived compound replaces certain petroleum-based plastic, contributing to the environmentally friendly design message that the Chairman eluded to in his Keynote speech.
There were three cameras on display, two just for show and one shooting from inside a plastic housing with at least two fans cooling it down.
Questions about the camera ranged from 'why?' to 'who is it for?' and 'Will it ever see the light of day?'. Well we asked the same questions and got some conflicting answers. A Canon spokesman said that it would probably see the light of day as Canon wouldn't have gone to such trouble in getting the camera to this step in the first place if they weren't intent on seeing it through.
Who is it for? Well they emphasized it was for shooting stills and video – and with a 2/3inch sensor? Surely that's Scarlet territory? But with Canon's new 8k monitors you could argue that they are inextricably raising resolution ceilings across the board.
The 'multipurpose' (Canon's description) 4K camera was with the Photo and Video zone with all the DSLRs (No EOS 5D mk3 news except for a Canon spokesman saying that the Mk3 would be another DSLR for the stills market, their biggest), new video camcorders, DSLR movie rigs, broadcast lenses and Xeed projectors (showing footage from the 4K Hairdryer).
The world's first single shot multiband camera with six colour filters
Right at the other end of the EXPO was the New Perspectives on Imaging room with all the great new sensor stuff. Like the world's first single shot multiband camera. A 50Mp sensored camera with a six colour filter and not an RGB. ' Enables colour distinction beyond the capability of the human eye at high resolution' was the Canon headline.
The biggest sized sensor made from a single 12-inch piece of silicon
Next to this was the huge 300mm ultra sensitive CMOS sensor with demos of starlight under 1 lux light. The chip size is actually 20cm, this is the largest CMOS sensor that can be made from a single 12-inch silicon wafer. Canon use a special circuit design to resolve the issue of signal transmission latency that is a problem in large sensors – otherwise known as rolling shutter. Canon claim they can shoot with a 1/100th of the light required when using a full-frame CMOS sensor.
Part of an image from the 120 million pixel sensor with a frame rate of 1.4
Other new imaging perspectives included a 120 MP sensor, up from the 50MP one they showed two years ago. Shooting video is restricted to 1.4 frames a second at a data rate of 2.52 GBits per second. Canon could only fit a portion of a frame on the two monitors they were using for the demo.
Other technology that caught the eye were Canon's new 8 Megapixel 30 inch broadcast video monitors. These are high resolution LCD panels with Canon's image processing supporting Adobe RGB and Digital Cinema colour space. There wasn't much more information about these monitors other than to say they did look spectacular.