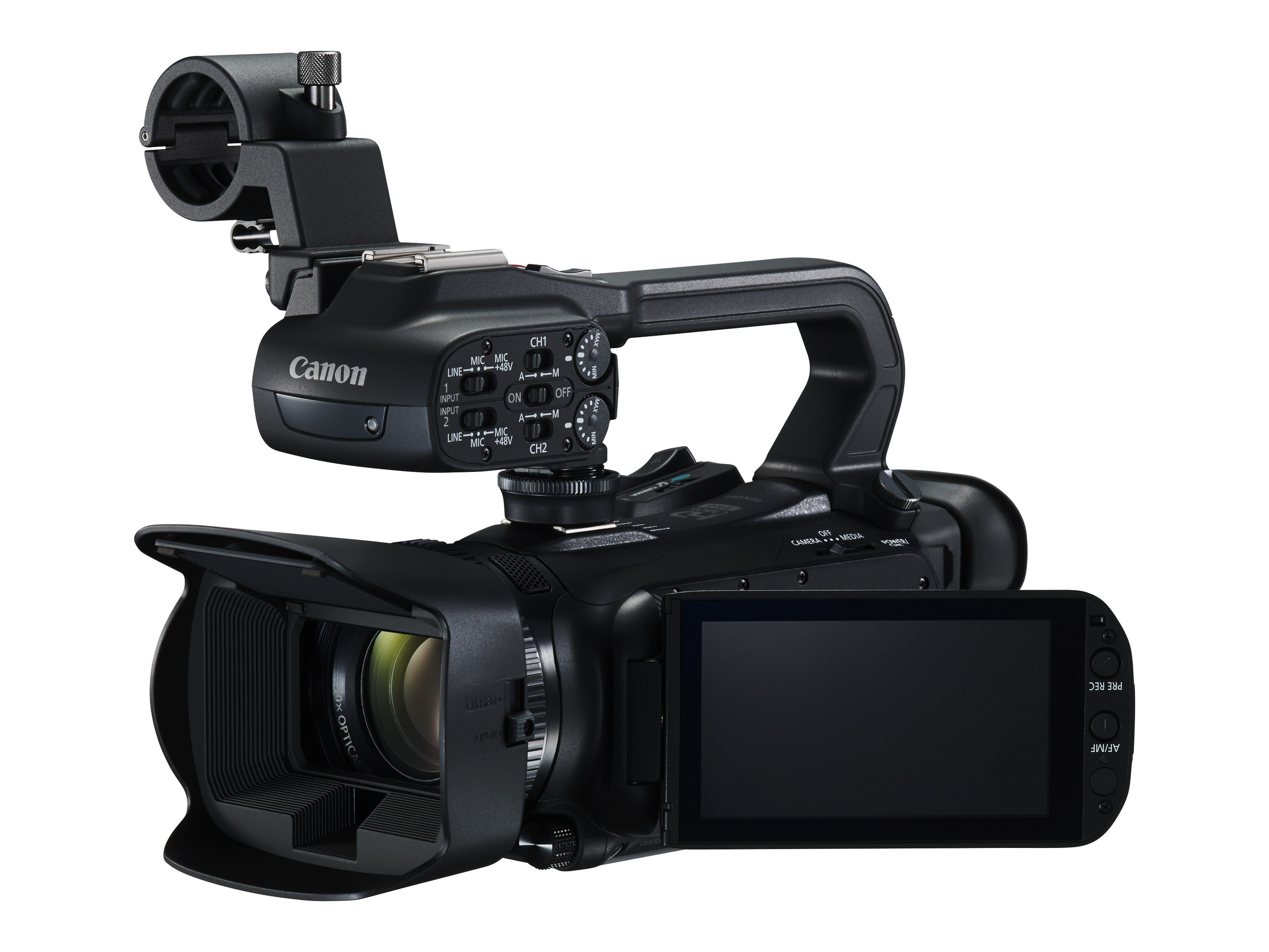 Canon Launch Two Handheld HD Camcorders
Posted on Nov 11, 2015 by Alex Fice
As replacements for their XA25 and XA20 camcorders, Canon has introduced the XA35 and XA30. Much the same market is involved, low level broadcast, news, documentaries, in fact most surreptitious-based jobs. We'll leave you to figure out which ones they are.
The great things about these units is their size and build quality. Canon haven't messed with those but have added a new sensor, HD only, and a couple of settings that the assistant producers, who will be the main users of these cameras for pro work, will find useful. Both cameras include new Wide Dynamic Range (DR) and Highlight Priority settings, making them suitable for shooting everything from news and documentaries to weddings and corporate films.
You can still remove the handle with the audio XLR terminals to give more streamlined shooting for those awkward 'reality' moments.
As you would expect the newly designed 1/2.84-type 2.91 Megapixel HD CMOS Pro sensor has enhanced sensitivity with improved signal-to-noise ratio. There is also claimed improved infrared performance, good for nocturnal wildlife or night-time documentaries.
The 20x zoom wide-angle lens offers a 26.8–576mm (35mm equivalent) focal range and uses Canon's intelligent 5-axis Optical Image Stabilization System with Dynamic IS.
The two new settings for Wide DR mode and Highlight priority have been designed to miss a potential post production step like a quick colour grade again putting the cameras firmly in the fast turnaround world like magazines programmes. They have also been designed to be incredibly easy to use with an emphasis on automatic functions.
Both models also feature slow and fast recording modes, supporting a range of shooting scenarios with interval recording options up to a maximum of 1200x normal speed.
Integration and connectivity
Featuring a HD/SD-SDI terminal, the XA35 will integrate with existing equipment for onward transfer or transmission and includes embedded audio and timecode signals. Providing users with the ability to export uncompressed high resolution digital video in real time, it's the perfect compact video camera for live TV and news gathering environments, allowing users to complement footage from other broadcast cameras on-set.
The cameras also support AVCHD (up to 28Mbps) and MP4 (up to 35Mbps) file formats and include dual SD card slots, providing instant back-up through simultaneous recording or the option for relay recording at longer events, ideal for wedding videographers.
Both the XA35 and XA30 are dual-band Wi-Fi enabled which allow remote control of the camera, wireless file transfer/upload and browser preview, all with the use of a smartphone, tablet or computer. The cameras are also compatible with Canon's GP-E2 GPS receiver, meaning GPS data can be embedded in the metadata of video footage. This feature allows accurate recording of the location where footage was captured, ideal for both journalists and legal purposes.