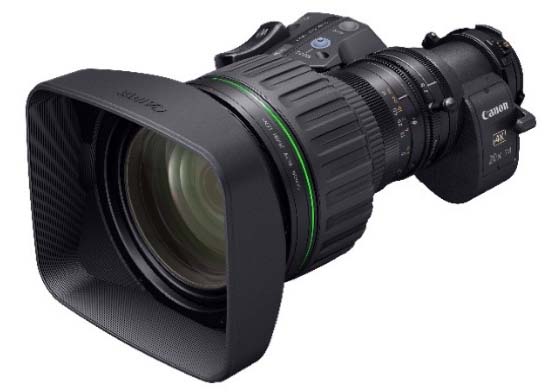 Canon's CJ20ex7.8B 2/3in zoom for 4K broadcast cameras
Posted on Nov 10, 2015 by Alex Fice
Canon new 4k zoom lens, the CJ20ex7.8B.
Canon today introduces the CJ20ex7.8B, a 2/3" portable 4K zoom lens for professional broadcast, with a 20x zoom ratio and focal-length range from 7.8mm to 156mm.
First shown as a prototype at IBC 2015 in Amsterdam, the new lens is destined for broadcast sport and news and possibly documentaries although that genre has embraced the cinematic look. The CJ20 lens joins Canon's very wide CJ12ex4.3B, a 2/3" portable 4K zoom lens.
The new lens also includes a built-in 2x extender.