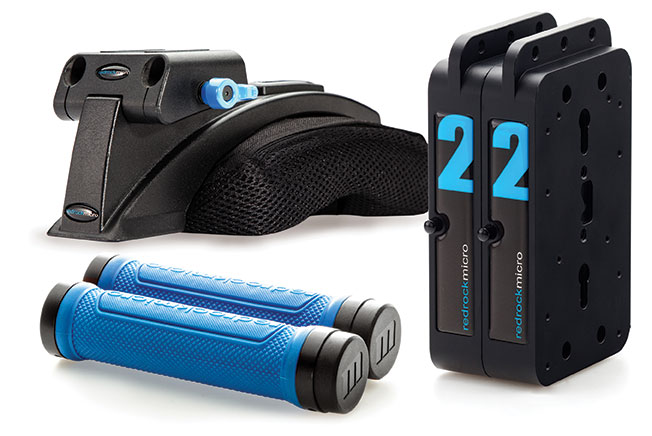 Redrock Micro Launch Enhanced Support Rigs
Posted on Jan 28, 2013 by Alex Fice
Redrock Micro have added enhanced shoulder pad, hand grips and counterweight to their existing rigs
Redrock Micro are now shipping enhancedcamera support rigs that seek to improve performance, comfort and reliability for camera operators. Among these upgrades are the microShoulderPad with FieldTech, tool-less microBalance QR counterweights, and improved hand grips. The new improvements now come standard on all Redrock rigs, and are available as upgrades to existing customers.
The new microShoulderPad with FieldTech moulds to the shape of shoulder. The new microShoulderPad uses tough Cordura and breathable 3D mesh, and is filled with soft free-forming microPoly beads that adapt to each shoulder's shape and slope.
Building on the use of Redrock's microBalance weights, the newly designed microBalance QR rig counterweight means to speed rig balance and stability with new features.
Weights can be added or removed just by pushing a button, and without any tools. Multiple weights can be added or removed at once. Battery mounting patterns on each weight enable brick batteries (such as Anton Bauer, Switronix, Sony, etc.) to be attached directly to the microBalance QR, making the battery mount quick release as well.
microBalance QR can be set up horizontally or vertically, and can be adjusted for left-right balance in the vertical setup, a capability apparently unique to Redrock.
Redrock's rig hand grips have also been updated with improved design and features. The new diamond pattern reduces potential for moisture build-up while the soft rubber surface keeps things comfortable. The added double-lock on each grip end offers an additional option for adding mounting points or rig extensions. A popular use of this feature is attaching the microRemote fingerwheel to the grip when grips are inverted, such as on the ManCam rig.
The new components are shipping now and are available on all Redrock Micro rigs at no additional cost. Redrock also offers components individually so customers can update their existing Redrock rigs to the latest features. All upgrades are available standalone or in upgrade bundles. As with all Redrock products, customers can purchase direct from Redrock Micro's website at redrockmicro.com, or from any Redrock worldwide authorised reseller.