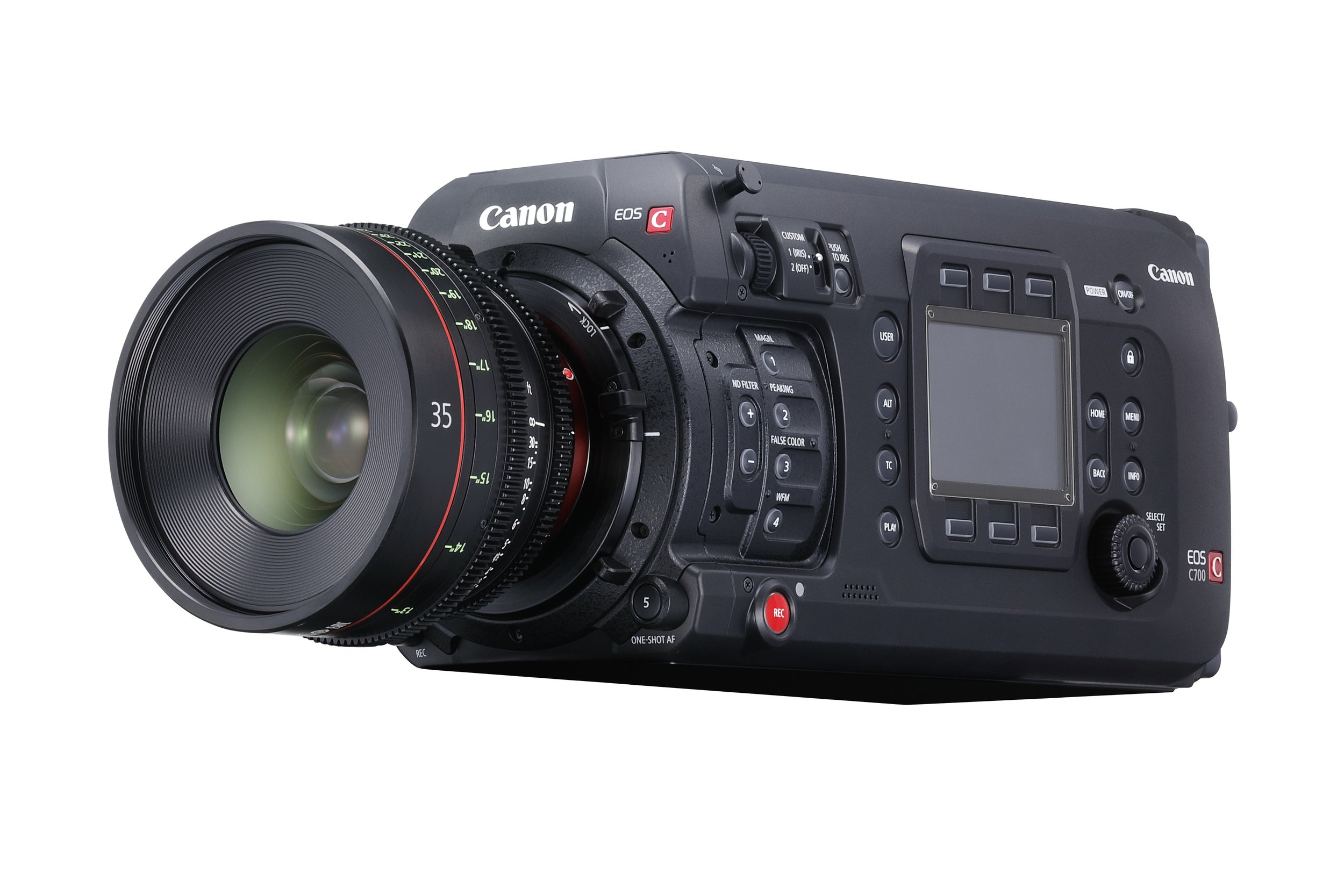 Canon Launch New EOS C700 Camera
Posted on Sep 1, 2016 by Adam Garstone
Because no-one, ever, in the history of journalism, has ever made a joke about Canon's name – ever – it's tempting to say that you need big guns to take aim at Arri's Amira. The announcement of Canon's C700 can be seen as little else, however, all (terrible) joking aside.
Building on the success, and capabilities, of their C300, Canon have produced a true, high-end, shoulder-mount camera, with a Super 35mm sensor. The camera is available in two models, one with a global shutter, and one with rolling shutter – the sensors are different, though with similar specifications.
Both sensors are, natively, 4k5 capable, and the camera will record internally, to two CFast cards, 4k at up to 60p, 2k at 120p using the whole sensor, and 2k at 240p in cropped mode. Canon have worked with CODEX to produce an add-on RAW recorder, which (with future software upgrades) will record 4k5 RAW at up to 100 fps and 4k RAW at 120 fps. For the first time, Canon have internal recording using Apple's ProRes CODEC, and they have built-in support for anamorphic lenses.
Canon claim a dynamic range of 15 stops for the camera – the same as the C300 MkII – and the sensor integrates Dual Pixel autofocus functions. This, of course, only works with lenses that have autofocus capabilities, and in this market most camera operators prefer to rack focus manually. Nevertheless, as autofocus goes, this is the best around – it's good to know that it's there if you need it, and it would be churlish for Canon to exclude it, when it's available on other, lesser cameras.
The camera has Canon's EF lens mount, with PL as an option, and there will also be an adapter for B4 lenses. Other options include a Full HD, OLED eye-level viewfinder (which will also work on the C300 Mk II), a hand grip with zoom rocker, a removable remote control-panel, and a sturdy looking shoulder pad with rails. The EVF has buttons for false colour, magnification and so on, in addition to those available on the camera body.
The camera is well-stocked with inputs and outputs. There are the usual suspects, of course, 4 SDIs, HDMI, Genlock, Timecode and a couple of audio XLRs (analog and AES/EBU), but it's good to see both 24v and 12v outputs, and a top plate that's well peppered with an assortment of mounting bushes.
The C700 will be shipping at the very end of the year – more probably Q1 next year. The rolling shutter body will retail for £26500, and the global shutter for £28500, which is very much in the territory of the fabulous Amira. At the time of writing, no other camera we have tested comes close to the Amira in terms of real-world dynamic range, despite the claims of manufacturers, but the C700 certainly bests it for sensor pixels and autofocus, and the build, handling and capabilities of the body seem excellent.
**UPDATED PRICING
EOS C700 EF / PL – £27.369.99 inclusive of VAT
EOS C700 GS PL – £29,219.99 inclusive of VAT
We look forward to doing a full review in the new year.