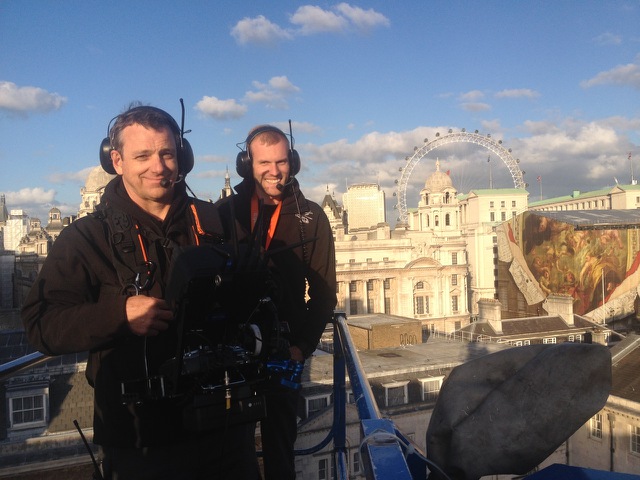 Drone Usage in 'Spectre'
Posted on Nov 12, 2015 by Alex Fice
Jeremy Braben and Pete Ayriss on the London Spectre set.
Intuitive Aerial's AERIGON UAV was used on a key action scene in Spectre with a 6K RED Dragon and Zeiss Master Prime lens on-board. Helicopter Film Services (HFS) flew its AERIGON just above the rooftops near Trafalgar Square in London as Bond, played by Daniel Craig, races up a fire escape.
The sequence required camera work just above the rooftops, too low for a helicopter to operate safely. HFS had to receive special permission from the Civil Aviation Authority (CAA) to fly because the scene was filmed at night and in the congested area of central London.
AERIGON has a payload capacity of 35 lbs., which allows for over20 lbs. of camera equipment, including lenses, along with the AERIGON gimbal and a the stabilisation system.
HFS has previously used AERIGON on other feature films, including Into the Woods and Avengers: Age of Ultron.