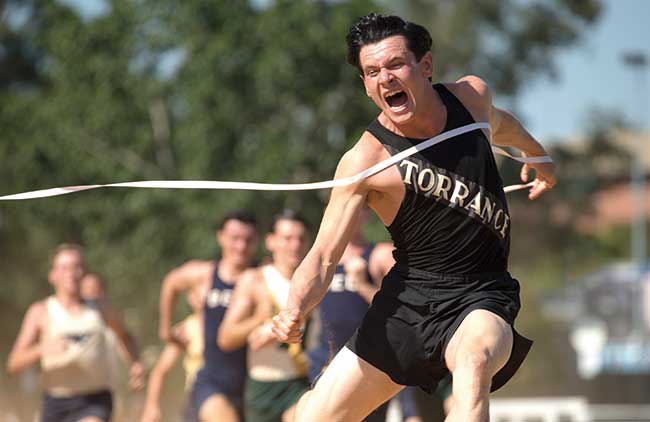 Birdman, The Grand Budapest Hotel, The Imitation Game, Mr. Turner and Unbroken Vie for Top Honours for ASC Award
Posted on Jan 7, 2015 by Alex Fice
A still from Unbroken shot by Roger Deakins on the Arri ALEXA and cut by William Goldenberg. He commented: 'My preference is film but this movie is gorgeous'.
Five directors of photography will vie for the American Society of Cinematographers (ASC) Award in the theatrical motion picture category at the organisation's 29th Outstanding Achievement Awards ceremony. The nominees are:
Roger Deakins, ASC, BSC for Unbroken
Óscar Faura for The Imitation Game
Emmanuel Lubezki ASC, AMC for Birdman or (The Unexpected Virtue of Ignorance)
Dick Pope, BSC for Mr. Turner
Robert D. Yeoman, ASC for The Grand Budapest Hotel
The winner will be revealed on February 15 during the annual ASC Awards gala at the Hyatt Regency Century Plaza in Los Angeles.
"These nominees represent a fabulous slate selected from a particularly rich field of work this year," says ASC President Richard Crudo. "It's amazing how these cinematographers have once again redefined the boundaries of what we do."
This is Deakins' 13th ASC nomination. He previously won for Skyfall (2013), The Shawshank Redemption (1995) and The Man Who Wasn't There (2002). His other nominations include Fargo (1997), Kundun (1998), O Brother, Where Art Thou? (2001), No Country for Old Men(2008), The Assassination of Jesse James by the Coward Robert Ford (2008), Revolutionary Road (2009), The Reader (2009), True Grit (2011) and Prisoners (2014). He was also the recipient of the organization's Lifetime Achievement Award in 2011.
Lubezki won the ASC Award last year for Gravity. He also took home top honours for The Tree of Life (2012) and Children of Men (2007), and was nominated in 2000 for Sleepy Hollow.
Pope previously earned a nomination for The Illusionist (2007).
These are the first ASC nominations for Faura and Yeoman.
——————————————————————–
BAFTA 2015 Best Cinematography Nominations are:
Emmanuel Lubezki (Birdman)
Robert Yeoman (The Grand Budapest Hotel)
Lukasz Zal, Ryzsard Lenczewski (Ida)
Hoyte Van Hoytema (Interstellar)
Dick Pope (Mr Turner)