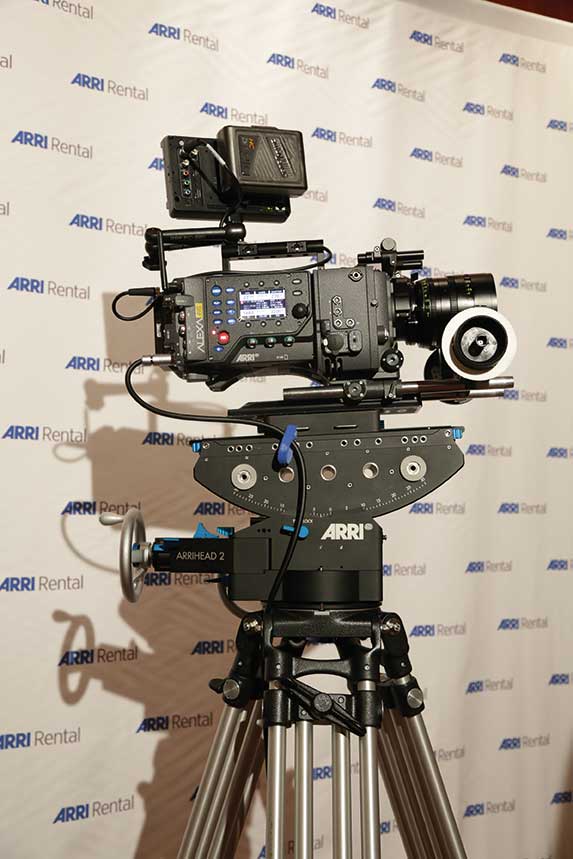 Arri Rental Unveils Its ALEXA 65
Posted on Jan 16, 2015 by Alex Fice
At the Academy of Motion Picture Arts & Sciences Linwood Dunn Theatre, ARRI officially introduced the ALEXA 65 camera and lenses. To a packed audience of cinematographers and other industry figures, ARRI Rental also showed several short reels that had been shot with the ALEXA 65, including one by cinematographer Greig Fraser (Zero Dark Thirty, Foxcatcher), who is attached to the upcoming untitled Star Wars project.
Although the form factor of the ARRI 65 is similar to the ALEXA XT – only a bit longer and wider – the new camera features a sensor slightly larger than a 5-perf 65 mm film frame that produces a 6560 x 3102 image with a dynamic range greater than 14 stops.
The new system, which is comprised of camera, lenses and workflow, will be available for rent in January 2015. ARRI reported that, "significant interest has already been shown by cinematographers attached to high-profile feature films."
Reaction from those in attendance was swift. Cinematographer Denis Lenoir, ASC, AFC (Still Alice; Before the Winter Chill), who said he wasn't initially eager to come to the launch, declared himself a convert. "Somehow with this camera, it seems to open the door to something different – a new dimension where you replace noise or grain by a clarity which is not harsh or sharp," he said. "It is not video, it is not HD. It is beyond that, so you can reach the audience. It gives a kind of surplus of truth."
The Arri ALEXA 65 and 'that' sensor © Arri Rental.
On hand was Franz Kraus, ARRI Managing Director, who has led the company into the video/digital age. "Following the success of the ALEXA we wanted to build a camera for the most demanding applications in filmmaking and envisioned a true 65 mm format camera, sharing as many of the technology and imaging attributes of ALEXA as possible," he said. "The dynamic range and colourimetry are retained, but to these is added a far greater capacity for capturing fine detail."
"The ALEXA 65 is exciting, with magnificent imagery and exquisite detail," said Nancy Schreiber, ASC. Cinematographer Steven Fierberg ASC agreed. "I loved the camera. In particular, I liked that the physical size of the camera and lenses was not so much bigger than the regular Alexa, which means that the camera is not limited in usefulness. It can go anywhere and be anywhere, from the shoulder inside a car to the Steadicam, with no limitations.
ARRI Rental Group Chief Executive Martin Cayzer reported that ARRI first discussed a large format, very high-resolution version of Alexa in 2005. Just before Christmas 2013, Cayzer said, the ARRI team looked at the first monochrome images from the new sensor. "We realised we had something special so we greenlit the project in January 2014," he says. In 11 months, ARRI was able to converge production not only of the camera but also of the lenses and workflow.
The new Arri ALEXA 65 will be for rental only and is available from this month.
Key technology partners were IB/E Optics for the lenses and Codex for the workflow solution. The 50-110 mm Zoom 65 and the eight Prime 65 lenses, ranging from 24 to 300 mm, utilize high-performance, Fujinon-manufactured optics from Hasselblad HC lenses, re-housed in robust lens barrels co-developed with IB/E Optics. A Vintage 765 lens range has also been adapted for use with the ALEXA 65.
ARRI worked with Codex to create a workflow for the ALEXA 65 that can run on either a purpose-configured ARRI Rental Vault S or the new high-performance ARRI Rental Lab 65. ALEXA 65 captures in the ARRIRAW 65 mm images and the workflow can also generate high quality ProRes 4:4:4:4 HD dailies masters in real time.
ALEXA 65 is available exclusively through ARRI Rental, a global network of ARRI equipment rental facilities.
Debra Kaufman