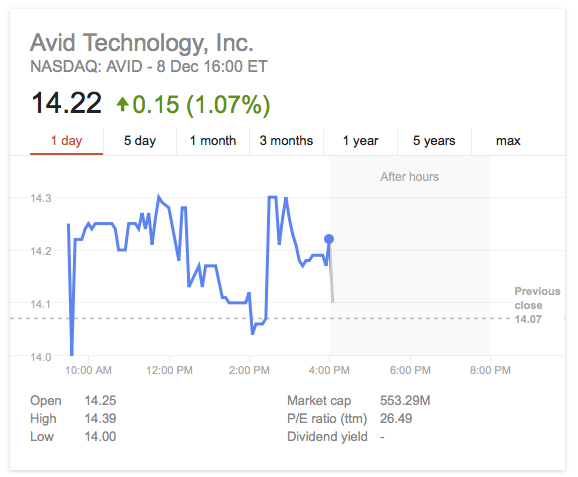 Avid to Relist on NASDAQ
Posted on Dec 9, 2014 by Alex Fice
AVID's share price on its re-introduction to NASDAQ.
Avid (OTC: AVID) has announced that it has received approval to list its common stock on The NASDAQ Stock Market, LLC effective with the open of trading yesterday, December 8, 2014.  The Company will continue to trade under the symbol AVID.
AVID was de-listed from the NASDAQ in February of this year and its common stock was listed on the OTC markets. The OTCQX, OTCQB and OTC Pink marketplaces represent U.S. and global public companies that are traded in the U.S. off the exchanges.
"We are pleased that Avid stock will once again trade on the NASDAQ," said John Frederick, Executive Vice President, Chief Financial and Administrative Officer of Avid. "We believe this milestone offers current and future Avid shareholders an exciting opportunity to share in the success of our business through improved access to our common stock. We look forward to generating sustainable, profitable growth as we continue to execute on our plan to unlock the full potential of Avid."