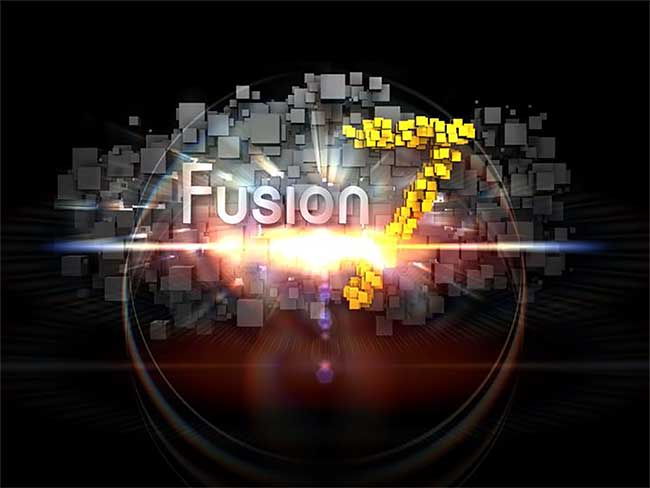 After the eyeon Software Buy-out Blackmagic Design make Fusion a free high-end VFX product
Posted on Nov 10, 2014 by Julian Mitchell
Fusion 7 is now free with Fusion Studio at $995.
Blackmagic Design has announced the availability of Fusion 7 (free) and Fusion 7 Studio ($995).
Fusion 7 includes almost all of the Fusion features, apart from plugins, multi user, multi processing and stereoscopic functionality, and is free for customers to download via BMD's website.
The paid version of the product is called Fusion 7 Studio and everything is included for $995. This version features support for plugins, multi user features, as it bundles Generation, and it also includes unlimited render nodes. It's less than what customers would have had to pay previously as Generation itself used to cost $995 USD and a single render node was $495 USD each.
Fusion 7 software for Windows is available for download now from the Blackmagic Design web site free of charge while Fusion 7 Studio will be available for $995 at all Blackmagic Design Resellers. Existing Fusion 7 customers, and customers on a current Fusion support plan, can upgrade to Fusion Studio at no additional charge by contacting Blackmagic Design.
The free of charge Fusion 7 is a fully featured solution and is not limited in it's features. It has a massive visual effects and motion graphics toolset that can be used for both personal and commercial work. Fusion 7 features an infinite 3D workspace and an easy to use node based workflow for quickly building unlimited effects. Customers get advanced 3D compositing, paint, rotoscope, retiming, stabilization, titling, a 3D particle generator and multiple keyers, including Primatte. Fusion 7 also lets customers import and render 3D geometry and scenes from other applications as well as create their own elements from scratch.
The $995 Fusion 7 Studio includes everything found in the free Fusion 7 software, plus adds extra high end features such as optical flow tools for advanced retiming, stabilization and stereoscopic 3D production, support for third party OpenFX plug ins, and distributed network rendering so customers can render jobs on an unlimited number of computers at no additional cost! Fusion 7 Studio also includes Generation, a studio wide multi user workflow and collaboration tool that helps creative teams manage, track and review versions of every shot in a production. Customers can also move projects from the free Fusion 7 software to a workstation running Fusion 7 Studio and take advantage of workflow collaboration and unlimited distributed network rendering.
Unlike other software, Fusion 7 Studio doesn't require annual maintenance fees, subscriptions, a connection to the cloud, or per node render license costs. That means customers don't get tricked into hidden or on going costly payments for software they've already purchased.
"Visual effects software has been expensive for way too long and it's time that this changed. Consumers are screaming for more exciting movies and television programs and so we need to do everything we can to help our customers create stunning visual effects," said Grant Petty, Blackmagic Design CEO. "Now, with the free version of Fusion, everyone from individual artists to the biggest studios can create Hollywood caliber visual effects and motion graphics! When combined with DaVinci Resolve Lite, customers can get the world's most advanced tools for editing, grading, 3D compositing, visual effects and motion graphics, all absolutely free!"
Our prediction on the announcement of Blackmagic's buy-out of eyeon.