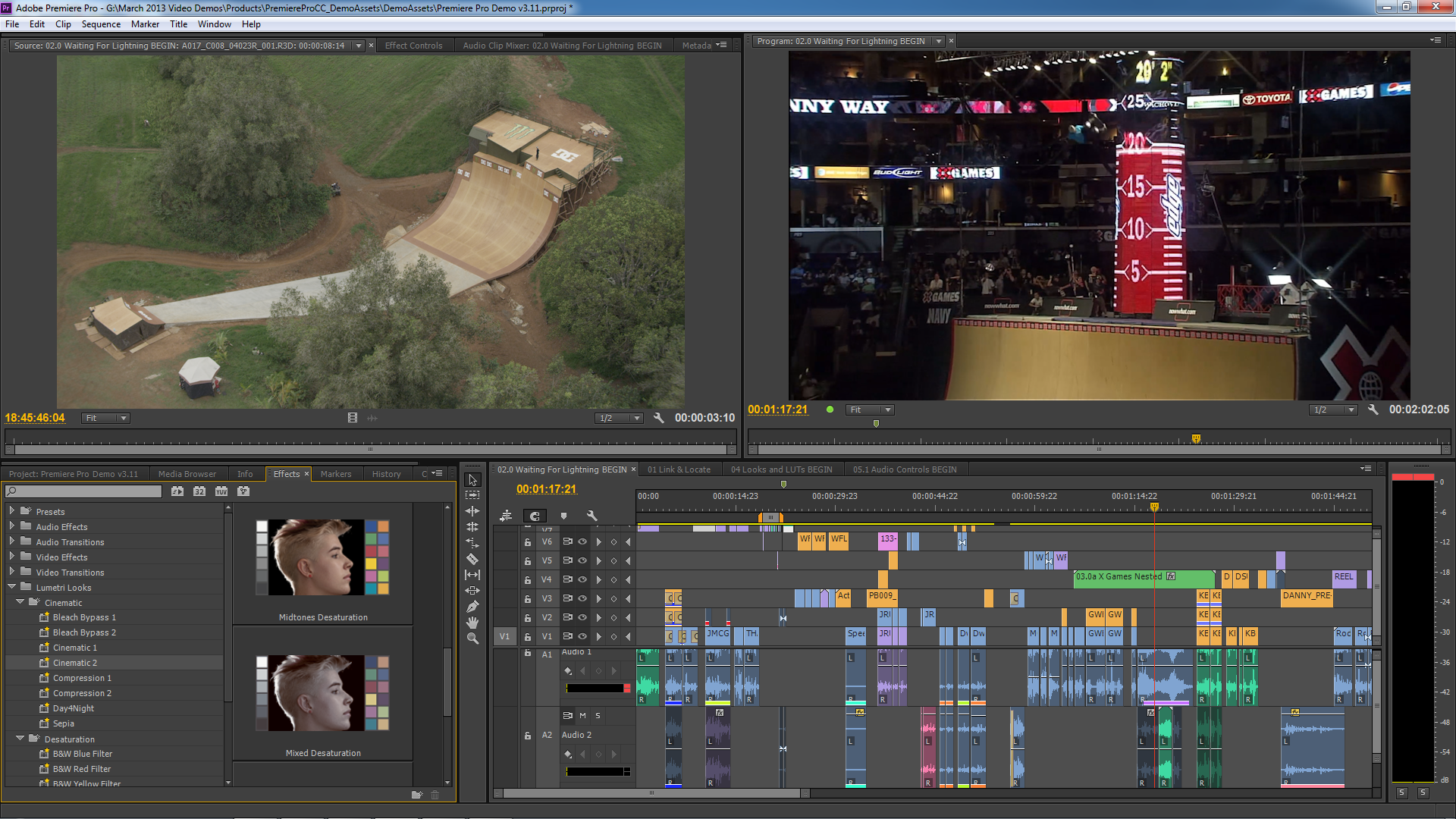 Adobe Anywhere Gets Substantial Updates
Posted on Apr 4, 2013 by Alex Fice
Adobe's Premiere gets necessary improvements too including AAF export.
Adobe have just released details of their latest update to their Production tools.
Headlining the news is the much leaked 'Anywhere' on-line collaboration facility. This involves integrating existing media access management systems with an Adobe blade server and a number of clients running Premiere Pro, Prelude and After Effects over Ethernet. The server optimises the video stream to the clients so, for instance, if you are viewing at ¼ resolution then the server only sends ¼ res video. Hit 'Stop' in the client application and you get a full resolution still, so you can check focus, for instance – these aren't proxies, they are dynamically rendered streams. It's designed to work over a LAN, but might be expandable to the web, if you have a high bandwidth connection and a VPN.
Rather than simply implementing multi-user capabilities by bin locking and so on, Adobe Anywhere allows simultaneous access to clips and sequences and will attempt simple conflict resolution if two people have been editing the same timeline. This is potentially useful, for instance if an edit is split between three editors, one doing the beginning, another the middle etc. However, I suspect it would be safer to each work on separate timelines and combine the result at the end.
One great feature is version control – each time you 'check in' a 'Production' (as Adobe calls projects within Anywhere) the system remembers this edit, so you can roll back to previous versions. Other industries have had this kind of document control for decades (and, to be fair, the short-lived FCP Server did it) so it's great to see Adobe implementing it.
Initially, you'll have to purchase an Anywhere system through a system integrator – Adobe will publish a list of preferred suppliers soon.
Premiere has had some tweaks, many of them tiny but vital things that, in the past, have been irritatingly ignored in favour of big 'marketing' features. For instance, through-edits are now marked in the timeline and can be joined, duplicate frames are marked, and your track layout can be saved and recalled. You can also select which attributes are pasted when you, er, past attributes. Also, and Big News, is that re-linking files now searches for the correct file and will re-link everything in the same path.
You still can't open two projects at the same time, but you can now import one project into another – either whole or selected timelines – and you can now assign levels to audio clips without having to keyframe, through a special mixer. Oh, and Premiere Pro now supports VST and AU plug-ins.
AAF export and import has never really worked in Premiere Pro – trying to general an AAF would either crash the software, or generate a file that was totally incomprehensible to Avid or any other AAF enabled package. Adobe employed the father and son team that were Automatic Duck, and have folded their expertise in AAF I/O into this latest release. Hopefully this will have put the last nail into this coffin – it was one of the real issues for anyone wanting to use Premiere in a co-operative environment.
There are lots of other bells and whistles – for instance a PluralEyes-like audio matching feature for syncing multi-cam (and dual system) footage, and a plug-in that allows SpeedGrade looks to be used inside Premiere.
The other Production Premium software packages have also had small but significant improvements. SpeedGrade has had a user interface overhaul, so that it works better on smaller monitors, for instance for laptop grading on-set. It also has a Shot Match feature, that will attempt to match the look of another clip or a still image – I can't say that it did a great job in the demo! Audition has a new tool for removing specific sounds from audio clips. Adobe's scripting solution, Story, is now integrated with Premiere and Prelude and has speech to text capabilities, so you can search a clip for specific words (though this doesn't look as capable as Boris Soundbite). After Effects will ship with a 'lite' version of Maxon Cinema 4D, and there is an integrated workflow between the two (and the full version of 4D, should you own it). After Effects also has a new Refine Edge tool (just like Photoshop's) for rotoscoping
Adobe are announcing this latest software update at NAB, though there isn't a published timeframe for full release yet. We're looking forward to doing a full review once it gets out of beta.