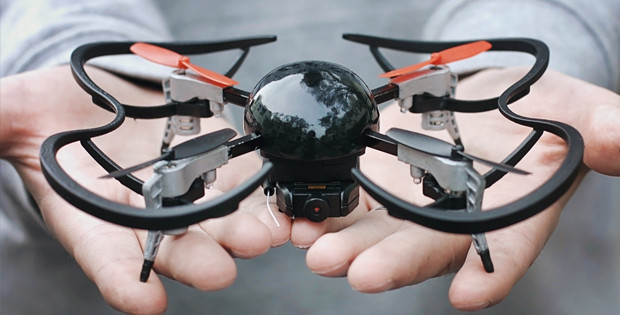 71g Micro Drone 3.0 Shoots 720p
Posted on Jul 28, 2015 by Julian Mitchell
One of the smallest 'personal drones' is the Micro Drone which is now gathering pledges for their 3.0 model on Indiegogo – as of today they have reached $1,614, 632 and that's in a month. Our interest is the new camera module which ships with 720p/30 but it's modular design promises HD and beyond as the development comes online. The recording format is AVI with MPEG coding at around 14MB/s so at the moment doesn't look great.
The construction of Micro Drone 3.0 is modular with magnets and sliders to replace parts.
This thing is tiny at 50mm height, 55mm rotor diameter and weighing just 71g with the camera fitted. So just for inside perhaps but they say not as self levelling algorithms inside the Micro Drone allows it to fly level in wind speeds of up to 45mph. Your flying time though is only around seven minutes. Range via smartphone is 50ft but via 2.4Ghz radio goes up to 300ft.
The Indiegogo campaign has goals within the programme and they include a 2-axis stabilisation that connects by magnets will weigh 20g and offer panning shots with a rotating head.
So of minor interest to pros and prosumers except as a great toy but a glimpse in to the future of drones and what they might offer broadcasters in the future. It was the Steadicam inventor Garrett Brown who predicted that in a few years there would be cameras small enough to follow athletes just above their shoulders around Olympic tracks and broadcast live to the world. He predicted that in 2011.