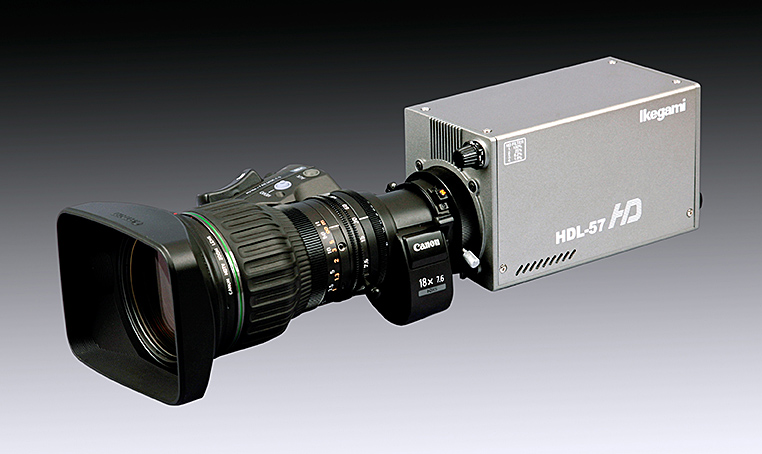 Ikegami Launch An 'HD Only' Camera For IBC
Posted on Jul 28, 2015 by Alex Fice
See Ikegami on stand 11.A31 at IBC2015, Amsterdam, September 11-15.
Ikegami has bucked the trend and launched an HD-only camera for IBC 2015, just when we thought HD-only products were a thing of the past.
When you think of Ikegami you think of their innovation in hard drive recording in-camera with their EditCam (which was later to record direct to AVID's DNxHD format). Their exquisite broadcast cameras, especially their box cameras like this new HDL-57. But you don't always see them as pushing the technology as much as say Sony and Panasonic.
Their parent company however, Ikegami Tsushinki Company Limited (www.ikegami.co.jp) is a leading manufacturer of specialised cameras, image processing and transmission equipment employing around 800 people working across three factories and nine sales and service organisations all over the world. Perhaps their marketing needs looking at…
The new HDL-57 however is another beautifully made compact 'HD only' camera designed for use on remotely controlled pan/tilt heads in roles like parliamentary television or robotic studios. It can also be used wherever a high-grade fixed-position compact camera is required for intercutting with the output from full-size studio cameras. Camera head and controller are housed in a single box unit measuring 90 x 103 x 180 mm (width x depth x height) and weighing 1.5 kg. The HDL-57 can be operated remotely or via its rear control panel.
Camera head and controller are in the same rectangular box.
The three 2.5 megapixel 2/3 inch CMOS sensors are equipped with native progressive and interlace modes. 1080/59.94i, 1080/50i, 720/59.94p, 720/50p and 1080/23.98p are available from the camera head. 1080/23.98p output is available as an option.
Specified performance parameters include F11 at 2,000 lux sensitivity, 60 dB signal-to-noise ratio and 1,000 television lines resolution in 1080i format (700 TVL in 720p format).
Other features include a six-position switchable gain (0 to +30 dB), six electric shutter speeds (1/100 to 1/2,000 second), four-position optical filter (100, 25, 6.2 and 1.6 per cent) and a two-position electronic colour correction filter (3,200 and 5,600 K).