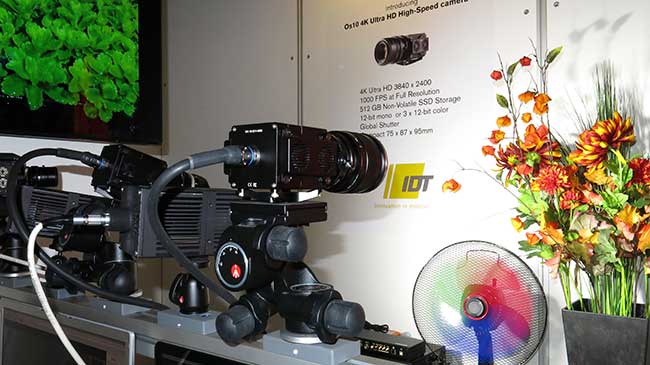 4k Slow Motion Camera Usually Helps Airflow patterns
Posted on Oct 3, 2014 by Alex Fice
IDT comes from the aero research world.
With trade shows like NAB and IBC you can find some real benefit from skirting around the edges of the trade floors. Here are the companies that have a concept or even a prototype but no budget for marketing or PR and hardly one for a booth. You also find the companies that have identified broadcast as a new market for them while they are happy and successful in their own. Market like scientific research, a vocation that excels in the desire for the highest resolution and the fastest frame rates – yes indeed 4k slow motion.
American company IDT are one such company and with 15 models that do some kind of slow motion for studying vital things like aerial flow patterns from aircraft wings. Their new camera is 4k capable, which brings the frame rates down to 1,100 fps from an HD point of 4,000fps (Their 1Megapixel model does around 6,000 fps). But this isn't some remote head-only device as it has it's own storage internally in the camera. It has in fact two memories, it has a very fast DDR RAM of eight Gigabytes and a SSD of 512GB. For really high speed high resolution it uses the 8GB RAM so you end up with two or three seconds of recording time. But of course if you lower the speed it can also write directly to the SSD so you can record for minutes without connecting big data drives or the like. You could get 4k on the SSD but you'd only get around 150fps.
It records Raw but you can also export it as ProRes, AVI, tiffs and JPEGS through their own software (MAC/Windows) and also get control through a Tablet. IDT are also keen for people to use their SDK so you can develop your own footage capture solution.
In the future IDT will bring out a model with all the connectors on the back like HD SDI and Gigabit Ethernet to make it more acceptable to the broadcast market.
So if you're looking for a well built slow motion camera with recording with a 1 inch sensor offering a choice of lens mounts, C, F, PL (they can create one) have a look at IDT.