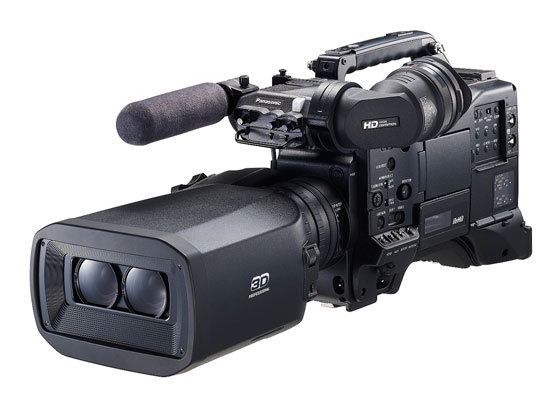 3D Technology Pushes On With Tennis From Paris
Posted on May 25, 2011 by Alex Fice
The new Panasonic 3D P2 camcorder the AG-3DP1 will be used for the first time for live broadcast 3DPanasonic are helping to live broadcast the entire 2011 French Tennis Open in 3D to over 17 countries across Europe in cooperation with Eurosport. There is still no solid evidence that the 3D viewing audience is warming to wearing 3D glasses at home and are watching such a transmission as new TV sets are now able to receive 3D signals as standard. However fans with 3D-capable TV sets can visit the Eurosport website to know if the 3D broadcast is available in their country. See below for the French Tennis Open 3D broadcasts where you live.
Last year Panasonic sponsored and delivered cameras to the same event but were transmitting only to 3,000 retail stores across Europe. This year that figure has gone up to 7,500 stores and an undefined number of homes across 17 European countries. Laurent Abadie, Chairman and CEO, Panasonic Europe commented: "It is important that the industry strives to do more live 3D sport broadcasts to help drive the 3D market forward."
Panasonic technologies are being used extensively in the production at Roland Garros, including the latest Panasonic 3D broadcast camera recorder, the AG-3DP1 (picture above), which is being used for the first time for live broadcasting. This P2HD series 3D camcorder comes with a newly developed 17x twin lens zoom lens system and features an expanded range for both wide-angle and telephoto settings to provide an angle of view for diverse shooting situations.
Other Panasonic products being used include the AG-3DA1 3D broadcast camera recorder, a side-by-side rig with two AK-HC1800 box cameras, six AV-HS450 multi-format live switchers, P2 mobile-memory card portable recorder / player, BT-3DL2550 3D production monitors and BT-LH910 3D production monitors.
Panasonic consumer gear will also be on display when the company unveils the first ever demonstration of 3D hybrid broadcast broadband TV (HbbTV). Panasonic see 3D HbbTV as an important step forward for 3DTV, as it allows people to watch streamed 3D content just as you would 2D TV content using catch-up services through connected TVs and set-top boxes.
iPlayer type viewing in 3D maybe then be a reality.
The countries Eurosport's live 3D broadcast of the 2011 French Tennis Open will be available in are:
UK – Virgin
Spain – DIGITAL+
Italy – Sky
Belgium – Telenet, Belgacom, Voo
Denmark – Canal digital
Norway – Canal digital
Sweden – Canal digital
Finland – Canal digital, Elisa
Switzerland – Swisscom, Cablecom
Poland – Cyfra+
Ireland – UPC
Czech Republic – UPC
Hungary – UPC
Romania – UPC
Slovakia – UPC
Estonia – Starman
Bulgaria – Blizoo