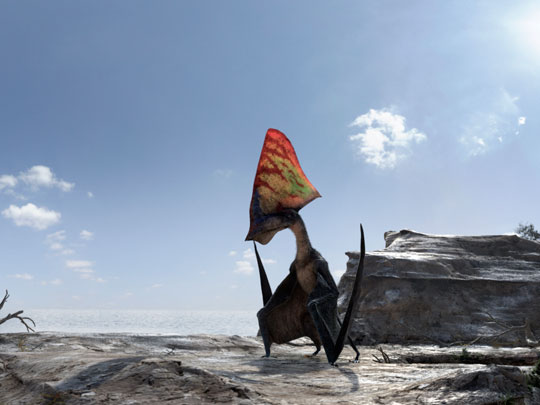 3D Programme Wins UK Documentary BAFTA
Posted on May 31, 2011 by Alex Fice
Flying Monsters 3D was shot on the RED ONE for 3DTV and IMAX deliveryFlying Monsters 3D with David Attenborough has become first stereo 3D programme ever to win a UK BAFTA award.

Sir David Attenborough's venture into the prehistoric era brings a magnificent view of an unobserved world, back to life on 3D television and the giant IMAX screen.
Due to the enormous scale of the project, two SGO Mistika systems were networked together on Hewlett Packard Z800 workstations in order to improve efficiency where the online workload could be shared in real-time.  VFX & Stereo 3D Artists, Andy Lee and Miguel Caamaño worked on specific tasks. One would work on a depth grade while the other would work on a stereo correction, which substantially accelerated the process.
Sir David Attenborough had a clear idea of the story he wanted to tell, but to shoot at a resolution suitable for both 3D television and 3D IMAX was a challenge.   The footage was shot in multiple world-wide locations by DoP, Tim Craggs,  using the RED ONE camera in 4K.  The challenge was to bring extinct pterosaurs back to life in CGI while conveying the story in stereo 3D.
The location footage and CGI had to be carefully integrated, in particular for one of the final sequences where Sir David glides with a 50ft wingspan pterosaur.
The visually stunning "Flying Monsters 3D with David Attenborough" IMAX Première took place earlier in May at the BFI in London and is now showing at IMAX cinemas across the country in Stereo 3D.