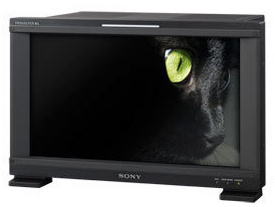 17inch OLED Battle Is On
Posted on Apr 29, 2014 by Alex Fice
Flanders Scientific's CM172 OLED monitor is strewn with extras.
The battle of the 17inch field OLED monitors is on with Flanders Scientific offering their CM172 OLED reference monitor with features like pre-programmed LUTs from the popular cameras, an enormous range of scopes and monitors, free software upgrades and a promise of direct service related contact to engineers 24/7!
They also offer free lifetime calibration as well as user calibration. The CM172 also includes a 4k input with a switchable 1:1 pixel display which will be a very useful feature for 4k field production because of the lack of acceptable focussing aides. It has 12-bit processing and 10 bit panel with apparently no bottlenecks.
The Sony 17inch PVM is considerably cheaper with an also gorgeous image but with fewer features. The Sony BVM reference grade monitors are substantially deeper in size to the Flanders.
Sony's BVM E170 has a great image but fewer features than the CM172.